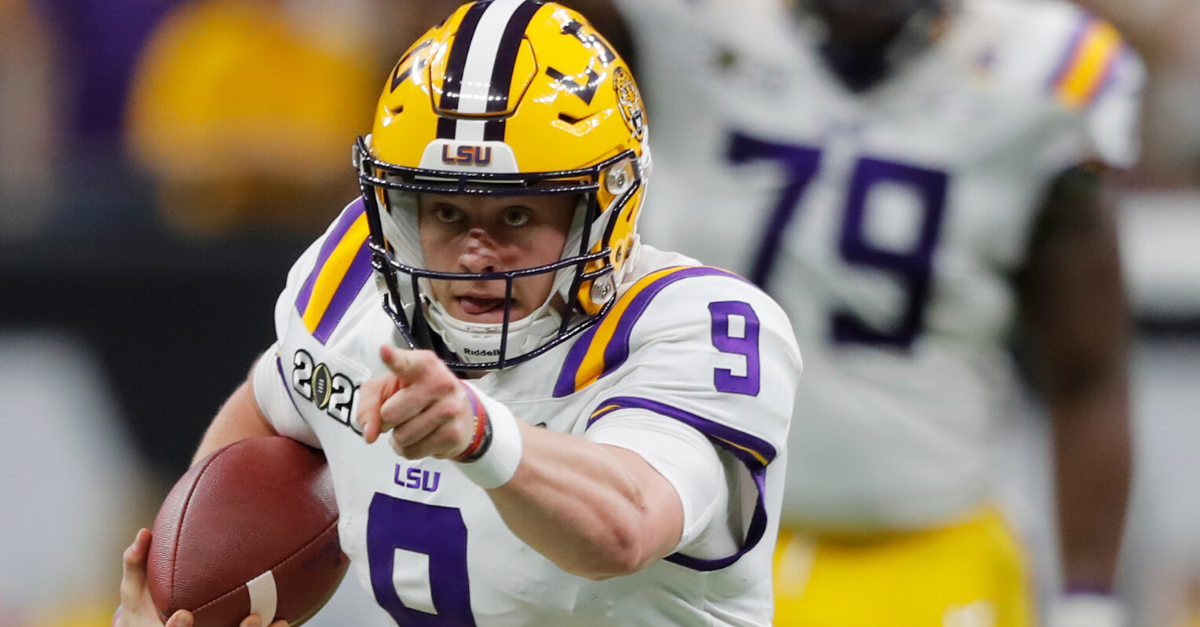 AP Photo/Gerald Herbert
Louisiana State University has a long and storied history of fielding an elite college football program every year. Since 2000 under Nick Saban, the LSU Tigers haven't won fewer than eight games in any season under Les Miles, and now, head coach Ed Orgeron.
The four-time national champions became the 16th program to reach 800 wins during the 2019 season, and their 38 Consensus All-Americans are only a small piece of the elite talent that comes from Baton Rouge. Dozens of all-conference selections and even more players throughout the years probably don't get the credit they probably deserve, either.
Even before getting to the top-10 best LSU football players ever, you could build an All-SEC team with JUST the honorable mentions who didn't make this list:
Tommy Hodson, quarterback
JaMarcus Russell, quarterback
Bert Jones, quarterback
Dalton Hilliard, running back
Joseph Addai, running back
Jim Taylor, fullback
Odell Beckham, Jr., wide receiver
Jarvis Landry, wide receiver
Dwayne Bowe, wide receiver
Kevin Mawae, center
Alan Faneca, guard
La'el Collins, tackle
Andrew Whitworth, tackle
Marcus Spears, defensive tackle
Anthony "Booger" McFarland, defensive tackle
Kwon Alexander, linebacker
Deion Jones, linebacker
Devin White, linebacker
Eric Reid, safety
LaRon Landry, safety
Grant Delpit, safety
Morris Claiborne, cornerback
This is a list that could be debated for hours with no definitive results, but based on their impact with the LSU football program, paired with their legacy afterwards, here are the 10 greatest LSU Tigers ever:
10. Glenn Dorsey (2005-07)
The 2007 SEC Defensive Player of the Year was a two-time First-Team All-American playing in Baton Rouge for three seasons. In his last season, Dorsey won the Bronko Nagurski Trophy, the Outland Trophy, the Lott Trophy and the Lombardi Award, which basically means that he had one of the most dominant seasons by a defensive lineman ever.
9. Josh Reed (1999-2001)
After moving to receiver full-time as a sophomore, Josh Reed spent two seasons re-writing the SEC record books. Reed still ranks on the SEC all-time record book for:
Catches in a Game: 19 (1st)
Catches in a Season: 94 (T-5th)
Receiving yards in a Game: 293 (2nd)
Receiving yards in a Season: 1,740 (2nd)
Receiving yards in a Career: 3,001 (6th)
On top of still holding several LSU records, the two-time First-Team All-SEC receiver scored 18 touchdowns during his career and won the Biletnikoff Award as CFB's top receiver. There are bigger names to play the position, but none were as impactful as Reed.
8. Leonard Fournette (2014-16)
Had an injury not cut his junior season short, Fournette would have become LSU's all-time leading rusher. Still, the big running back finished his career No. 4 on the program's career rushing list, which includes the LSU single-season record for rushing yards in 2015 (1,953). He also broke the single-season record for rushing touchdowns (22) that same year.
Few running backs in college football history were as polarizing as the No. 4 pick in the 2017 NFL Draft, and he's still producing at a high level with the Jaguars.
7. Y.A. Tittle (1944-1947)
If Bradbury Robinson invented the forward pass, then Y.A. Tittle perfected it. During the 1940s, Tittle was a two-time First-Team All-SEC quarterback at a time when the Wing-T formation was all the rage. He was inducted into LSU's athletic Hall of Fame in 1958 (yeah, one year after graduation), then went on to revolutionize the NFL passing game.
The seven-time Pro Bowler is one of eight NFL QBs to throw seven touchdowns in a game and retired as the NFL's all-time leader in passing yards, touchdowns, completions, attempts and games played.
6. Tommy Casanova (1969-71)
The only three-time All-American in LSU history was called the "Best Player in the Nation" when he graced the cover of Sports Illustrated in 1971. As a running back, kick returner and defensive back, Casanova's two punt return touchdowns against Ole Miss in 1970 is still the SEC record.
Casanova was a three-time Pro Bowler in the NFL, was inducted into the College Football Hall of Fame, and his No. 37 is retired by the university.
5. Kevin Faulk (1995-98)
The only running back who could, and should, challenge Fournette is Kevin Faulk. His 4,557 career rushing yards and his 46 rushing touchdowns both rank fourth in conference history and are LSU records. Faulk's 6,833 career all-purpose yards are still the SEC record.
The 1995 SEC Freshman of the Year followed that up with three-straight First-Team All-SEC selections and won three Super Bowls with the New England Patriots.
4. Tyrann Mathieu (2010-11)
Elite defensive players make impacts in multiple phases of the game. For two seasons, there was nowhere on the football field that Tyrann Mathieu wasn't. The 2011 SEC Defensive Player of the Year finished fifth in the Heisman Trophy voting that same year before he was dismissed for violating team rules in 2012. Mathieu finished his short career with 133 total tackles, 16.0 tackles for loss, 6.0 sacks, four INTs, 11 forced fumbles and eight fumble recoveries.
In the NFL, Honey Badger has made two All-Pro teams and won Super Bowl LIV as a member of the Kansas City Chiefs.
3. Patrick Peterson (2008-10)
Peterson's 2010 season is one of the greatest in LSU history. He was the SEC Defensive Player of the Year and a Consensus All-American, plus he received a ton of Heisman Trophy hype throughout his junior year. For his career, Peterson had 135 total tackles, 22 pass breakups and seven interceptions, as well as racking up 1,350 return yards and two kickoff returns for touchdowns on special teams. Teams made it a point NOT to throw anywhere near the No. 7 jersey.
He went on to become an eight-time NFL Pro Bowler and is considered one of the best shutdown cornerbacks in NFL history.
2. Billy Cannon (1956-59)
You better believe the first Heisman Trophy winner in LSU history was high on this list. On Halloween night in 1959, Cannon returned a punt 89 yards against Ole Miss in one of college football's greatest plays ever to cement is Heisman resume for the voters. The two-time SEC Player of the Year is one of only three LSU Tigers to have his number retired (No. 20) after leading the Tigers to their first-ever national title in 1958.
Cannon should never be forgotten as one of the greatest all-around LSU players ever.
1. Joe Burrow (2018-19)
I mean, were you expecting someone else?
For anyone who disputes Burrow's impact as the greatest player to pass through LSU, consider what his 2019 season means for generations of fans. Not only was Burrow's Heisman Trophy victory the largest in history, he set NCAA records for total offense (6,039 yards), passing touchdowns (60), touchdowns responsible for (65), and passing efficiency (202.0). His completion percentage (76.3) ranks second all time, passing yards (5,671) ranks third, and he did it during a 15-0 season in which LSU won each game by an average of almost 27 points and embarrassed the defending champs in the College Football Playoff title game.
Baton Rouge's adopted son will have a statue outside Tiger Stadium, and he will never be forgotten after the greatest single season by a player in, not just LSU lore, but college football history.