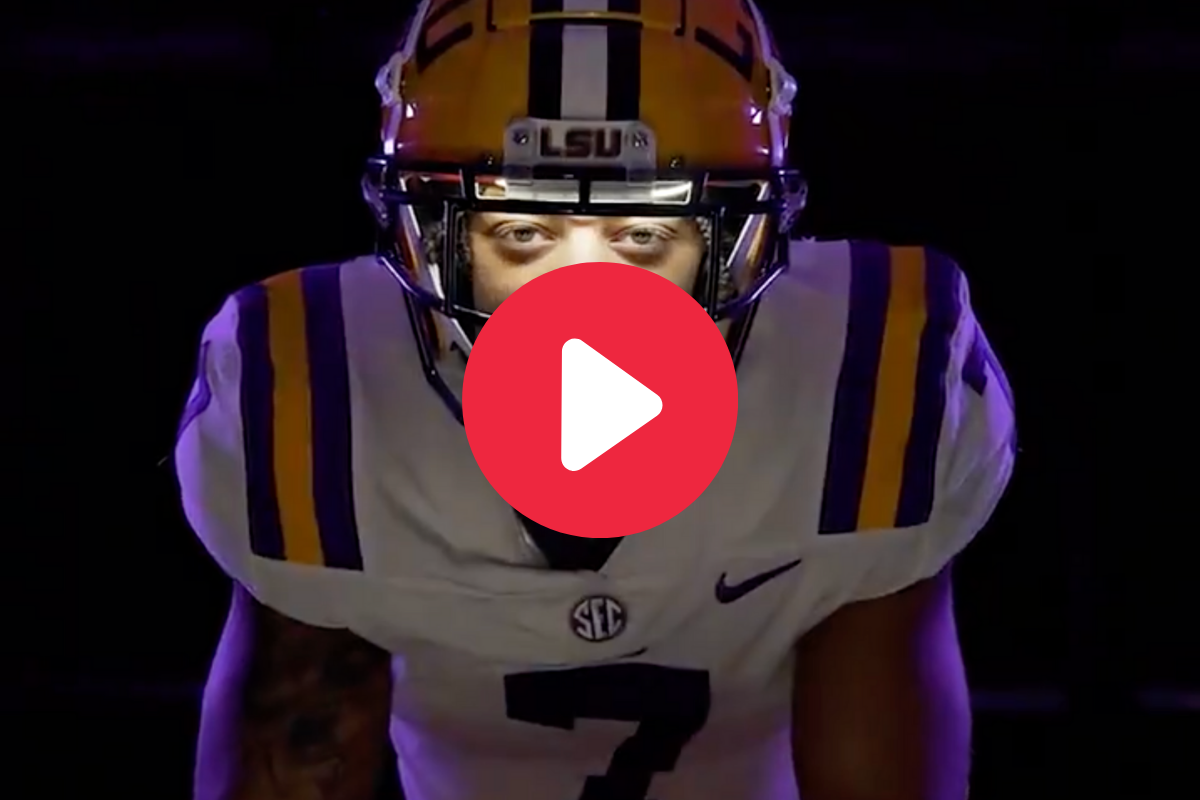 Screenshot from Twitter: LSU Football
LSU Tigers football is entrenched in tradition. You don't want to travel to Death Valley on Saturday night if you're an opposing player. Play "Callin' Baton Rouge," and every LSU football fan loses their mind. The No. 18 jersey is a symbol of leadership and work ethic for the unheralded players on LSU's roster, but there's another jersey holding even more weight in recent years.
Ever notice how the guy wearing No. 7 on his back is arguably LSU's best player? Two years ago, it was repped by LSU safety Grant Delpit, who was the 2019 Jim Thorpe Award winner as college football's top defensive back and a two-time Consensus All-American. The last to wear it was supposed to be wide receiver Ja'Marr Chase. He opted out during the 2020 season and the honor went to safety JaCoby Stevens instead last season.
Their time on the bayou concluded and the jersey has now been handed down to another icon in LSU history.
For the 2021 season, junior cornerback Derek Stingley Jr. will wear the iconic No. 7 for what figures to be his final season with Ed Orgeron's Tigers before heading to the NFL.
Derek Stingley Jr. to Wear LSU's No. 7 Jersey
RELATED: ?Callin? Baton Rouge? Makes LSU Fans Lose Their Minds
The legacy continues.
LSU head coach Ed Orgeron announced that Derek Stingley Jr. would officially wear No. 7 during the 2021 season. There isn't anyone more deserving on LSU's roster for the honor, either. Stingley is a two-time All-American and All-SEC cornerback who broke out instantly in Baton Rouge.
Stingley led the SEC in interceptions as a true freshman in 2019 and picked off two passes in their SEC Championship Game win against Georgia. The shutdown defensive back has totaled six interceptions and 26 pass breakups in his two seasons wearing the purple and gold.
"It's an honor to be part of the legacy of players that have worn the number 7 jersey," Stingley said in a school release. "I'm looking forward to upholding the tradition and the standard of play that has been set by the group that has come before me."
Stingley takes the number over after safety JaCoby Stevens was selected in the sixth round of the 2021 NFL Draft by the Philadelphia Eagles.
Stevens wore the jersey after Chase, who as a sophomore set single-season SEC records for receiving yards (1,780) and receiving touchdowns (20) catching passes from Heisman Trophy winner Joe Burrow, opted out of the 2020 season to prepare for the NFL Draft. He was selected fifth overall by the Cincinnati Bengals and will join his former quarterback in Ohio.
Now, it's Stingley's job to carry on a tradition that's nearly two decades in the making.
LSU Players to Wear Jersey Number 7
JaCoby Stevens, Safety (2020)
Second-team All-SEC (2019); Sixth-round pick in NFL Draft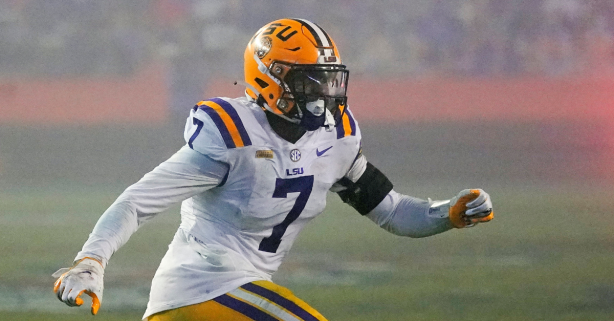 Grant Delpit, Safety (2019)
Jim Thorpe Award winner (2019); Two-time All-American
D.J. Chark, Wide Receiver (2017)
Second-Team All-SEC (2017); Second-round pick in NFL Draft
Leonard Fournette, Running Back (2014-16)
Single-season record for rushing yards (1,953); First-Team All-American (2015)
Tyrann Mathieu, Safety (2010-11)
Holds LSU record for forced fumbles (11); Finished 5th in 2011 Heisman Trophy voting
Patrick Peterson, Cornerback (2008-10)
Bednarik and Jim Thorpe Award winner (2010); No. 5 overall pick in NFL Draft
Ali Highsmith, Linebacker (2004-07)
Second-Team All-American (2007); 8 tackles, 1.5 sacks in BCS National Championship