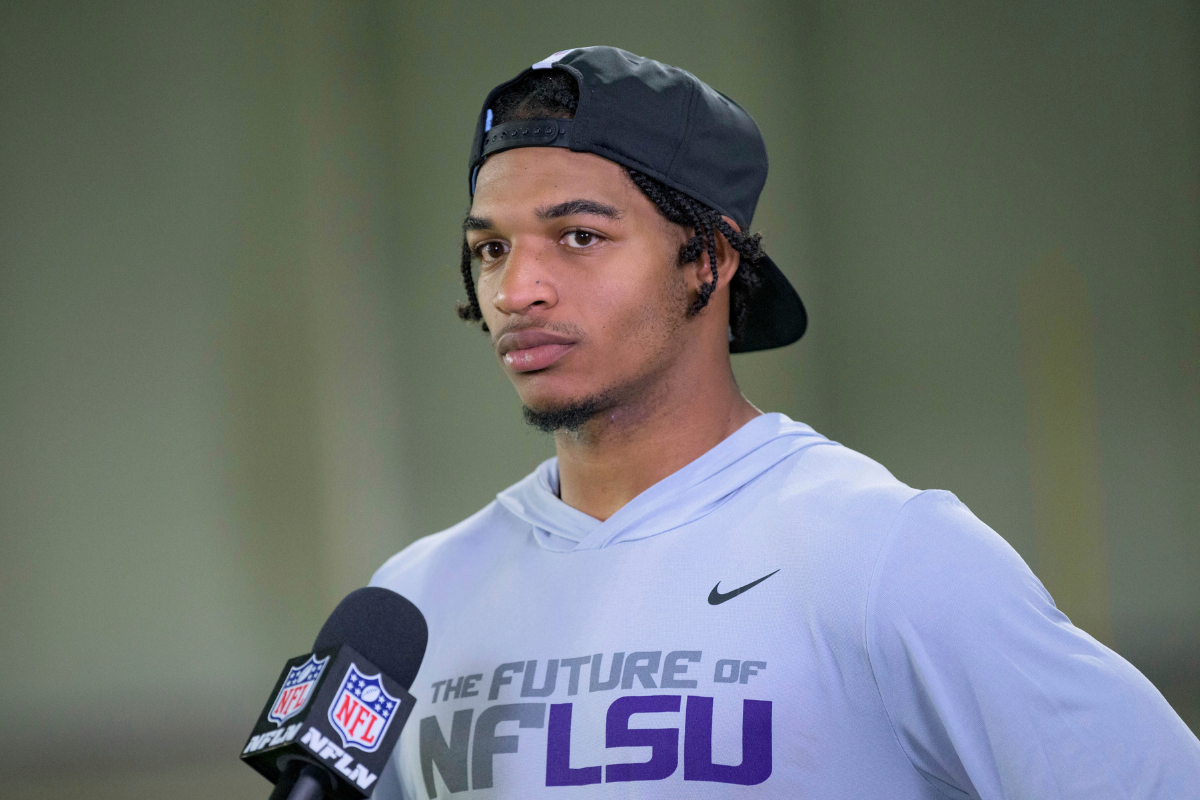 AP Photo/Matthew Hinton
Former LSU Tigers superstar wide receiver Ja'Marr Chase sat out the 2020 college football season due to the coronavirus pandemic. But even without playing last year, he is still a sure-fire top pick in the 2021 NFL Draft.
He looks destined for stardom at the next level.
Chase was beloved at LSU, where he won the Biletnikoff Award as the nation's best wideout during his sophomore season. And while he's gathered a large following from his time in Baton Rouge, no one roots for the former LSU star more than his parents.
Who Are Ja'Marr Chase's Parents?
RELATED: LSU?s Ja?Marr Chase Pens Heartfelt Letter to Tiger Nation
Ex-LSU WR Ja'Marr Chase grew up in Harvey, Louisiana to parents Jimmy Chase and Toleah Chase.
His parents have supported his football dream since he was young, and have been frequent attendees at his games dating back to his days as a standout football player at Archbishop Rummel High School in the suburbs of New Orleans.
When Chase took home the Biletnikoff Award in 2019 at ESPN's College Football Awards show in Atlanta, his parents were over the moon with pride.
"Ja?Marr set that as one of his goals. That?s the most fulfilling part. To have your child or your son set some goals for himself and actually reach some of those goals, doing what he loves to do; it?s a beautiful thing, life-changing thing,? Jimmy Chase told WAFB's Jacques Doucet.
Jimmy and Toleah also noted their son's selflessness, citing the time he came out of a game against Vanderbilt after scoring four touchdowns in order to give his teammate Racey McMath the chance to find the end zone as well.
"They have a good bond. It?s like a brother thing. Like Coach O says – one team, one heartbeat."
Chase's parents have seen him accomplish remarkable feats at the college level, and when Ja'Marr hears his name called on Draft Day, it'll add another incredible moment for the family.
Ja'Marr Chase's LSU Career
Ja'Marr Chase was a star the moment he stepped on campus as a member of the LSU football team.
As a freshman, Chase logged 23 receptions for 313 yards and a trio of touchdowns, before truly showcasing his otherworldly talents as a sophomore.
In 2019, Chase hauled in 84 catches for 1,780 yards and 20 touchdowns playing alongside Heisman Trophy winner and current Cincinnati Bengals quarterback Joe Burrow. He helped lead the Tigers through the gauntlet of the SEC, scoring two touchdowns against Florida and racking up 123 yards against Auburn.
His best game, however, came on the biggest of stages.
Chase helped lead head coach Ed Orgeron and LSU to a victory in the National Championship Game against the Clemson Tigers after catching two touchdowns and racking up 221 yards in an impressive College Football Playoff performance.
While Chase looks destined for a long and prosperous NFL career, he's already made his parents prouder than they'd ever imagined.