UPDATE (August 18, 2020): The coronavirus pandemic and COVID-19 outbreak threw a wrench into LSU's title defense. The Southeastern Conference announced plans to push forward with the 2020 season by instituting a 10-game, conference-only schedule. Meanwhile, the Big Ten and Pac-12 were among several conferences choosing to postpone playing in the fall.
With an adjusted preseason to prepare, LSU opens on September 26 at home against head coach Mike Leach and the new-look Mississippi State Bulldogs. A road game against Florida looms in October, and the annual Alabama-LSU matchup takes place in Death Valley in November.
Updated LSU Football Schedule 2020
Sept. 26: MISSISSIPPI STATE BULLDOGS (Baton Rouge, LA)

Oct. 3: at Vanderbilt Commodoroes (Nashville, TN)

Oct. 10: MISSOURI TIGERS (Baton Rouge, LA)

Oct. 17: at Florida Gators (Gainesville, FL)

Oct. 24: SOUTH CAROLINA GAMECOCKS (Baton Rouge, LA)

Oct. 31: at Auburn Tigers (Auburn, AL)

Nov. 7: BYE

Nov. 14: ALABAMA CRIMSON TIDE (Baton Rouge, LA)

Nov. 21: at Arkansas Razorbacks (Fayetteville, AR)

Nov. 28: at Texas A&M Aggies (College Station, TX)

Dec. 5: OLE MISS REBELS (Baton Rouge, LA)
Should the national champions repeat their success of last season, LSU will return to the SEC Championship Game, tentatively scheduled for December 19, 2020, at the Mercedes-Benz Superdome in Atlanta.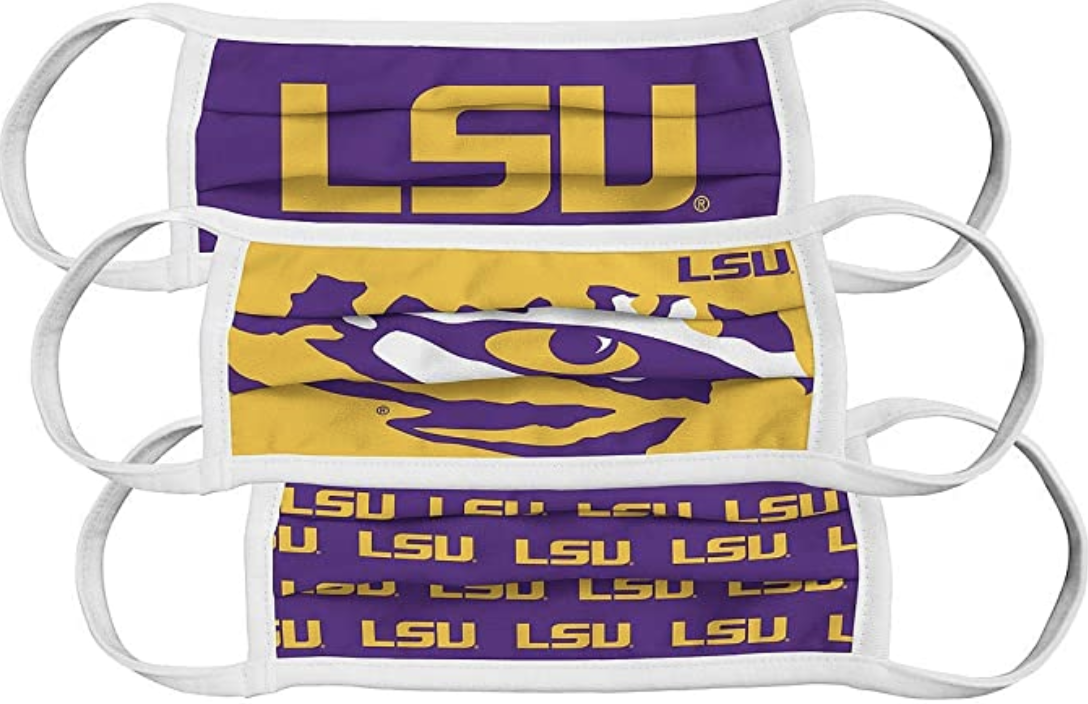 ---
The following article was originally published March 22, 2020 before schedule changes took effect.
A year ago, I wrote about the LSU Tigers and their schedule setting them up for a chance at an SEC Championship, but they exceeded that by more than I could have imagined and will defend their conference title and National Championship during the 2020 College Football season.
Led by Heisman-Trophy winning quarterback Joe Burrow, the Louisiana State University football team went undefeated and won the College Football Playoff for their fourth National Championship in program history. How are they going to follow up one of the best seasons in college football history?
With Burrow heading to the NFL and someone new under center for head coach Ed Orgeron, this team will likely look extremely different compared to last season. But there is always a load of talent in Baton Rouge, and Orgeron has been able to take advantage of that during his four seasons.
​It is always a tough road in the SEC West, but their schedule sets up well and could see LSU fighting for a spot in their conference championship and College Football Playoff for the second season in a row.
The beginning of their season means breaking in a new quarterback. Of their first five games, three should be easy non-conference wins, though traveling to play Rice in Houston is interesting, as well as Texas and Ole Miss in games three and four. Myles Brennan will likely take over as the starter with by far the most experience. There are also three freshman on the team: Peter Parrish (redshirt), Max Johnson, and TJ Finley.
RELATED: Clemson's 2020 Schedule is Softer Than Pampers Baby Wipes
Brennan will be a redshirt junior in 2020 with limited experience. In 15 games over the three seasons on campus, he completed 42-of-70 pass attempts for 600 yards, two touchdowns, and three interceptions. But with the first unit and the same offensive play-calling from last season, Brennan could take a huge leap forward.
Coming out of high school, Brennan was a four-star recruit and ranked as the 152nd-best player in the 2017 recruiting class as well as the sixth-ranked pro-style quarterback. Even if he isn't close to Burrow's productivity, that will still have LSU scoring a decent amount of points and winning quite a few FBS games.
The SEC West had an average season outside of the Tigers last season. Alabama, Auburn, and Texas A&M were the runner-ups. The Florida Gators and South Carolina Gamecocks as their cross-over matchups are solid, though they play in Gainesville, and the Gators look to improve off their 11-2 record in 2019. Thankfully for LSU, they don't have to play both Florida and Georgia in the regular season, though it is possible they will meet the Bulldogs in Atlanta at Mercedes-Benz Stadium for the SEC football championship game again.
2020 LSU Football Schedule
Sept. 5: UT-SAN ANTONIO

Sept. 12: TEXAS

Sept. 19: at Rice

Sept. 26: OLE MISS*

Oct. 3: NICHOLLS STATE

Oct. 10: at Florida*

Oct. 17: at Arkansas*

Oct. 24: MISSISSIPPI STATE*

Nov. 7: ALABAMA*

Nov. 14: SOUTH CAROLINA*

Nov. 21: at Auburn*

Nov. 28: at Texas A&M*

* — Denotes SEC game
ALL CAPS — Denotes home game at Tiger Stadium in Baton Rouge, La.