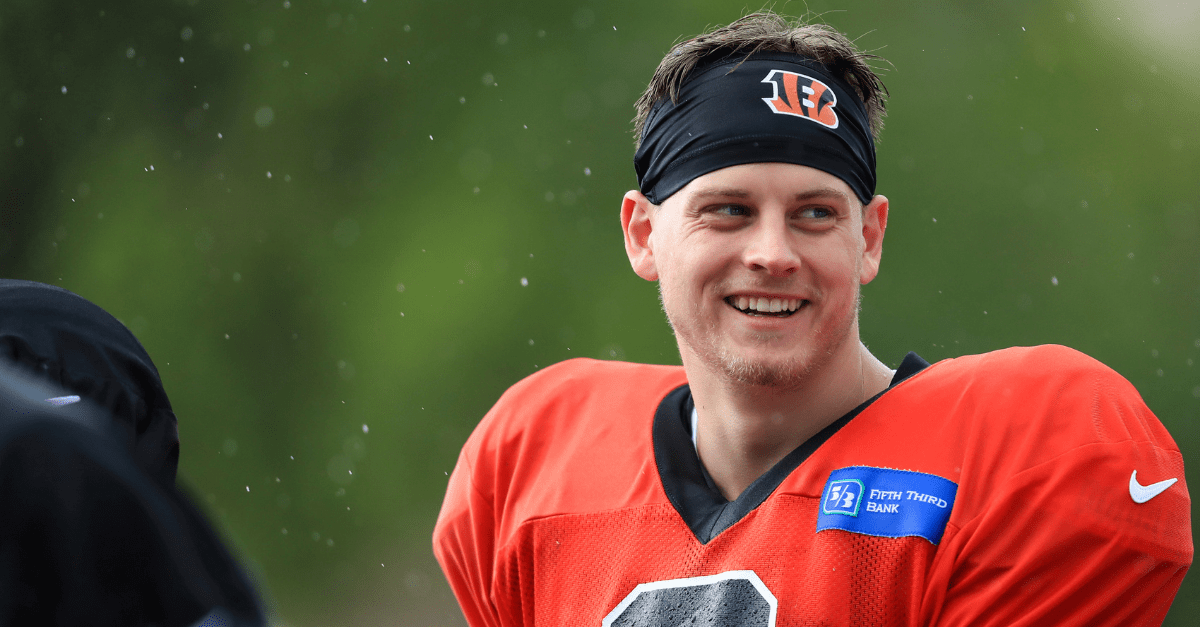 AP Photo/Aaron Doster
Joe Burrow quickly became a very, very rich man. Over the course of the last year, the former LSU quarterback led the LSU Tigers to a College Football Playoff national championship game victory over Clemson, won the Heisman Trophy and starred in his first ever commercial alongside some pretty prominent NFL stars.
The Cincinnati Bengals selected the Louisiana legend with the first overall draft pick in the 2020 NFL Draft (which was virtual thanks to the Coronavirus pandemic), and the Heisman Winner became a multi-millionaire rookie after signing a four-year, $36.1 million contract, per a tweet from ESPN's Field Yates. He's also one of the most sought-after unmarried quarterbacks in the league.
Unfortunately for any interested ladies, Burrow is taken.
Joe Burrow's Girlfriend Olivia Holzmacher
Current Bengals rookie quarterback and former LSU quarterback Joe Burrow has been pictured with his girlfriend before and after games numerous times, but who is this mystery girl?
Her name: Olivia Holzmacher.
Holzmacher met the Heisman Trophy winner when she was studying data analytics at Ohio State University. Burrow landed in Baton Rouge after transferring from the Big Ten school in 2018, and Holzmacher graduated in 2019, according to the New York Post.
Judging from Instagram pictures on Holzmacher's account, the pair have been together for at least two and a half years. She also has more than 24,000 followers on her social media account.
Aside from supporting Burrow as much as possible, Holzmacher apparently has partnered with Verb Energy, which sells energy bars.
She's Joe Burrow's No. 1 Fan
RELATED: The NBA's Virtual Fans Are Incredible. Here's How to Become One
Holzmacher has called herself Joe Burrow's No. 1 fan, though she may face stiff competition from the LSU football faithful after the 2019 season. Still, she's stuck by Burrow's side for more than two years.
After Burrow led the Tigers to a national title in a 42-25 win over Clemson in the Mercedes-Benz Superdome in New Orleans — a game President Donald Trump and wife Melania Trump also attended –, Holzmacher posted photos from inside the venue. At the same time, Burrow was shooting up NFL mock draft boards.
She also sat alongside Burrow's parents and LSU head coach Ed Orgeron during Burrow's tear-jerking and inspiring Heisman Trophy award ceremony and speech.
"I'm so proud of you! The best weekend ever!" Holzmacher said on Instagram after the speech.
During Burrow's NFL debut against the Los Angeles Chargers, Holzmacher was in the stands as a cardboard cutout next to Burrow's parents inside Paul Brown Stadium. When Burrow plays on prime time, she's sure to be a trending topic all over social media.
It's pretty clear she'll always be rooting for Burrow on the sidelines when he's playing, even if she can't physically be there because of COVID-19.
Her Special NFL Draft Message to Him
Holzmacher posted a number of photos prior to the 2020 NFL Draft, which her man headlined as the first overall pick. Joey Burrow would be a smart man to keep her by his side and make her part of the Burrow family.
"Tonight a new chapter starts! Thankful to be by your side Joe and to be a part of the past three seasons. I've had the best experiences and met the best people along the way. So excited for what the future holds. Tonight will be once in a lifetime," she wrote on Instagram.
Holzmacher is a lucky woman. Burrow has shown LSU fans and the rest of the nation that he's charismatic, funny (have you seen his Ed Orgeron impression or how he handled his butt popping out of his pants?) and an overall cool dude.
There are already power couples galore in the NFL — Russell Wilson and Ciara, Aaron Rodgers and Danica Patrick and Tom Brady and Gisele Bundchen — but Burrow and Holzmacher are already the hottest item around.
Joe Burrow is about to be the talk of the NFL once he hits the field. But sorry, ladies, it appears he's a taken man.