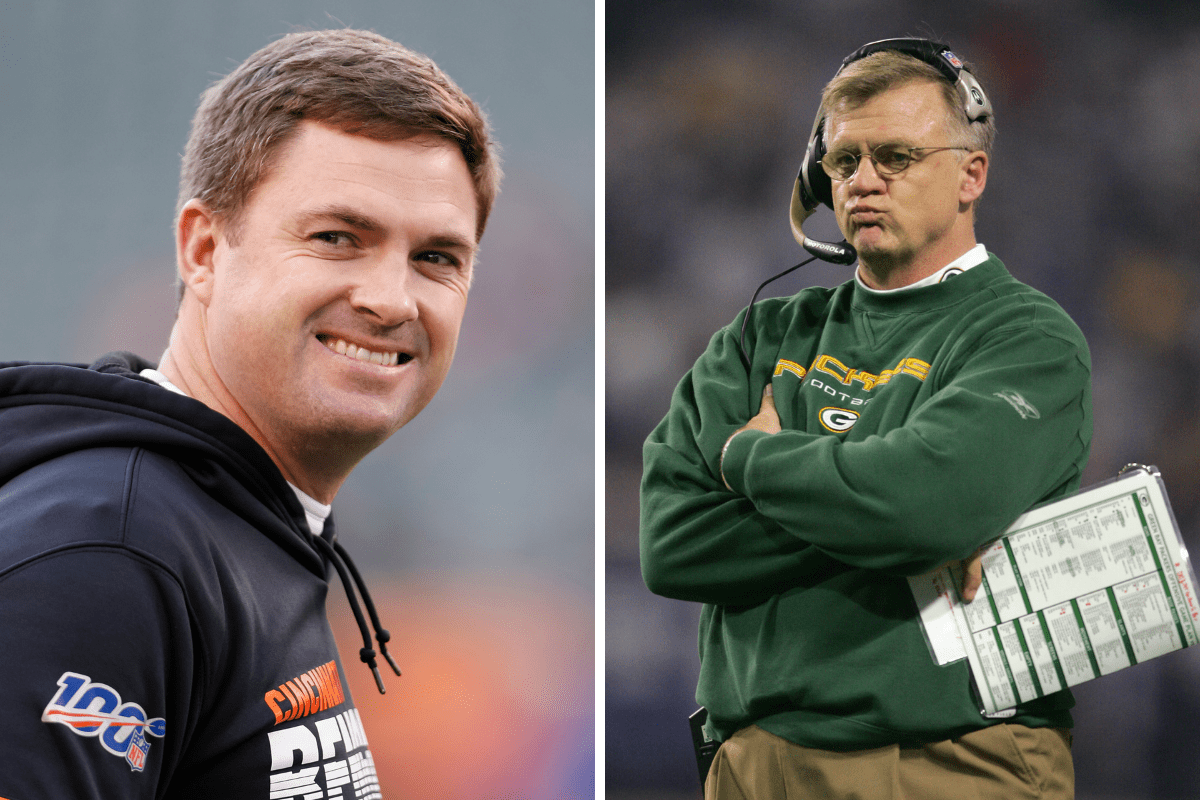 Photo by Michael Hickey/Getty Images (left), Photo by Matthew Stockman/Getty Images (right)
It's not outlandish to say the 2021 season was a make-or-break year for Zac Taylor. The Cincinnati Bengals head coach needed to show sings of progress after going 2-14 and 4-11-1 in his first two seasons.
It's safe to say he made it.
The Bengals went 10-7 and clinched the AFC North for the first time since 2015. Along the way, quarterback Joe Burrow — the No. 1 overall pick in the 2020 NFL Draft — and wide receiver Ja'Marr Chase — the No. 5 pick in the 2021 NFL Draft — brought the stellar connection they built at LSU to the Queen City.
Taylor, Burrow, Chase and the rest of the Bengals have played their best football when it matters most. They kicked off the postseason by beating the Las Vegas Raiders on Super Wild Card Weekend. Then, they traveled to Nashville to take on the Tennessee Titans and Burrow overcame nine sacks to lift the franchise to its first road playoff win in team history. Who would've thought Cincinnati has a real shot at winning the Super Bowl this year? Not me.
Taylor has more than put together a campaign worthy of a Coach of the Year award. His wife, Sarah Sherman, has been his biggest supporter since day one. She knows a little something about coaching at the highest level, too. Her father, Mike Sherman, was an NFL head coach for six years.
Zac Taylor's Wife Sarah Taylor
RELATED: Joe Burrow's Girlfriend Will Always Be His No. 1 Fan
Zac Taylor grew up in Norman, Oklahoma and attended Norman High School before embarking on a college football career at Wake Forest and Butler Community College in El Dorado, Kansas.
Once his junior college days concluded, he went to the University of Nebraska and won the starting quarterback job in 2005. It was in beautiful Lincoln where the signal caller met his wife.
"I remember the first time I saw her," Taylor told Sports Illustrated in 2018. "We were practicing on our soccer field at Nebraska. When practice ended, there was a girl in a yellow dress. She looked so much more mature, I figured she was probably 30 years old. I'm only 22. As the year went by, I learned we were the same age. I would run into her more often and I realized maybe I had a chance."
Sarah was around the football team because she was in grad school studying marketing and journalism and worked part-time in the athletic department. It's a good thing she was because she and Zac hit it off immediately.
So, 2006 ended up being a pretty good year for the Bengals head coach. He was dating his future wife and he was named the Big 12 Offensive Player of the Year while leading the Cornhuskers to a Big 12 North title.
Two years later, they tied the knot at St. Anne's Catholic Church in Houston, Texas.
Zac Taylor Children
Sarah has always been Zac's biggest supporter, but she has some competition now. The couple's four kids — sons Brooks and Luke, and daughters Emma Claire and Milly — unconditionally root for their dad.
After the Bengals clinched the AFC North title against the Kansas City Chiefs in Week 17, Zac was still able to make Brooks' basketball game the same night.
"I got there about 5:40," Taylor said in a press conference, per Cincinnati WKRC. "They were coming out of the half and I went and put the division hat on him on the bench, and then we went home and sat on the couch with my wife and rest of the family. It was a pretty good night for the Taylor household."
During the season, the duties of being an NFL coach leave little to no free time. Sarah has always been up to taking care of things at home while Zac works. However, he cherishes family time more than anything in the offseason.
"[Sarah] deals with so much during the seven months we're in-season," Zac told the Lincoln Journal Star in 2018. "I'm never around. Really, never. I might see the kids once a week. So in the offseason, I'll never feel bad when there's a day off. I place value on my family above everything else. [My family] puts up with a lot to deal with me in this profession. It's a rugged profession, for sure. But I've been blessed to have some great opportunities and have a great family that comes along for the ride."
Zac Taylor's Father-in-Law Mike Sherman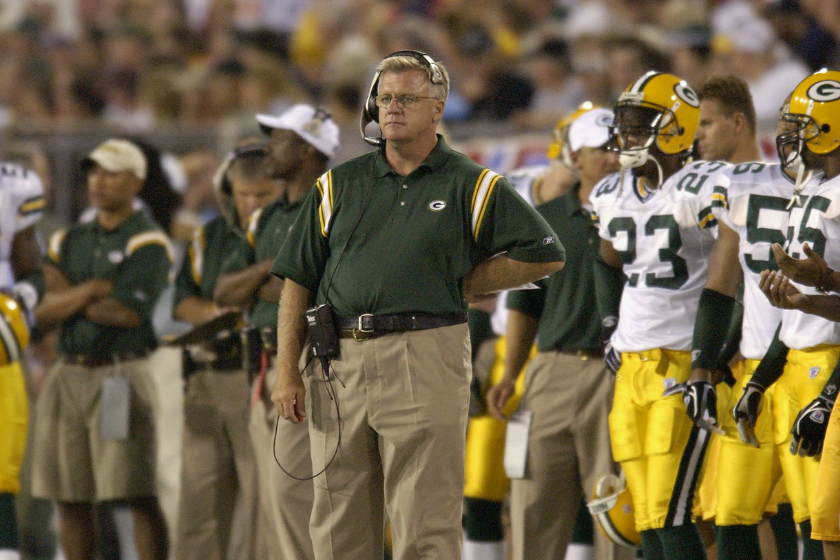 Naturally, one of the first steps in a serious relationship is meeting each other's parents. For Zac, that meant meeting Sarah's father Mike, who was on the offensive staff for the Houston Texans at the time.
"The first time I met [Mike], he was upstairs in his house," Zac recalled to Sports Illustrated. "He has his XOS coaches film set up there. I was as intimidated as can be. I figured, I can impress him by watching film with him. He runs a basic play back and forth and says something like, 'What's your landmark at Nebraska on this play?' I say, 'Oh, same as you [at Green Bay and Houston], the inside edge of the field numbers.' I felt a panic at that point. And he says, 'But aren't your field numbers a little wider in college?' At that moment I realized I had no idea what I was talking about. I didn't say another word for 20 minutes. That was our first real conversation. He was throwing me a bone on something simple about football and I failed."
Let this be a lesson to dissect film every day if you're potential father-in-law is an NFL coach.
Houston was one of the later stops in Sherman's long coaching career. He got his start at the high school level before coaching at Pittsburgh, Tulane, Holy Cross, Texas A&M and UCLA. The Green Bay Packers brought him up to be their tight ends coach in 1997, and after a year stint as the offensive coordinator for the Seattle Seahawks, he was named the Packers head coach in 2000.
He left for Houston after six years in Green Bay and went back to the college ranks to be the head coach of Texas A&M in 2008. By then, Zac had finished his playing career and Sherman hired him as an Aggie graduate assistant.
Zac Taylor's Coaching Career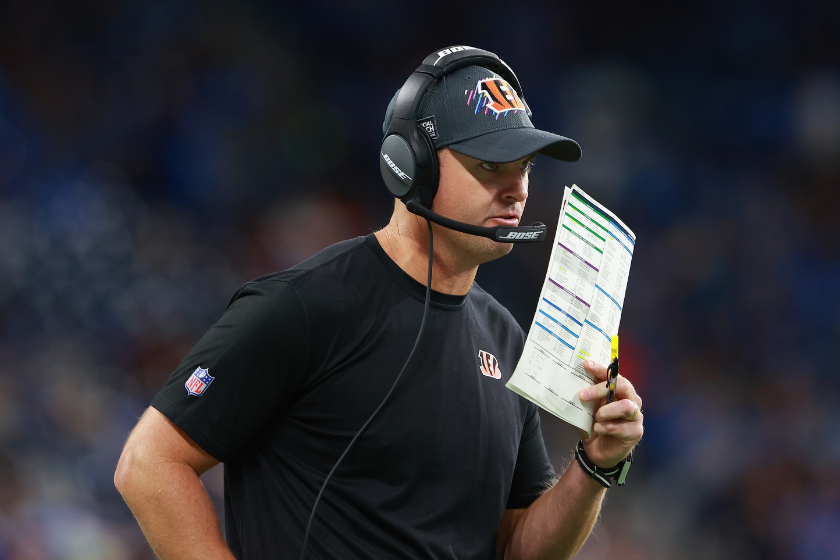 College Station was the first stop on Taylor's coaching journey. He left for the Miami Dolphins after three seasons, where he worked his up way to quarterbacks coach and offensive coordinator. He returned to the college level for the same positions at the University of Cincinnati in 2016 before joining Sean McVay's Los Angeles Rams staff as a wide receivers coach the next year. He returned to coaching quarterbacks in his second season with the Rams.
Even though he didn't have any head coaching experience, the Bengals hired him in 2019 for his offensive ingenuity. They're seeing the decision pay off.
The whole city of Cincinnati is behind Taylor and the Bengals, but his five biggest fans are at home.
Related Videos