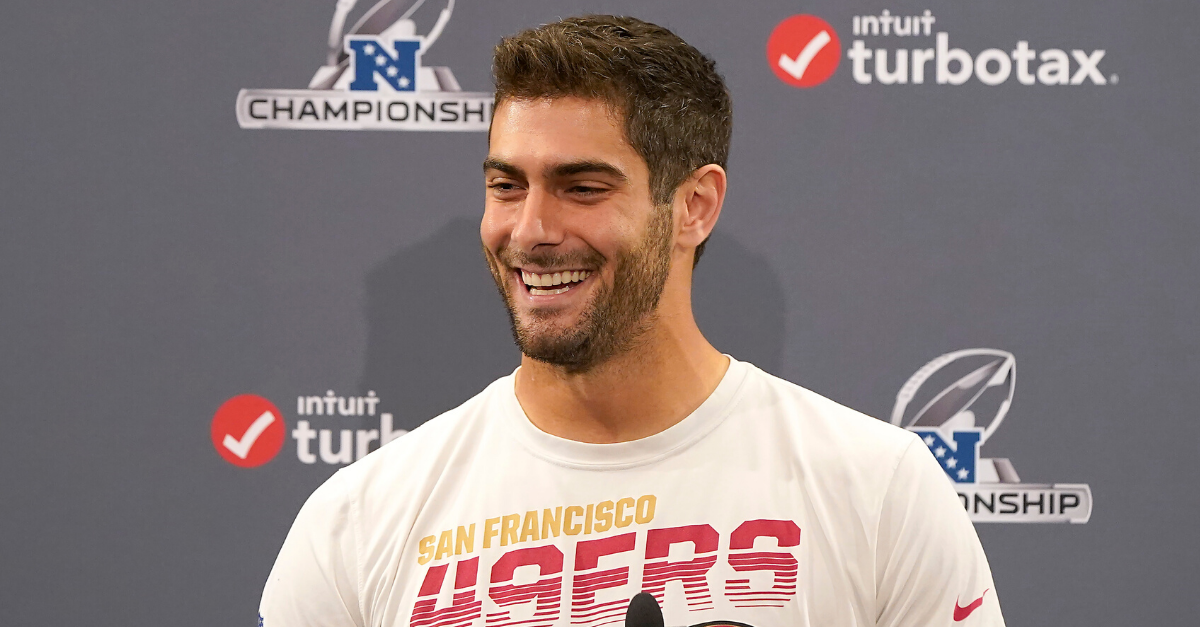 AP Photo/Tony Avelar
San Francisco 49ers quarterback Jimmy Garoppolo marched through the 2019 NFL playoffs and squared off against Patrick Mahomes and the Kansas City Chiefs in the Super Bowl after thrashing Aaron Rodgers and the Green Bay Packers in the NFC Championship game.
With the national spotlight fixated on the 28-year-old who once hit on Erin Andrews in the middle of an interview, it's only natural to wonder about the former Eastern Illinois quarterback's dating life. Unlike the NFL quarterbacks with highly publicized relationships — Rodgers and racing star Danica Patrick or Tom Brady and model Gisele Bündchen — Jimmy G. has kept his private life, well, private for the most part.
Jimmy Garoppolo Girlfriends
Still, that doesn't mean we don't know some of the juicy details of Garoppolo's romantic life off the gridiron. For example, did you know he once went on a double date with Brady, Bündchen and a mystery woman?
Prior to the NFC Championship Game, The Mercury News spoke with Garoppolo's childhood friend who said, "He's always been kind of single for the most part. My joke has always been, he doesn't have a girlfriend, he has all the girlfriends."
Here's who has been linked to one of the hunkiest quarterbacks in the NFL.
Porn Star Kiara Mia
Garoppolo made headlines when he was spotted locking arms on a dinner date with adult film star Kiara Mia in Beverly Hills in the summer of 2018. She told TMZ that they were just friends despite the details she later revealed about that night.
The former New England Patriots signal caller said he wasn't used to the Hollywood treatment he received that night while out with the 41-year-old Mia.
"Life is different now," he told TMZ about his personal life. "My life, off the field — I've never really been big on being very public with things even on social media. I'm not on there a ton.

"But my life's looked at differently. I'm under a microscope. It's like (49ers hcoach Kyle Shanahan) said, it is a good learning experience. Just have to take it in stride. It is what it is."
Months after the date with Mia, the then-26-year-old San Francisco 49ers QB tore his ACL in the beginning of the season. That led to jokes that the porn actress "cursed" the 49ers quarterback. However, now that the Niners are heading to the Super Bowl, Mia has taken credit for the team's success.
Model Alexandra King
Garoppolo reportedly had a more serious relationship with girlfriend Alexandra King. She caused a stir on social media when she wrote "karma" on an Instagram photo after he tore his ACL in 2018.
TMZ spotted the couple spending time at Disneyland together in March of 2018. According to the New York Post, she also called Garoppolo "My Valentine" in an Instagram post in February, though that post seems to have been deleted.
Jimmy Garoppolo's girlfriend is apparently now his ex-girlfriend, as he denied they were ever an item in the first place.
"It was news to me," he told Bleacher Report.
The Mysterious VIP Bottle Service Girl
We don't have a name, but we do have an Instagram handle. Terez Owens reported that the NFL quarterback was dating a VIP bottle service girl from Sacramento in 2019 who uses the handle @shaybaevip on Instagram.
Garoppolo unfollowed her after the story linking the two together came out, and he apparently has improved his skills at keeping his private life private. I don't know if the two are still seeing each other, but keep your eyes peeled for her during the Super Bowl.
This article was originally published January 20, 2020.