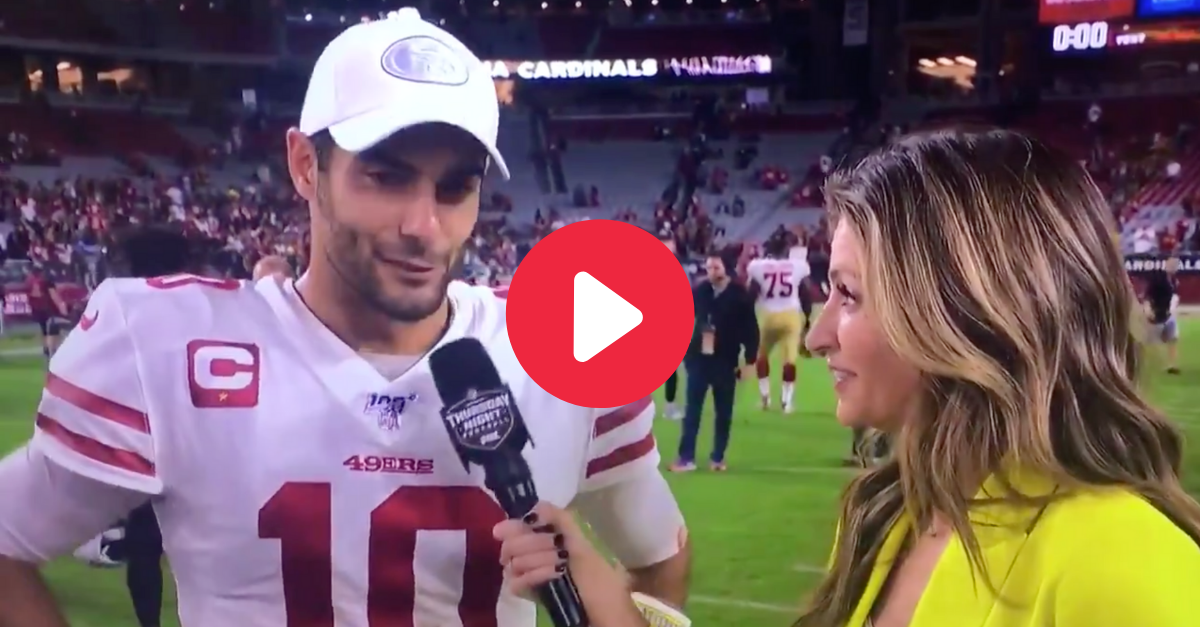 Screenshot from Twitter
Don?t look now, but the San Francisco 49ers are one of the best teams in the NFL. Sure, they had a brutal schedule to end the season 2019, but an 8-0 start was nothing to laugh at. One of the biggest reasons for the perfect record was the play of quarterback Jimmy Garoppolo and, needless to say, his confidence was at an all-time high back in late October.
After carving up the Arizona Cardinals defense for 317 yards and a career-high four touchdowns on Thursday Night Football, the 27-year-old signal caller had a postgame interview with Fox sideline reporter Erin Andrews. Everything went smooth, and then the 49ers quarterback decided to shoot his shot.
?8-0, how does that feel?? the Fox Sports reporter asked.
?Feels great, baby,? Garoppolo replied with a smile.
Yeah, that?s right, Jimmy G hit on Erin Andrews and made her blush so much that all she could say was ?Happy Halloween? in return.
Jimmy Garoppolo Interview With Erin Andrews
RELATED: The Cris Collinsworth Slide-In Belongs in the Hall of Fame
If the ?baby? comment didn?t give it away, the look back and point while walking away sure did. The entire sequence was priceless, and the Niners quarterback sure didn?t care, even when asked about it at a later press conference.
Social media sure had fun with the trending interview, too, with an abundance of tweets.
Being undefeated was sure nice. Tom Brady and the defending Super Bowl champion New England Patriots were the only other team to have a perfect record at the time. The NFC West might have be stacked with the Seattle Seahawks and Los Angeles Rams, too, but the Niners proved they are here for the long run.
San Francisco 49ers quarterback Jimmy Garoppolo, who played college football at Eastern Illinois, is at the top of his game right now. The Niners, led by head coach Kyle Shanahan, locked up the NFC's No. 1 seed in the playoffs before hosting the Minnesota Vikings in the Divisional Round.
The TNF win and interview with Erin Andrews, however, was all the proof the quarterback needed to show he was a star.
Jimmy G is really starting to hit legend status.

This post was originally published on November 1, 2019.