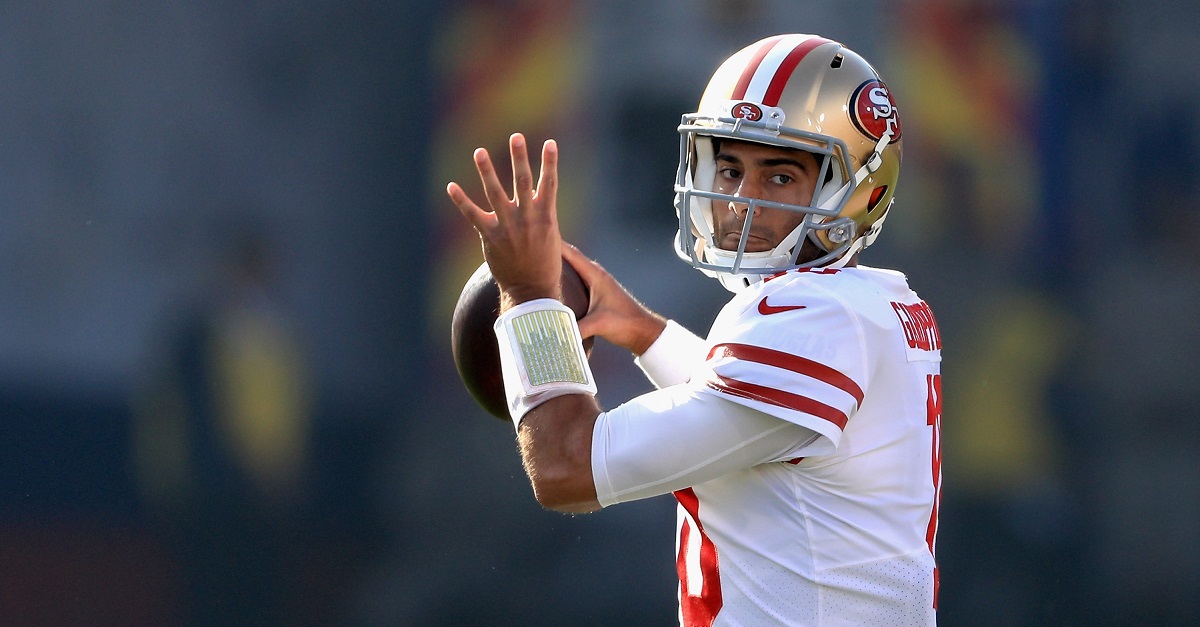 LOS ANGELES, CA - DECEMBER 31: Jimmy Garoppolo #10 of the San Francisco 49ers looks to pass during the first half of a game against the Los Angeles Rams at Los Angeles Memorial Coliseum on December 31, 2017 in Los Angeles, California. (Photo by Sean M. Haffey/Getty Images)
Jimmy Garoppolo is a very wealthy man, as he agreed to a $137 million contract that set all kinds of new boundaries for an NFL deal, even at the quarterback position. Then, after the fact, it came to light that the former New England Patriots and current San Francisco 49ers signal-caller made even more history with his massive pact.
Adam Schefter of ESPN brought word of Garoppolo's contract details.
From there, the good people of Niners Nation uncovered that Garoppolo's 2018 salary cap figure of $37 million will be the largest in NFL history… by a hefty margin.
This makes all the sense in the world in that the Niners were projected to be comically below the salary cap and, despite the absurdity of a near-$40 million figure, San Francisco sets itself up nicely for the future by taking on so much of the financial commitment in year one. Still, it is jarring to say the least and, if Garoppolo struggles in the slightest, it is a safe bet to assume many will point to the dollar figure in which he is being paid as something of an albatross for the organization.
That, of course, will not be true in and of itself but, at this point, we know that Jimmy Garoppolo is going to make a lot of money and a great deal of it will count against San Francisco's salary cap for the 2018 campaign.