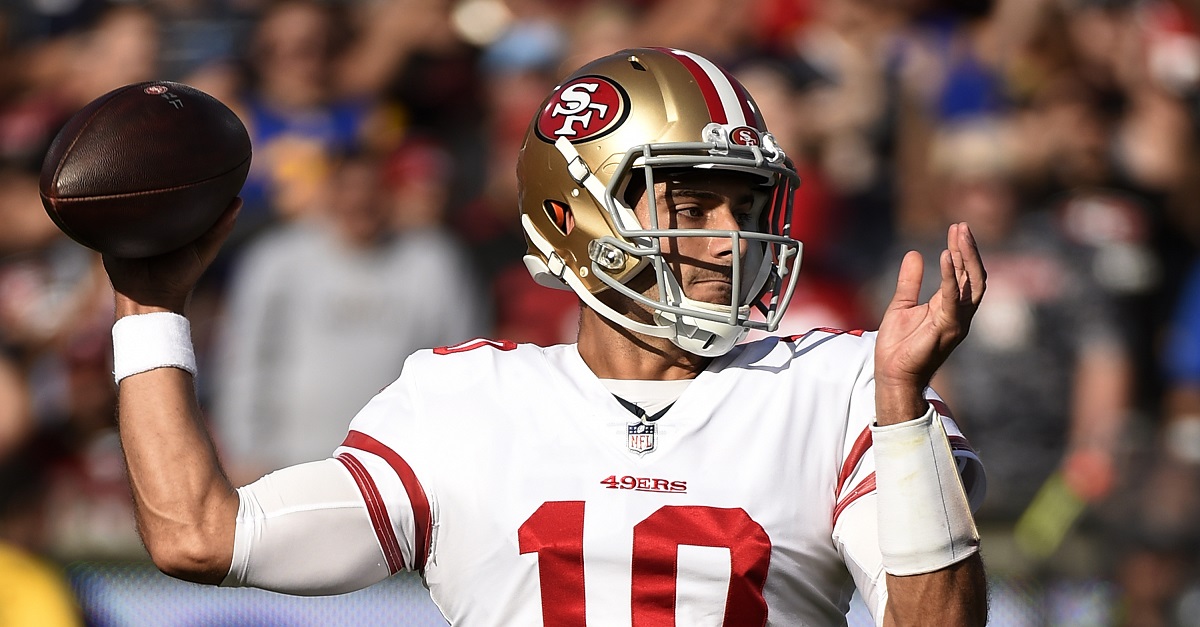 Kevork Djansezian/Getty Images
LOS ANGELES, CA - DECEMBER 31: Quarterback Jimmy Garoppolo #10 of the San Francisco 49ers throws a pass Los Angeles Rams during the first quarter at Los Angeles Memorial Coliseum on December 31, 2017 in Los Angeles, California. (Photo by Kevork Djansezian/Getty Images)
Jimmy Garoppolo just reportedly became the richest player in NFL history, at least on an average-per-year basis.
The new San Francisco 49ers quarterback hasn't even played a full season with the 49ers but apparently they've seen enough to give him a mega deal like this. He started five games for the 49ers this season after being traded from the New England Patriots midway through the season.
Garoppolo has only appeared in 23 games in his career with seven total starts — two of which came in New England. In his two starts in 2016 — due to the Tom Brady suspension — he threw for 502 yards and four touchdowns and no interceptions.
This past season, all five of his starts (with six total appearances) came as the 49ers quarterback and he threw for 1,560 yards and seven touchdowns against five interceptions. That's a small sample size, and while it's much better quarterback play than the 49ers have seen in some time, giving Garoppolo a contract that huge is just unprecedented.
Before the trade officially went down, there was talk that Garoppolo might have been headed to Cleveland since they were willing to offer a top-five pick. However, coach Bill Belichick would reportedly have never let that happen because of how bad Cleveland has been the last decade-plus.