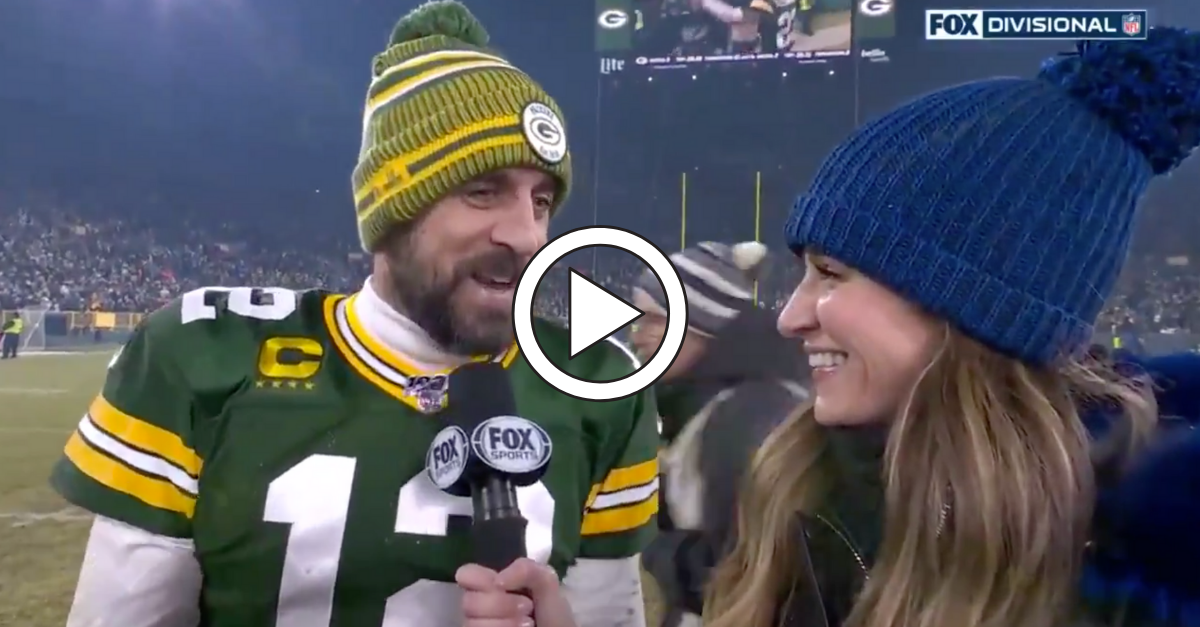 Screenshot from Twitter
By now, everyone should recognize Green Bay Packers quarterback Aaron Rodgers as one of the best players in NFL history. His resume certainly speaks for itself and he continues to play at a high level, even at 36 years old. A win over the Seattle Seahawks on Sunday night only added to his legacy.
When the Packers needed a big play, Rodgers produced. Wide receiver Davante Adams played a big role, too. So did tight end Jimmy Graham. But at the end of the day, it was all about the quarterback making the throws when the game was on the line, and everyone at Lambeau Field witnessed Rodgers at his best.
Rodgers completed 16 of 27 passes for 243 yards with two touchdowns, both to Adams. He also converted on two massive third-down plays in the fourth quarter. And when it was all over in Wisconsin, he gave a classic interview with Fox Sports sideline reporter Erin Andrews about his postgame plans.
Aaron Rodgers Loves Scotch
RELATED: Todd Gurley Chugs Beer Like a Champ on NHL Jumbotron
Any NFL playoff win is special, but you could tell the two-time MVP was loving this Divisional Round victory. Now all that?s left between another trip Super Bowl is the NFC Championship Game against the San Francisco 49ers.
Rodgers knows it will be a battle next week, so he was going to go home and enjoy some scotch.
?I?m just going to enjoy a nice glass of scotch tonight, and get onto the film on San Fran and get ready for a tough opponent,? Rodgers said.

?All right, old man,? Andrews replied.
We?ve all seen Aaron Rodgers? failed attempt at chugging beer with lineman David Bakhtiari. Perhaps scotch is the better route.
At the end of the day, though, it comes down to performance on the field. And lucky for head coach Matt LaFleur, he has a Hall-of-Fame quarterback playing some of his best football when it matters the most.