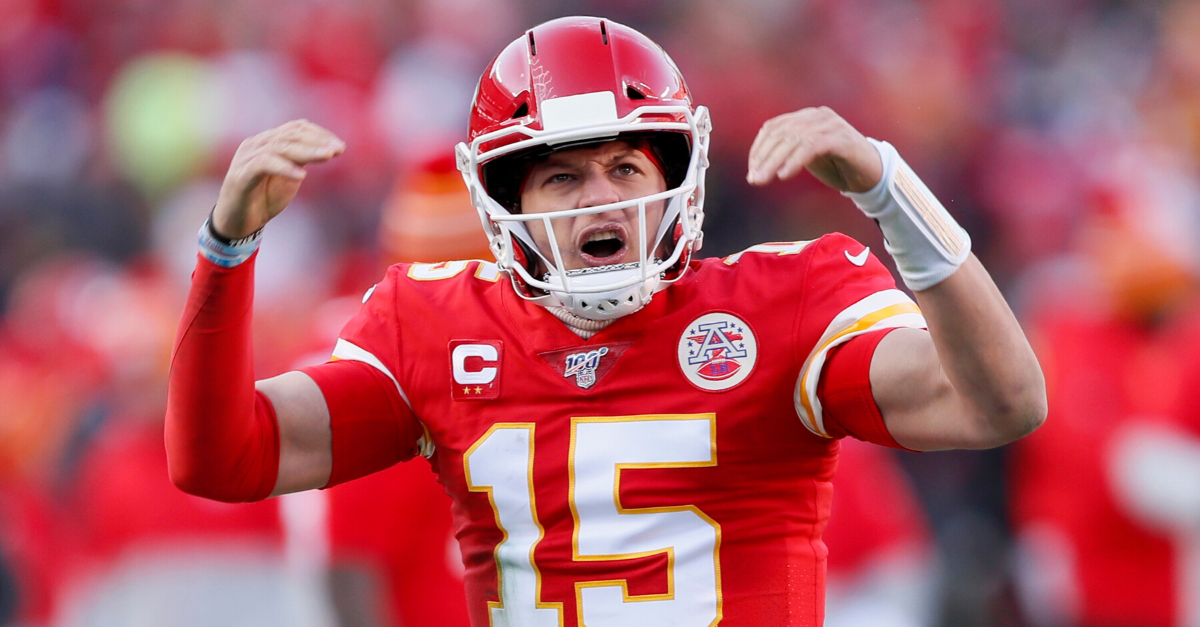 AP Photo/Charlie Neibergall
The finer things in life are worth forking up some extra cash. You can't blow through six episodes of The Sopranos on Friday night without paying for HBO. Having a remote controlled truck is fun, but wouldn't it be more fun with an AR-15 strapped to the top? If you haven't paid extra for guacamole, well, then you're probably not a millennial.
When it comes to the NFL, one luxury stands tall above the rest: elite quarterbacks. Professional football teams pay insane amounts for average QBs, but when a generational talent walks into the locker room, they better be prepared to break the bank.
Green Bay Packers legend Aaron Rodgers is sitting on $103 million guaranteed. Seattle's Russell Wilson signed a $140 million extension. Even "Is He Actually Good" Matt Ryan of the Atlanta Falcons has a $150 million deal in his pocket.
But Kansas City Chiefs quarterback Patrick Mahomes? He'll be entering rare air.
ESPN's Adam Schefter reported back in January that the 2018 NFL MVP could receive a record-breaking $200 million contract extension, which would be far-and-away the most money in NFL history.
Aside from baseball's outrageous deals, only three athletes in major American sports have signed contracts that large: Houston Rockets teammates James Harden and Russell Westbrook, plus Golden State Warriors superstar Stephen Curry.
In my mind, there's one question: Is Patrick Mahomes actually worth $200 million?
Playing Career
Mahomes was born to be a professional athlete. His father is former MLB pitcher Pat Mahomes, who played a long, grinding career spanning almost two decades, which taught his son work ethic that few athletes learn at a young age.
"You don't get to see that people really have to work hard to become as good as they are," Patrick Mahomes II told The Kansas City Star. "So, for me seeing that as a young age as I've grown up, has shown me that I have to work just as hard to get to that level."
Safe to say, he took that advice.
Mahomes was named MaxPreps Male Athlete of the Year after dominating for Whitehouse High School just outside Tyler, Texas. As a senior, Mahomes put up 5,500 yards and 65 touchdown passes on the football field, a 93 mph fastball and .450 batting average on the baseball diamond, then added 19 points and eight rebounds per game on the basketball floor for good measure. He was selected by the Detroit Tigers in the 37th round, but opted to head for Texas Tech University.
Good choice.
In only three seasons of college football, Mahomes threw for over 11,000 passing yards and 93 touchdowns, both of which rank No. 3 in Texas Tech history behind high-volume passers Graham Harrell and Mahomes' college coach, Kliff Kingsbury. His crowning moment came during a 2016 shootout with Oklahoma's Baker Mayfield, when Mahomes set NCAA records with the most passing yards (734) and total yards (819) in a single game.
The Kansas City Chiefs traded up to select Mahomes No. 10 overall in the first round of the 2017 NFL Draft. Offensive players like John Ross, Corey Davis and Mitchell Trubisky went before him…
After sitting behind Alex Smith his rookie year, Mahomes lit the NFL on fire, throwing for 5,097 passing yards and 50 touchdowns — both franchise records — while leading the Chiefs to a 12-4 record and AFC Championship Game berth against the New England Patriots. He earned a First-Team All-Pro nod, Pro Bowl selection, and was named both NFL Offensive Player of the Year and Most Valuable Player.
He followed that up by beating the San Francisco 49ers in Super Bowl LIV, capturing Super Bowl MVP honors in the process.
Endorsements
Mahomes' first endorsement deal came, weirdly, from Hunt's Ketchup. After that, historic deals with Oakley, Head & Shoulders, Essentia Water, Hy-Vee, Adidas, State Farm and DirectTV followed. Specific details aren't readily available, but it's safe to say Mahomes is rolling in the dough with plenty more opportunities to come.
Not only that, but the 23-year-old was named the Madden 20 cover athlete, making him the third-youngest ever behind Michael Vick (Madden 04) and Odell Beckham Jr. (Madden 16).
Charitable Work
Even early in his career, Mahomes is already giving back to the communities that have shown him so much respect.
In November 2019, Mahomes donated $15,000 to 15 different local charities — a total of $225,000 — including United Inner City Services, KCK Public Schools, Special Olympics, Children's Mercy Hospital, and Make a Wish. The 15 and the Mahomies Foundation was established in 2019 to "focus on health, wellness, communites in need of resources" around the Kansas City area.
Patrick Mahomes' Girlfriend
Off the field, Mahomes enjoys a simple life alongside girlfriend Brittany Matthews, a former soccer player who works as a personal trainer. The couple also have two dogs together — Steel and Silver — whose joint Instagram account has more than 75,000 followers.
What is Patrick Mahomes' Net Worth?
Tally it all up, and it's safe to say that Patrick Mahomes is a VERY rich dude for someone who hasn't even turned 25 years old.
Mahomes' rookie contract is a four-year deal worth $16.4 million, including a $10 million signing bonus. In the 2019 offseason, he became eligible to sign for what figures to be a record-setting new contract extension. Agent Leigh Steinberg and Chiefs GM Brett Veach are already planning to make this happen, which would balloon Mahomes' wealth to unseen heights.
As of 2020, Celebrity Net Worth estimated Patrick Mahomes' net worth around $10 million. While that number seems par for the course right now, there's no question the Texas kid is going to be the highest-paid NFL player ever.
Is Mahomes worth $200 million and the massive salary cap hit? Well, he's led Travis Kelce, Tyreek Hill, Sammy Watkins and company to Kansas City's first Super Bowl in 50 years last season.
Get ready to break the bank. Mahomes should become the highest-paid player in NFL history.
Break out the Patrick Mahomes wigs, Kansas City. This superstar isn't going anywhere.

This post was originally published September 26, 2019.