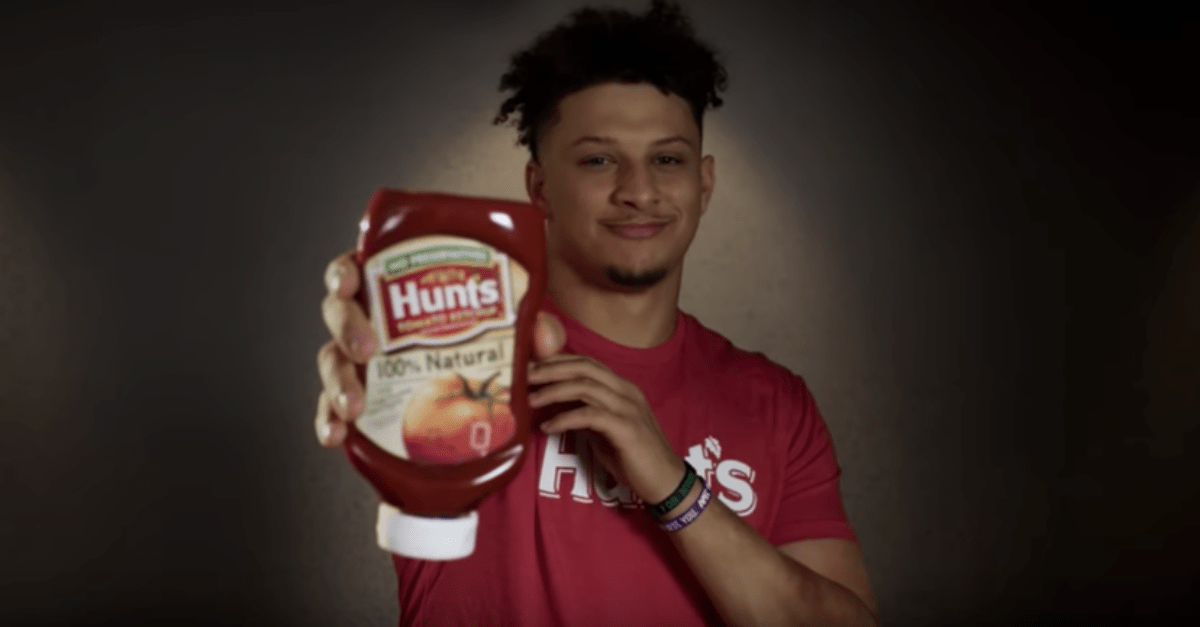 YouTube: Conagra Brands
YouTube: Conagra Brands
Kansas City Chiefs quarterback Patrick Mahomes may be taking the NFL by storm, but the superstar's affinity for ketchup is getting a little weird. This 23-year-old phenom is a huge fan of ketchup. I mean, he REALLY loves the stuff. In an ESPN article, Mahomes described how he puts ketchup on just about everything. As his fame continued to climb, he even felt weird smothering his food with it in public.
Well, Mahomes has a new endorsement deal, and not only will his passion for tomatoes, sugar, and vinegar start making him some money, he's dropped a commercial so bizarre that you're going to think twice about Hunt's Ketchup forever.
I'm from Pittsburgh, Pennsylvania. Here, you'll only find Heinz Ketchup sitting on tables in diners, stacked in refrigerator doors, and smothering hot dogs at every Pittsburgh Steelers' tailgate. Still, the ketchup connoisseur himself wasn't impressed with their product.
After Mahomes' deep affection for the tomato-based condiment became public, Heinz dropped a challenge on the second-year quarterback. Should Mahomes reach 57 touchdown passes — signifying the Heinz marketing slogan "57 Varieties of Pickles" — not only would the Chiefs' MVP candidate break Peyton Manning's single season NFL record, the company would give Mahomes a lifetime supply of free ketchup.
RELATED: Von Miller Tends His Chickens in This Hilarious ESPN Commercial
Well, Heinz Ketchup's arch rival, Hunt's Ketchup, snatched up the endorsement opportunity with Mahomes instead. Conagra Brands, the Chicago-based creator of Hunt's, released their first-ever commercial starring the Chiefs quarterback as a member of the Hunt's team, but the result is not what you'd expect.
WARNING: What you're about to see may shock you because nobody in the world eats ketchup like this.
Is Mahomes curling a 15-pound dumbbell? Why is he squeezing his ketchup like that? To be honest, if I was served a block of burnt macaroni and cheese, I'd smother it in ketchup, too.
The Tyler, Texas native needs 12 passing touchdowns in Kansas City's final two games to reach that magical No. 57. He's likely not going to get there, but an incredible Pro Bowl season where he leads the NFL in passing yards, touchdowns, and quarterback rating isn't too shabby for his first season as a starter.
Regardless of ketchup preference, the kid from Texas Tech has a long professional football career ahead of him. Hopefully he thinks twice before making weird commercials with his favorite condiments in the future, though.