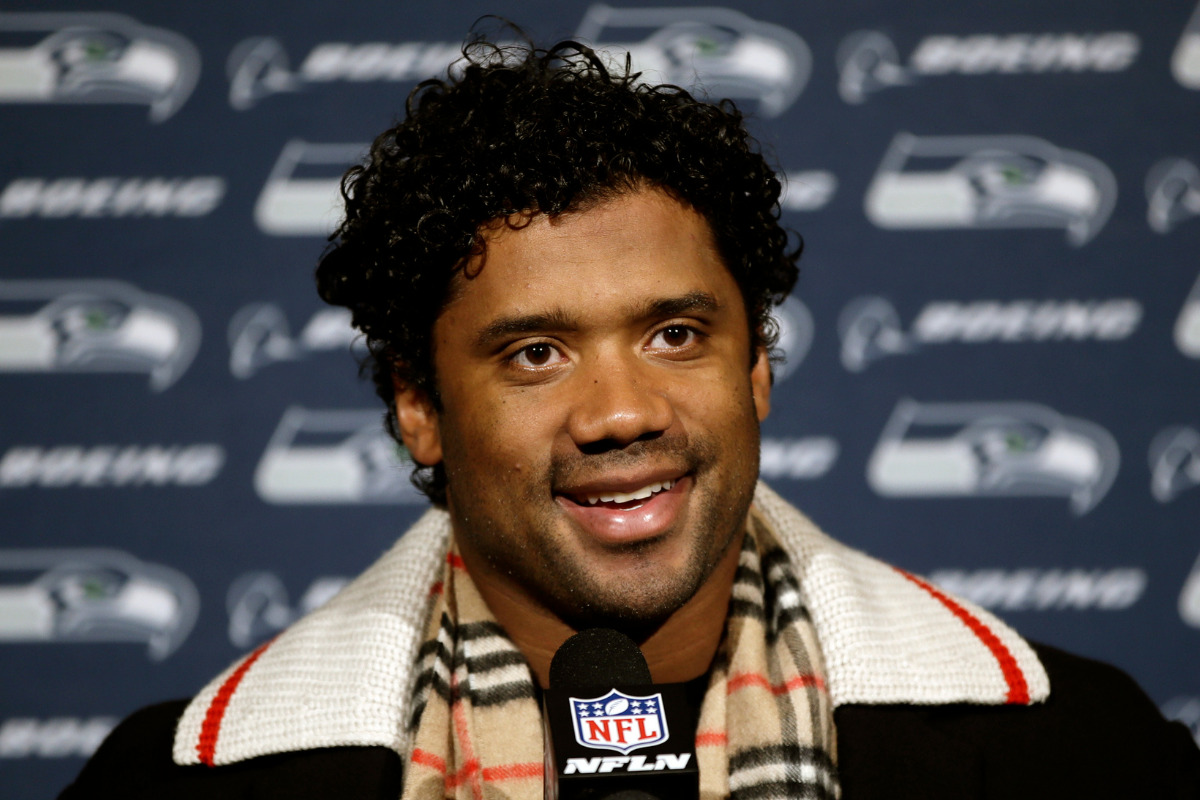 AP Photo/Matt Rourke, File
Russell Wilson has been playing at an MVP level for his entire NFL career, yet has somehow never won the coveted award. The Seattle Seahawks quarterback may well be the favorite to take home the honors in 2020, but he'll have to parlay his strong first half of the year with an equally excellent second half in order to have a shot at it.
Whether or not Wilson finally wins the award this year, he can take solace in knowing he's getting paid at an MVP level, through both his contract with the Seahawks as well as his various endorsement deals.
Early Life and College Career
Quarterback Russell Wilson was born in Cincinnati, Ohio, to parents Harrison Wilson and Tammy Wilson. Growing up, Wilson starred in both football and baseball. After graduating from high school in Virginia, Wilson was drafted by the Baltimore Orioles in the 41st round of the 2007 MLB Amateur Draft. Despite that, Wilson opted to attend college at North Carolina State.
Wilson redshirted his first year at NC State, but managed to take over as the starting QB in 2008 as a redshirt freshman. He enjoyed a stellar season that saw him earn All-ACC First-Team honors, the first time in ACC history a freshman made the first team.
The mobile quarterback had two more solid seasons in Raleigh before graduating. In 2010, Wilson was once again selected in the MLB Draft, this time by the Colorado Rockies in the fourth round, and surprisingly announced his decision to attend Spring Training.
Ultimately, rather than continue his pursuit of baseball, Wilson decided to return to football and committed to play for the University of Wisconsin in 2011. Wilson led the Badgers to a Big Ten Championship victory and a Rose Bowl appearance, earning himself an invite to the NFL Scouting Combine.
NFL Career
Wilson was drafted by the Seattle Seahawks in the third round of the 2012 NFL Draft. Wilson was immediately named the starting quarterback and led the Seahawks to an 11-5 record and a playoff appearance as a rookie. His prolific campaign earned him a Pro Bowl bid, but he lost out to Robert Griffin III in the Rookie of the Year race.
In 2013, Wilson starred again, throwing for 26 touchdowns and just 9 interceptions while leading the Seahawks to a Super Bowl XLVIII victory against the Denver Broncos.
The Seahawks would return to the Super Bowl the following season but lost in dramatic fashion to Tom Brady and the New England Patriots.
Throughout his nine years in the league, Wilson has featured in 15 playoff games and two Super Bowls. He's also made the Pro Bowl in six separate seasons and has never endured a losing season, cementing himself as one of the truly great NFL quarterbacks.
Russell Wilson Contract History
In 2015, the Seahawks and Wilson agreed to a new four-year contract extension, which saw the NFL star pocket $87 million with $61.5 million in guaranteed money. While the Seahawks didn't win another Super Bowl throughout the duration of the contract, Wilson continued to shine and the franchise made the playoffs in three out of four seasons.
After three consecutive Pro Bowl appearances, the Seahawks re-upped with Wilson once again, this time making him the highest-paid quarterback in NFL history, at least until Patrick Mahomes signed his $503 million deal with the Chiefs.
The new contract has Wilson locked down at a cost of $140 million across four seasons, with a $65 million signing bonus and $107 in guaranteed money. The $65 million signing bonus was also a record, besting the $57.5 million given to Aaron Rodgers when he signed his new deal with the Green Bay Packers.
Russell Wilson Endorsements
Russell Wilson quickly rose to stardom, becoming one of the most popular NFL players in the United States. With that influx of popularity came a wave of endorsement deals which have helped pad his bank account.
Per Forbes, Wilson is linked with some major brands including Nike, Bose, Amazon, Mercedes-Benz, Microsoft and more. In addition to his lofty endorsement deals, Wilson also started a fashion line called Good Man Brand.
Russell Wilson Personal Life
RELATED: Russell Wilson & Ciara Are Raising a Family of Future Stars
While Wilson's fame casts a rather large shadow, his wife is certainly capable of holding her own. Wilson is married to pop singer Ciara, having tied the knot in 2016. The couple have two children together, daughter Sienna Princess Wilson and son Win Harrison Wilson.
Wilson was previously married to his high school sweetheart, Ashton Meem, though the two divorced in 2014.
The American quarterback has a massive social media following, boasting 4.8 million followers on Instagram. Wilson frequently promotes his foundation, the Why Not You Foundation, on the platform and lately has been offering glimpses into his life with his family during the coronavirus pandemic and COVID-19 outbreak.
Russell Wilson Net Worth
So, just how much money has Wilson pocketed throughout his prolific NFL career? According to Celebrity Net Worth, Wilson has an estimated net worth of $135 million. Wilson is raking in a cool $35 million from the NFL season, and his family's wealth is even greater considering Ciara's estimated net worth of $20 million.
It comes as no surprise that Russ has amassed a fortune throughout his NFL career, and while he's a long way off from retirement, the Seahawks QB won't need to worry about money when he does decide to call it quits.