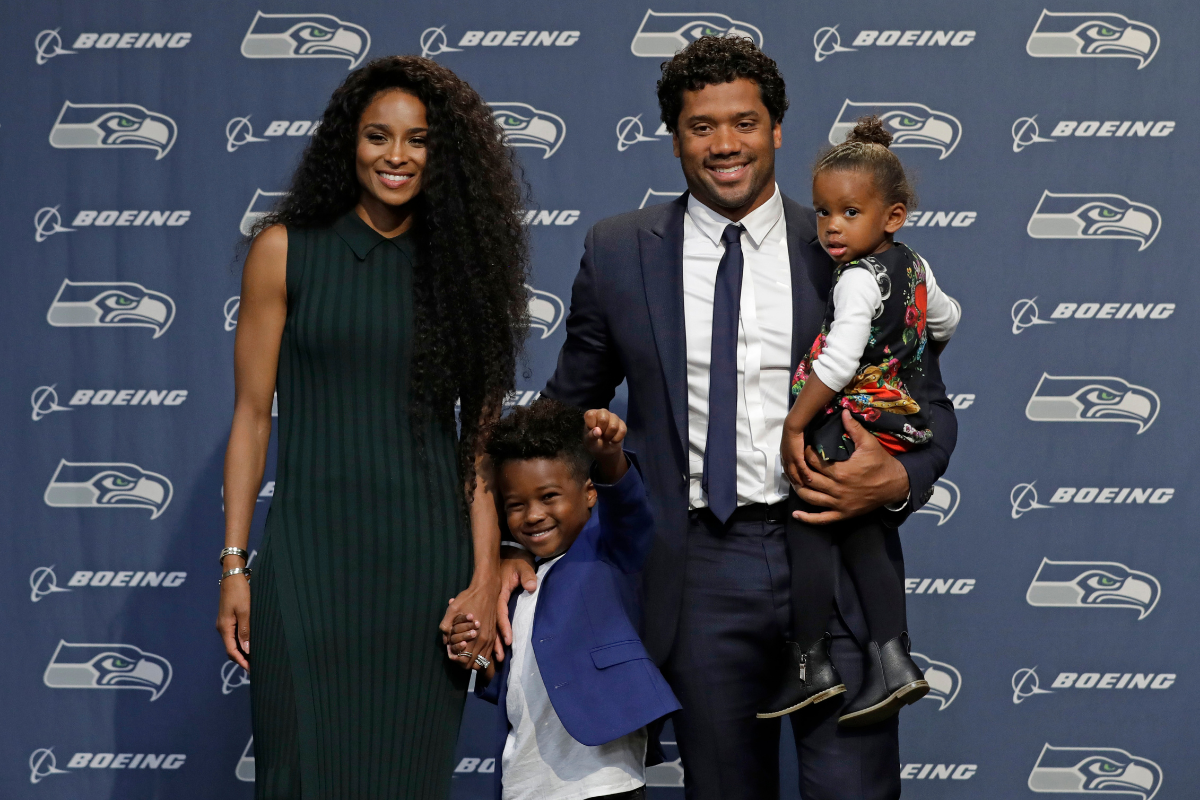 AP Photo/Ted S. Warren, File
Seattle Seahawks quarterback Russell Wilson is one of the good guys in the NFL. He also happens to be one of the best and highest-paid players in the league. But if the saying is true, that behind every great man is a great woman, then his wife must be pretty special. That's absolutely the case, too.
Wilson and his wife, singer Ciara, have a relationship straight out of a movie. They are a power couple worth millions of dollars and always give back to the community. They seemingly do everything together, side by side, and that includes taking family vacations.
An offseason trip to Turks and Caicos Islands back in January 2020 was extra special in many ways. Not only did they get quality time together with their kids, the Wilsons also announced they were expecting another child in 2020.
Both Wilson and his pop star wife shared photos on their social media accounts.
This will be the couple's third child overall and second child together. After the two got married in 2016, they had their first child, daughter Sienna Princess Wilson in April 2017. Ciara also has a young son, 6-year-old Future Zahir Wilburn, with former fiancé and rapper Future.
---
Russell Wilson & Ciara's Gender Reveal
Will it be prince or a princess? That's what fans have wanted to know since Seahawks QB Russell Wilson and Ciara announced they were expecting another child later this year.
Then, on April 14, 2020, the entire Wilson family got together during the coronavirus pandemic and COVID-19 outbreak to share the exciting news: IT'S A BOY! 
---
Wilsons Welcome Baby Boy Win Harrison
The Wilsons welcomed son Win Harrison Wilson to the world on July 23, 2020. They announced the birth of their son on an Instagram pic.
The Seahawks quarterback wrote, "Happy Birthday WIN!!! Mommy & Daddy Love You!"
---
Russell Wilson's Wife Ciara
RELATED: A.J. Green's Wife Was an R&B Singer Before They Tied the Knot
Before getting married to husband Russell Wilson, Ciara Princess Harris launched a very accomplished career in the music and film industry. Her first album "Goodies" went certified triple platinum. She released eight Billboard Hot 100 top-ten singles and sold over 20 million records across the globe.
In all, Ciara, who went to high school in Georgia, has released seven albums, including "Beauty Marks" in 2019, and appeared in three movies.
Then, life changed.
After breaking off an engagement with rapper Future, Ciara got together with NFL star Russell Wilson. The couple was seen together at a White House State Dinner in 2015, got engaged at the Seychelles, and married the following year.
Wilson had a previous relationship and marriage with first wife Ashton Meem but did not have children. Wilson met Meem in high school in Richmond, Virginia. They divorced after two years of marriage, many years of long-distance dating and reported rumors of Meem having an affair with Wilson's teammate Golden Tate, which were shot down.
Three months after their wedding at Peckforton Castle in Cheshire, England — a gorgeous event that included famous bridesmaids Serena Williams and Kelly Rowland— Ciara announced she was pregnant with the couple's first child.
"On this special Birthday I received an abundance of love from friends and family.. and I'm excited to Finally share one of the Greatest Gifts of All that God could give," she wrote on Instagram.
It's been an inspiring relationship ever since. Wilson, a Super Bowl champion who played college football at North Carolina State and Wisconsin, has totally embraced Ciara's son and supports her every move. The feelings are certainly mutual, too.
"The Kids & I Love You @Ciara I wish I could have my daily #dose of you," he wrote in a 2018 tweet. "You & [Bruno Mars] are going to rock the stage tonight in Toronto. #24KMagicWorldTour #LevelUp"
The two combined also have an incredible bank account.
Ciara Net Worth
In her music career alone, which includes a Grammy Award, the 35-year-old Ciara has certainly made her fair share of money. She has an estimated net worth of $20 million, according to Celebrity Net Worth. Add that to her 32-year-old husband's net worth and, well, it's a lot.
In 2019, Wilson, a third-round pick in the 2012 NFL Draft, signed a four-year, $140 million contract extension, including a $65 million signing bonus to keep him in Seattle. At the time, it surpassed Green Bay Packers quarterback Aaron Rodgers for the top contract in the entire league.
Wilson's net worth is estimated at $135 million.
Whether it's a Monday Night Football game against the Minnesota Vikings, a playoff game against the Los Angeles Rams, or an album release, they are always supporting each other while raising a family of future stars.
This post was originally published on January 30, 2020. It's been updated as the Wilson family continues to grow.