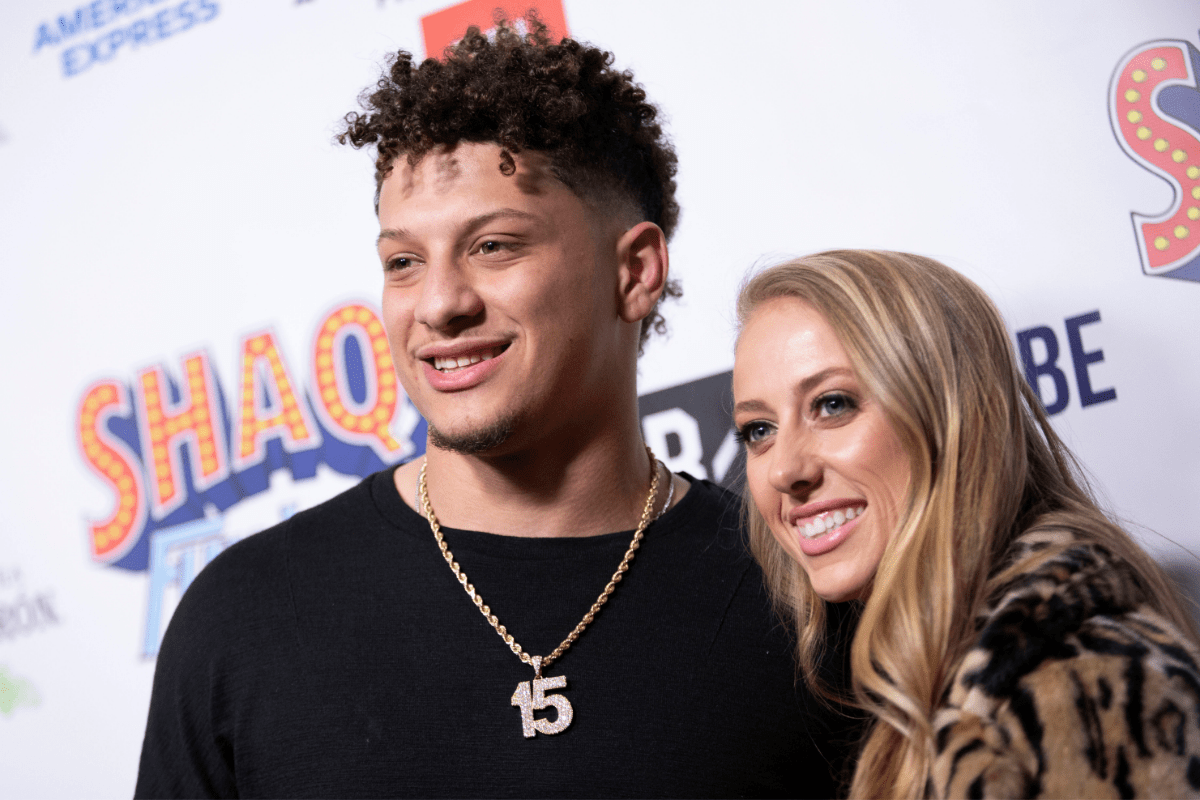 Photo by Omar Vega/Invision/AP
Kansas City Chiefs quarterback Patrick Mahomes is committed. Now, I'm not talking about the kind of commitment that wavers at the sign of trouble. Mahomes is so committed, he bought an ownership stake in the city's Major League Baseball team without batting an eye. The Super Bowl MVP put pen to paper on his record-setting 10-year, $503 million contract in July 2020, tying him to Kansas City, Missouri, until he's 36 years old. He's not looking back.
That's not the first major commitment No. 15 made in his life. Just ask longtime girlfriend Brittany Matthews.
Who Is Patrick Mahomes' Girlfriend Brittany Matthews?
Mahomes and Brittany Matthews met during their formative years at Whitehouse High School in Texas, according to the Kansas City Star. A few Instagram posts show the pair together as far back as 2011 when Mahomes was in 10th grade; Matthews graduated in 2013, one year before Mahomes. Their relationship blossomed as Mahomes grew into a nationally-scouted Class of 2014 quarterback on the football field and over-powering pitcher on a baseball diamond.
Matthews wasn't just Mahomes' No. 1 cheerleader on the sidelines, though.
College Soccer Star Turned Fitness Instructor
Matthews was a standout soccer player for Whitehouse and went on to play college soccer at the University of Texas at Tyler. She scored 31 goals and finished second in program history with 78 points, helping UT Tyler to a 56-13-5 record during her four years. Matthews parlayed her success into a professional soccer contract with a club called UMF Afturelding/Fram in Iceland.
As you'd expect, the Texas Tech legend was by his girlfriend's side just weeks after being selected No. 10 overall in the 2017 NFL Draft by the Kansas City Chiefs.
RELATED: Mahomes vs. Mayfield Rewrote the NCAA Record Book in 2016
Matthews returned home after a short stint abroad and began using her Bachelor's degree in kinesiology to build Brittany Lynne Fitness. Utilizing her social media platforms and training as an athlete, Matthews' slogan "Training with Britt" has garnered more than 500,000 Instagram followers.
The Certified Personal Trainer builds various workout programs for her clients, and you better believe she's not letting Mahomes slack off during the offseason.
Matthews Gets Harassed by Salty NFL Fans
Attending big games as her NFL star boyfriend continues rewriting the record books isn't always sunshine and bikinis, though.
Just last year, Matthews alleged in a series of tweets that New England Patriots fans at Gillette Stadium were harassing her so bad that her seats needed to be moved.
The high school sweethearts are best friends, and given the incredible run Mahomes had as a 24 year old, the future should be even brighter for this couple with a few hundred million dollars in the bank
Mahomes Proposed With a Massive Ring
Mahomes and players received their Chiefs Super Bowl rings at Arrowhead Stadium on Tuesday night, September 1 for beating the San Francisco 49ers in Miami, but that wasn't the most important ring on Mahomes' mind.
The Super Bowl LIV MVP proposed to his longtime girlfriend with an engagement ring featuring a diamond nearly the same size as the rock he received in the team's ring ceremony. Mahomes put together a beautiful set-up with flowers and a "Will You Marry Me?" sign in one of the suites at the stadium.
He shared the news on his Instagram story just two days after he called her "#MyBabe" on Brittany's 25th birthday. Something tells me he didn't find that ring on Amazon. It must have cost a fortune.
"Ring SZN," he wrote with a picture of the ring on his new fiancee's hand.
The NFL season is set to get going in September regardless of COVID-19 and the coronavirus pandemic, and it appears the richest man (thanks to a ridiculous contract extension) in football will lead his football team with his wife by his side during it.
Patrick and Brittany Expecting First Child in 2021
The year 2020 may have been a bad one for most, but it's treated the Chiefs QB pretty well.
After dropping to a knee and proposing at his team's Super Bowl ring ceremony, the star quarterback and Brittany announced on September 29 that they were expecting their first child in 2021.
She announced the news via pics on her Instagram just a day after Mahomes scored five touchdowns to beat Lamar Jackson and the Baltimore Ravens on Monday night football. Next year may bring another Super Bowl win for Mahomes, but even if it ends in a first-round exit at least he'll have the birth of his child to cherish.
Boy or girl, I'm sure this kid will have a cannon for an arm.
This post was originally published on August 19, 2020, but has been updated following the couple's pregnancy announcement.