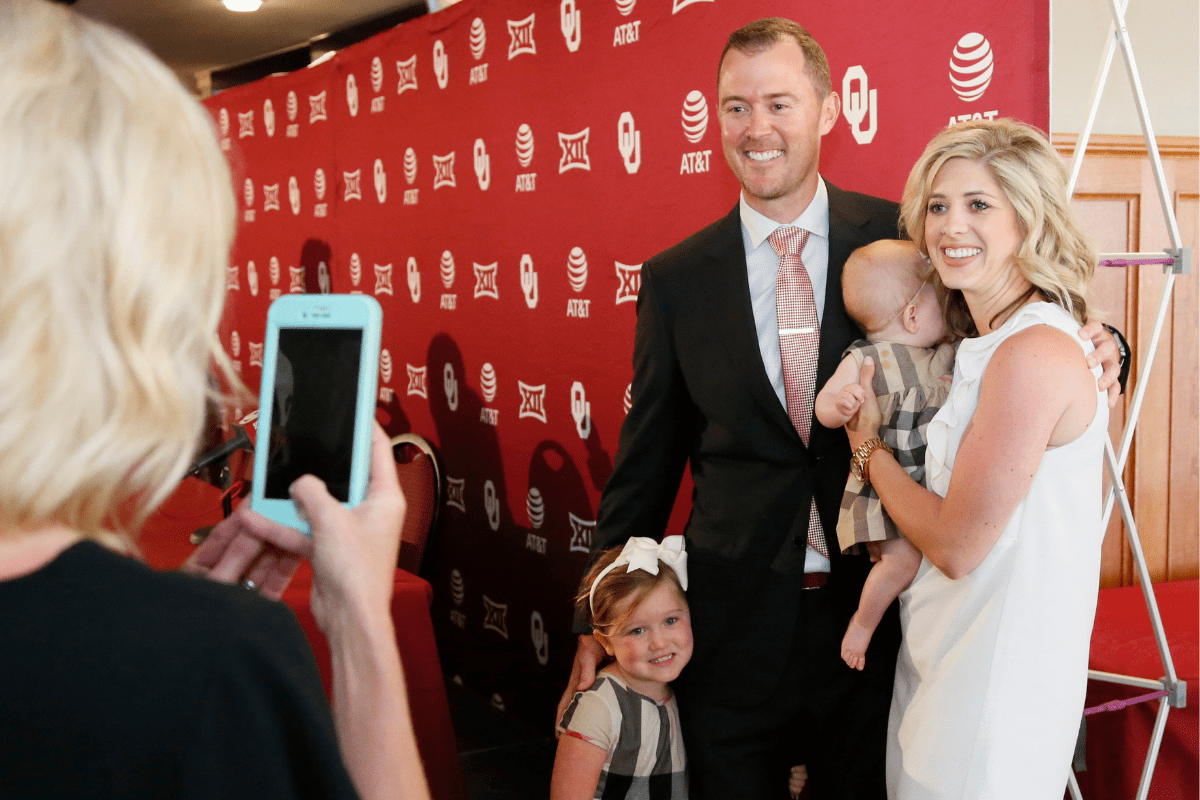 AP Photo/Sue Ogrocki
Oklahoma Sooners head coach Lincoln Riley may be young, but he's already one of college football's premier coaches. The 37-year-old makes more than $6 million a year and has taken his Big 12 Conference team to three-straight College Football Playoff semifinal games.
Despite falling short in the Rose Bowl, Orange Bowl and Peach Bowl (in that order), Riley can still say he's won three Big 12 Championships and produced two Heisman Trophy winners in Baker Mayfield and Kyler Murray.
Riley's football career began as a quarterback at Texas Tech University, where he played behind Kliff Kingsbury. He eventually became a student assistant under Mike Leach there and left for East Carolina under Ruffin McNeill until 2014.
Lincoln Riley's path to becoming the current head coach of the OU football team has included stops in Texas, North Carolina and Oklahoma. His wife, Caitlin, has been right by his side every step of the way.
Now, she's practically royalty in Norman.
Who is Lincoln Riley's Wife Caitlin Riley?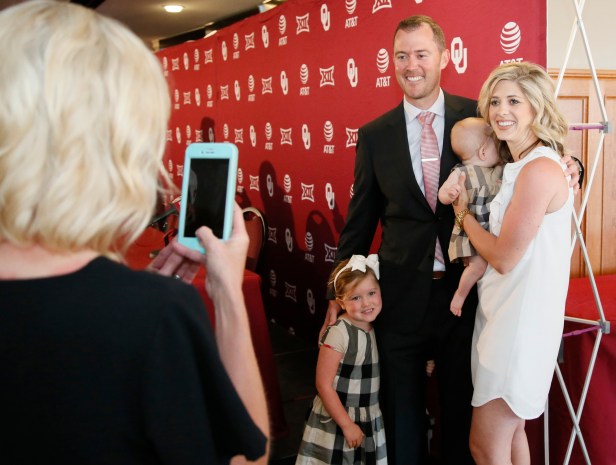 RELATED: Ed Orgeron & His Wife Built a 23-Year Marriage Before Splitting Up
Lincoln Riley is married to Caitlin Buckley Riley.
The two began dating way back in their teenage years when Lincoln played football at Muleshoe High School and she played basketball and ran track at nearby Dimmit High School.
According to The Tulsa World, she grew up in West Texas in a city called Dimmit, Texas, while Lincoln was born in Lubbock. Their first date sounded exactly like a high school date: Olive Garden and a movie, Sweet Home Alabama.
By July 2007, the two officially tied the knot. Lincoln was the wide receivers coach for the Texas Tech Red Raiders at the time.
During Lincoln's career ascension as a college football coach, she's been by him every step of the way (even though she thought he originally would just become a high school coach). The two spent time at Texas Tech, East Carolina and Oklahoma when Bob Stoops hired him as OU's offensive coordinator in 2015.
Caitlin is so dedicated that she even served as the nanny of then-TTU assistant coach (who became West Virginia's head coach) Dana Holgorsen's children.
"It's been good, exciting, never a dull moment," Caitlin told SoonerSports.com. "It's what I had anticipated — having the desire to win, to feel strongly involved and invested, that didn't really change. I felt that way when Lincoln was offensive coordinator."
She's the Queen of Oklahoma Football
Past Oklahoma football players will tell you what type of woman Caitlin is.
Former Heisman Trophy winner and Cleveland Browns quarterback Baker Mayfield told SoonerSports.com "she is one of the sweetest ladies."
Ex-Sooner and NFL outside linebacker Ogbonnia Okoronkwo praised her as "really one of the nicest humans I've ever met."
She's in charge of hosting the team for functions and dinners, during which she becomes heavily invested in their lives and serves as a mother-like figure. Mayfield has said that part of what makes the couple so special is the little things like that.
When Lincoln Riley was named the University of Oklahoma football coach in 2017, Caitlin and their two daughters were right by his side during the press conference in Norman.
Hey, that's what the First Lady of Oklahoma Football should do, right?
She Initially Hated Oklahoma
When her husband still worked at Texas Tech, Caitlin said she had a terrible first impression of Oklahoma athletics. The Red Raiders got walloped by the Sooners, 65-21, and said she hated everything about it.
"My first experience at Oklahoma — I can say this now because I'm on the other side — but I said I would never go back there. It was the 'Jump Around' game. We were at Tech and that was the first time I'd ever come to a game at Oklahoma," Caitlin Riley told The Tulsa World. "I just remember thinking 'Oh my goodness, I've never seen anything like it.' The wives all traveled to that game and everybody just stopped and looked at each other in shock. I remember thinking 'I don't ever want to go back to a game there. It's crazy.'
"Now, on this side, I love it."
Since Lincoln began his head coaching career at Oklahoma, the Sooners have won every game against TTU. That sounds like a lot of good times in Gaylord Family-Oklahoma Memorial Stadium.
How Many Children Do They Have?
View this post on Instagram
The Riley family has two young children, daughters Sloan and Stella. If they ever have a boy, they better name him Boomer.
A few days out of the week, Caitlin will bring both girls to Oklahoma's practice to see their father.
"We go to see dad," Caitlin told SoonerSports.com. "Those are two of his later nights, so he's generally not home to put the girls to bed. So we run around and see the boys. We take dinner out there and have practice picnics."
Caitlin keeps her accounts private, but Lincoln has posted on Instagram and social media about his daughters. This year, he wished a happy Fourth of July from a boat with his family. He's also taken the girls fishing and horseback riding.
Considering Lincoln Riley already has a net worth of $12 million, according to Celebrity Net Worth, the American football coach's family is likely set for life.
This post was originally published on October 8, 2020.