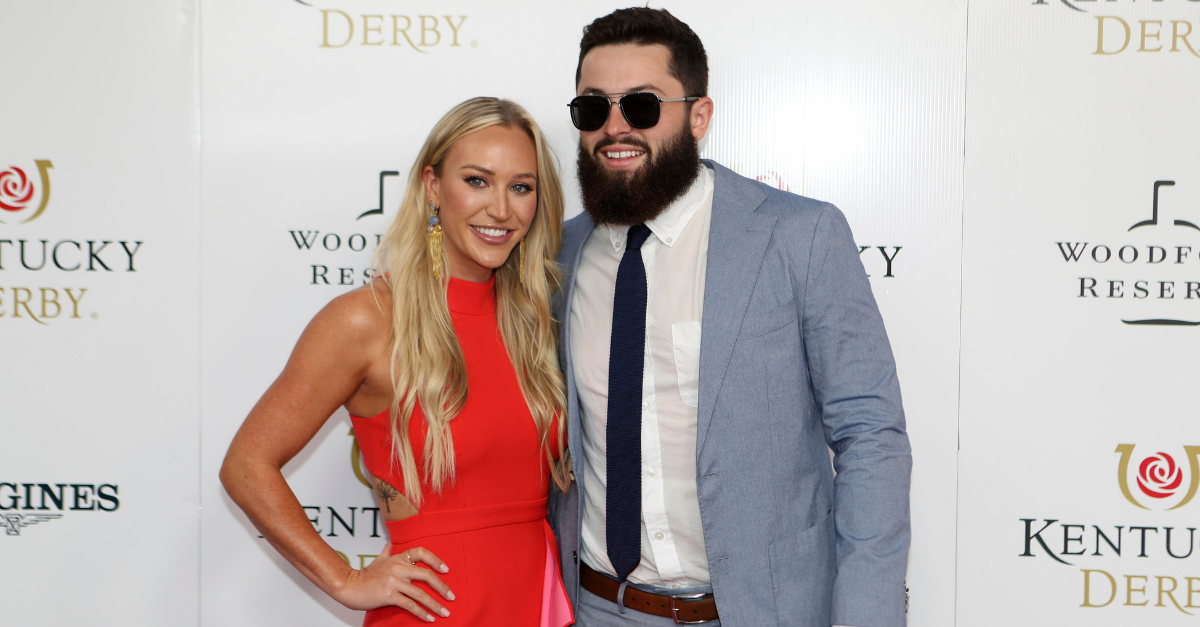 AP Photo/Gregory Payan
He's controversial to some and a living legend to others. In Cleveland, he's the savior that city craved in the hopes of revitalizing a long-forgotten NFL franchise. He's a lot of things, but now, Cleveland Browns QB Baker Mayfield has another title: husband.
Back in 2019, Mayfield married girlfriend Emily Wilkinson at a ceremony in Malibu, California. The pair started dating following Oklahoma's 2018 Rose Bowl loss to Georgia and made their first public appearance during a Los Angeles Clippers game. Just over a year later, they were hitched.
"Mr. Mayfield here checking in with Mrs. Mayfield," the NFL star said on his Instagram story. "Oh my goodness, I'm married. We're married."
Many of the 2017 Heisman Trophy winner's current and former teammates were in attendance, including Kyler Murray, Dede Westbrook, Conor Knight, Geno Lewis, Mark Andrews, Orlando Brown, Ty Darlington and Oklahoma Sooners co-offensive coordinator Cale Gundy, who tweeted a photograph of the group at Calamigos Ranch.
Former Sooner teammates Tanner Schafer and Grant Calcaterra served as ushers during the ceremony, according to OU Daily.
Baker Mayfield's Wife: Emily (Wilkinson) Mayfield
RELATED: The Best Quarterbacks in Dallas Cowboys History, Ranked
Wilkinson, 29, is a former Instagram model and social media influencer. Originally from Omaha, Nebraska, she previously worked at Galanis Plastic Surgery in Beverly Hills before quitting her "favorite job ever" to move to Cleveland back in May 2018, according to TMZ.
"A year ago today, you asked me to spend forever with you, and next weekend we officially say 'I do.' I am truly the luckiest girl in the world," Wilkinson said in a social media post before their wedding.
Mayfield, 25, remains stuck in isolation during the coronavirus pandemic and spread of COVID-19 before he's able to return to the Browns alongside teammates Nick Chubb, Jarvis Landry, David Njoku, Myles Garrett, and Odell Beckham Jr. in preparation for the season ahead.
In the meantime, the pair are helping however they can. The Mayfields donated $50,000 to the Greater Cleveland Food Bank for those heavily affected by the pandemic in Ohio.
"Wherever you're at, whatever community you're in, anything matters, anything helps. We're all affected by this," Mayfield said on Instagram. "Love, thoughts and prayers out to everybody else, so prayers out."
The Cheesecake Factory Mistress
In February 2020, a 20-year-old woman named Kacie Dingess alleged that her and Baker Mayfield hooked up in the parking lot of a Cheesecake Factory restaurant in Cleveland.
Dingess claimed on the Cleveland radio show "Rover's Morning Glory" that Mayfield used a fake Snapchat account to reach out to her, which grew into an online relationship of sorts. She says Mayfield invited her to the parking lot for their "first date" where they got in the backseat of his SUV, and she performed oral sex on him just weeks after his marriage.
The woman said on the morning show that "everyone in my town" of Rittman, Ohio knew about the affair.
Dingess hasn't produced any substantial evidence that any of this is true, and the newlywed Baker and Emily Mayfield never publicly acknowledged the allegations.
A few days after Dingess' interview, Emily Mayfield seemed to cryptically respond to the claims in an Instagram post that was captioned, "Even if people don't want you to be, you're always perfect in my eyes. ilysm."