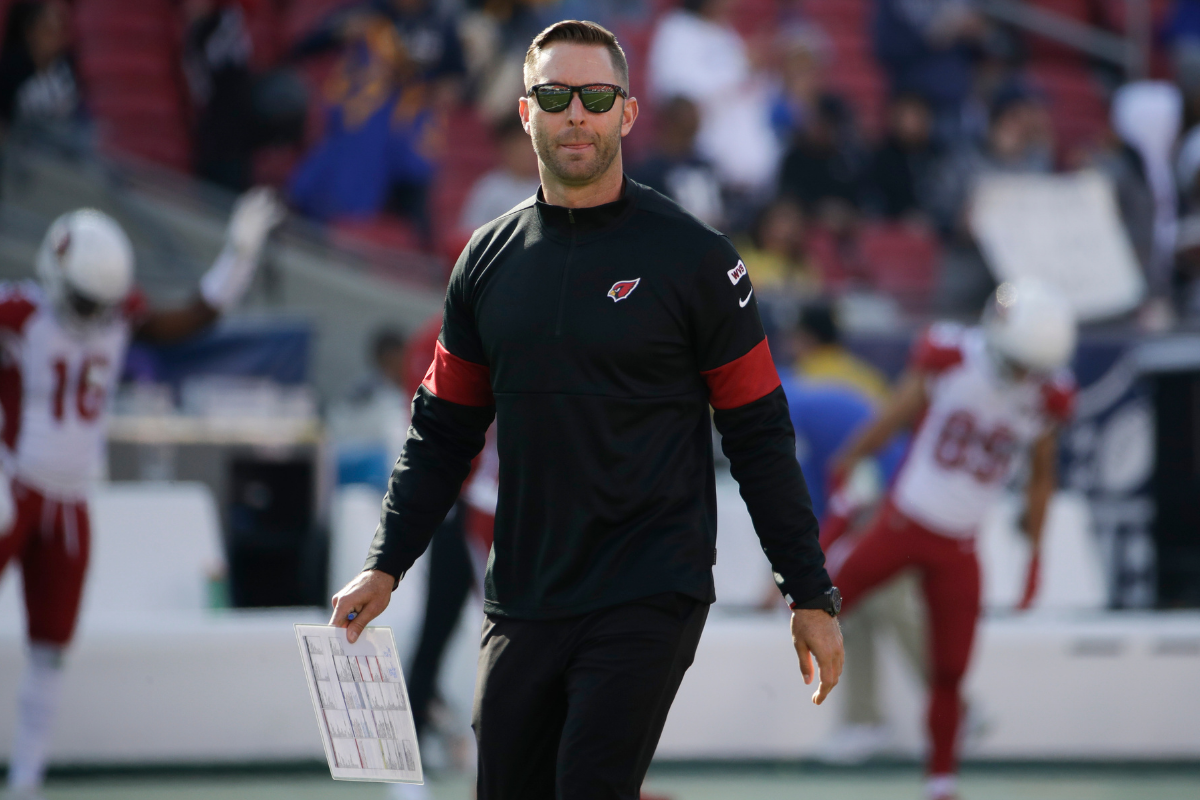 AP Photo/Marcio Jose Sanchez
Most coaches in the NFL do not look like Arizona Cardinals head coach Kliff Kingsbury.
Much of them are older (think 69-year-old Pete Carroll), not as physically fit (sorry, Andy Reid) and just don't show off those pearly whites (looking at you, Bill Belichick) quite like the dashing 41-year-old at the helm.
Kingsbury may just be the most eligible bachelor in the NFL, and that's including players such as Jimmy Garoppolo. When he left Lubbock, Texas, for the offensive coordinator position at USC, the school felt the need to mention in his bio that he was single. While manning the Texas Tech Red Raiders program, he was actually proposed to by fans. He may as well be today's version of Joe Namath.
The San Antonio, Texas native is more than a pretty face, though. He's been hailed as an offensive coaching wizard throughout his coaching career and has mentored the likes of Patrick Mahomes, Kyler Murray, Baker Mayfield and Johnny Manziel.
Kinsgbury himself is a former quarterback who held Division I college football records, was selected in the 2003 NFL Draft, and won a Super Bowl with the New England Patriots. He was coached by his father Tim Kingsbury during his high school days in San Antonio.
It's no secret that Kingsbury is a desirable man making millions of dollars, but just who has the American football coach dated and how is he still on the market?
Ex-Girlfriend Holly Sonders
Kliff Kingsbury and former FOX Sports host and reporter Holly Sonders were rumored to be dating as early as January 2019, a suspicion that seemed confirmed judging from her Twitter account. She congratulated the football coach when he landed the gig in Arizona during the offseason ahead of the 2019 campaign.
"The desert just got a whole lot hotter. Congratulations @KliffKingsbury, so proud of you," she posted on social media. She also called their relationship "a little past the crush part" to quench all of our sports gossip thirsts.
RELATED: Jeff Garcia Married a Playboy Playmate & Started a Family
Sonders, a former collegiate golfer at Michigan State who graduated in 2009, had been a staple on the Golf Channel after pursuing a career in journalism. The now 34-year-old has more than 215,000 followers on Twitter and 570,000 on Instagram.
Sonders and Kingsbury apparently split, however, and she was engaged to Dave Oancea, also known as "Vegas Dave" in the betting world. They have since moved apart.
Kliff Kingsbury's New Girlfriend?
Everyone's an Instagram model these days.
It didn't take long for Kingsbury to move on from his relationship with Sonders. According to reports, Kingsbury began seeing an Instagram model at the beginning of 2020.
Renee Estella is her name, and it appears Kingsbury has a type. Not much is known about the woman with more than 660,000 Instagram followers except that she's just 27 years old and is an ambassador for Icon Swim. She frequently posts pics in swimwear to her social media accounts.
Per her Instagram bio, Estella splits time between New York, Los Angeles and Miami.
Good luck finding photos of she and Kingsbury together. He keeps his private life, well, private and it seems she does, too. Whether or not the two were actually an item is anyone's guess.
In late 2020, Kingsbury was also linked to fitness model Veronica Bielik.
It appears Kingsbury is currently single. But no matter what, and it would probably take quite the impression to become Kliff Kingsbury's girlfriend.
At this point, Kingsbury should just be the next contestant on The Bachelor.
This post was originally published on April 6, 2020 before updating.