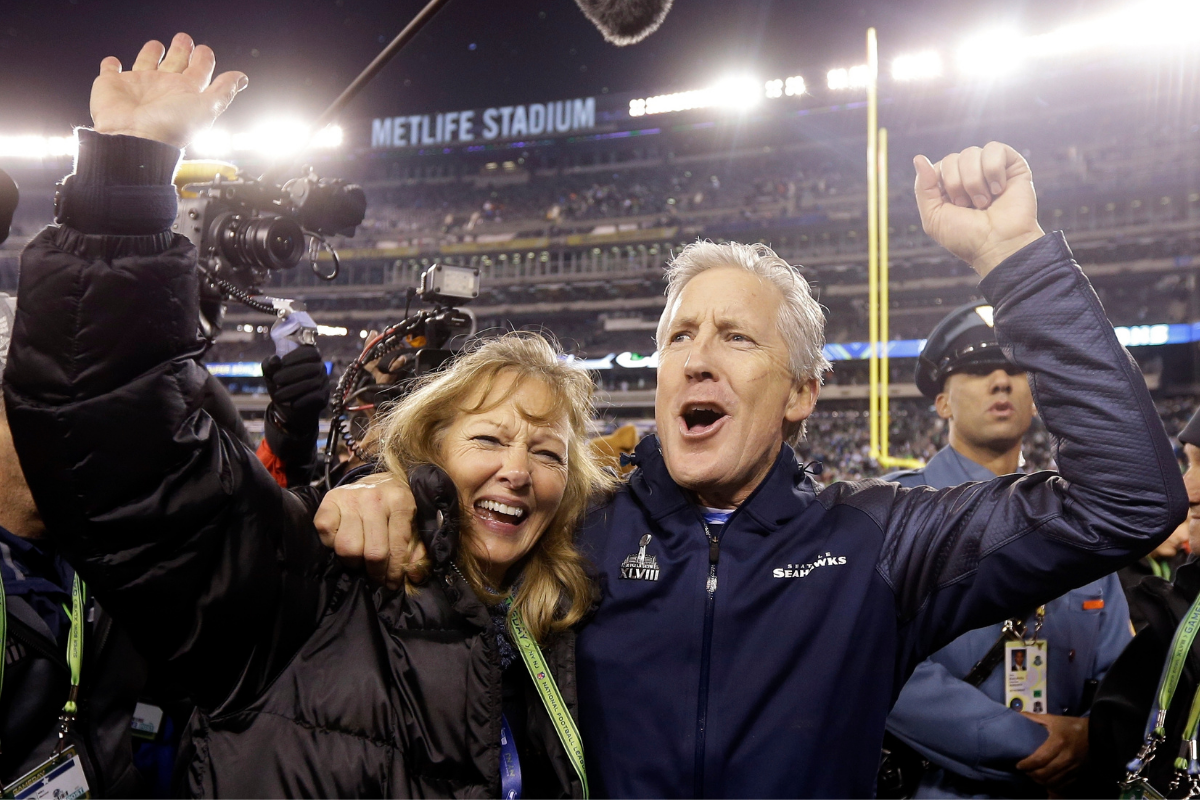 AP Photo/Ben Margot
Pete Carroll and the Seattle Seahawks are back in the NFL playoffs for the ninth time in his 11-year tenure as head coach of the team.
While the 12th Man will be going wild from back home, rooting Seattle on in the postseason, Carroll will receive the most backing from his loving wife.
Carroll's wife, Glena Goranson, and the rest of the Carroll Clan will be his biggest cheerleaders as he looks to navigate another deep playoff run with the Seahawks.
Early Life
RELATED: Sean McVay Found True Love with a Ukranian Model
Pete Carroll was born in Greenbrae, Calif., to parents Rita and James Edward "Jim" Carroll. He grew up in Larkspur, California, where he attended Redwood High School, just outside of Marin County.
Carroll spent two seasons playing football at the College of Marin, before transferring schools.
Pete Carroll's Wife
Pete Carroll married his wife Glena Goranson in 1976. The pair met while attending college at the University of the Pacific.
While Carroll was a member of the football team at the California-based school, located just outside of San Francisco, Goranson was an indoor volleyball star.
Carroll graduated from University of the Pacific with a degree in business administration, but was hired as a graduate assistant for the college football program after he impressed then-head coach Chester Caddas.
They have three children together: Brennan, Nathan and Jaime.
Brennan Carroll currently works as an assistant football coach for the Seahawks, and previously as a graduate assistant under his father at USC in Los Angeles.
Jaime Carroll attended the University of Southern California, and like her mother, was an indoor volleyball player. Now she acts as the president of the Carroll-founded performance institute, Compete to Create.
As for the couple's third son, Nathan Carroll, he too was a USC Trojan, and is also a member of the Seahawks staff as an offensive assistant.
Prior to tying the knot with Goranson, Carroll was in a two-year marriage to Wendy Pearl from 1973-75.
Coaching Career
Pete Carroll held brief coaching stints at the University of Arkansas and Iowa State, where he served as a graduate assistant and a defensive backs coach, respectively.
He then took a job at Ohio State University as a secondary coach. He earned his first major promotion when he joined North Carolina State as the program's defensive coordinator in 1980. Following a return to the University of the Pacific, Carroll was offered his first gig as a coach in the National Football League.
He struggled in his first taste of the NFL, working as a DBs coach on a struggling Buffalo Bills defense. He then joined the Minnesota Vikings in 1985, eventually helping lead the team to an NFC Championship game. He went to the New York Jets in 1989, and became the head coach in 1994, but was fired shortly after.
Carroll then became the defensive coordinator for the San Francisco 49ers, and the American football coach followed that gig up with a head coaching role for the New England Patriots.
It was when he returned to coach USC that Carroll truly made a name for himself as an elite coach. He had a legendary run at USC, which saw the Trojans win back-to-back national championships in 2003-04 and won Coach of the Year in 2006. Carroll was named a member of the USC Athletic Hall of Fame in 2015.
In 2009, Carroll took over as head coach of the Seattle Seahawks, a role he's maintained since.
His biggest achievement in Seattle was winning Super Bowl XLVIII against the Denver Broncos in what was a brutally one-sided affair. He is also currently the executive vice president of the Seahawks.
Pete Carroll Net Worth
According to Celebrity Net Worth, Carroll boasts an estimated net worth of $30 million. He is reportedly earning an annual salary of $8 million.