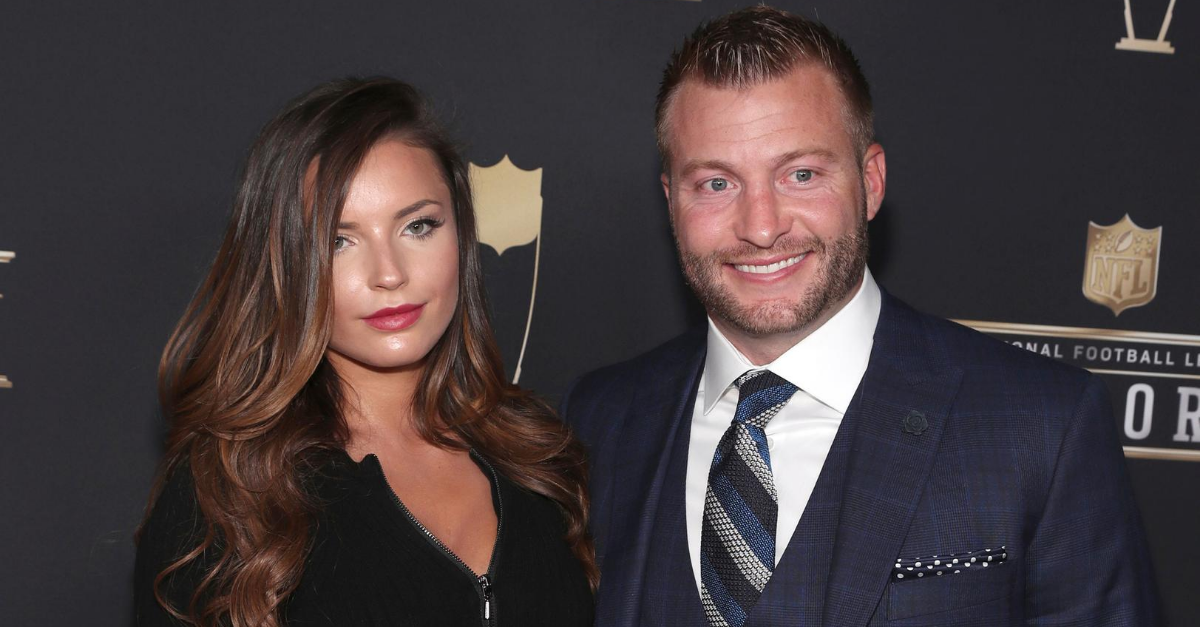 Photo by Michael Zorn/Invision for NFL/AP Images
Los Angeles Rams head coach Sean McVay is a football genius. If becoming the youngest head coach in NFL history wasn't enough, the guy remembers every single play of his career like it happened this morning. There's no doubt the 34-year-old has a bright future, and he will get to enjoy it with his special someone.
Sorry ladies, McVay is engaged to longtime girlfriend Veronika Khomyn. He popped the question during an offseason vacation to France last summer, and the happy couple is preparing for a long life together.
So who is McVay's stunning fiancee? Let's find out.
Who is Veronika Khomyn?
RELATED: Bill Belichick Met His Girlfriend at a Florida Night Club
Veronika Khomyn is a model from Ukraine. She met Sean McVay for the first time sometime between 2011 and 2013 when she was a student at George Mason University in Fairfax, Virginia.
At the time, McVay was an assistant coach for the Washington Redskins (excuse me, the Washington Football Team). He served as an offensive assistant, tight ends coach and offensive coordinator until the Los Angeles Rams hired him as their head football coach before the 2017 season.
She followed her boyfriend to California, where they live in a six-bedroom, six-bathroom house in Encino. It is featured during HBO's Hard Knocks series, which highlights the Rams coach's life during training camp.
Khomyn has done well for herself, too. She is active on social media and has a private Instagram account with over 50,000 followers. She has also done modeling gigs, including at UFC gyms, and has a net worth of approximately $1 million, according to Celebrity Net Worth.
Her popularity certainly skyrocketed when the LA Rams made it to Super Bowl LIIII against the New England Patriots. McVay's model girlfriend wore a "McBae" T-shirt during the 2019 NFL playoffs, which featured the NFL coach as a cartoon character.
The two were also spotted in LA after the Rams beat the Dallas Cowboys and advanced to play the New Orleans Saints in the 2019 NFC Championship.
McVay has come a long way in his career in a very short time. From playing high school football in Georgia to college football as a wide receiver for Miami (Ohio) to coaching some of the greatest football players in the game and leading an NFL franchise all in less than 15 years is impressive.
The Rams are gearing up for a tough season ahead with games against the New York Giants, San Francisco 49ers, Seattle Seahawks, and the Tampa Bay Buccaneers on the schedule, as long as the coronavirus pandemic and COVID-19 outbreak allows it.
Veronika Khomyn will be there every step of the way, too.