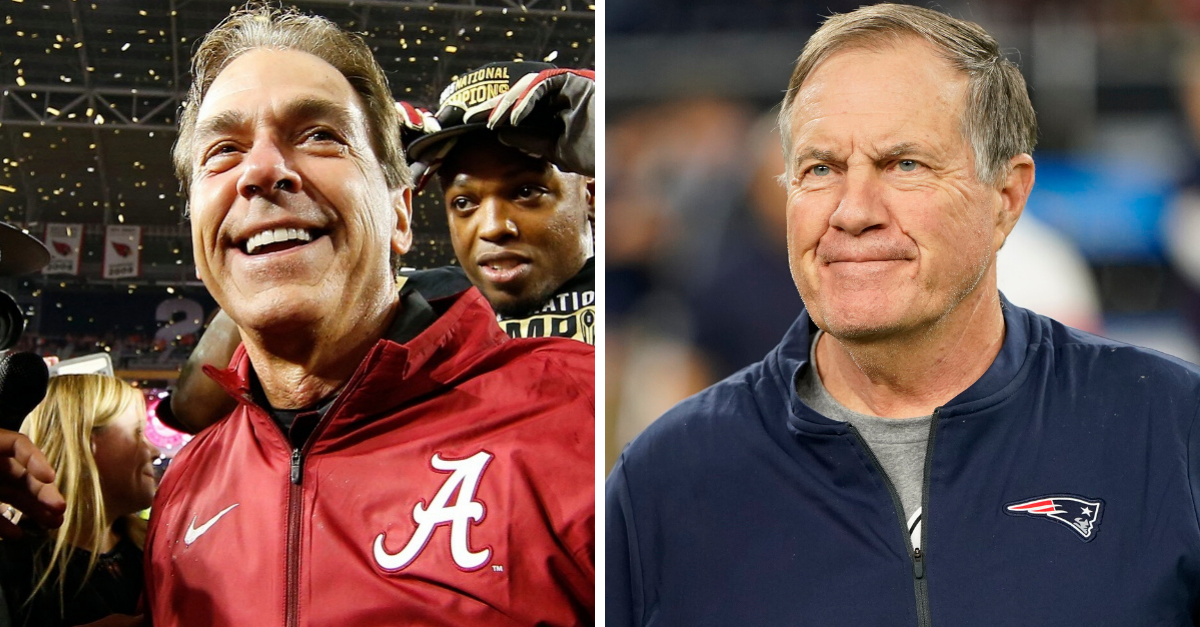 Christian Petersen/Getty Images (left), AP Photo/David J. Phillip (right)
Money talks. In the sports world, the influence and power of massive institutions from the college level up to the professional ranks is reflected in the head coaches leading those teams. Excluding what massive contracts soccer clubs like Manchester City or Real Madrid fork over for high-quality managers, American sports take up a massive chunk of every highest-paid coaching list you'll find around the world.
Forbes compiled a list of the 20 highest-paid coaches in American sports based on their average contract value as 2019 came to a close. Unsurprisingly, half of the list were NFL coaches with playoff and Super Bowl experience. In addition, five of them were NBA coaches, three are college football coaches, and two are college coaches in charge of national championship-caliber NCAA basketball programs.
Highest-Paid Coaches in American Sports
20. Jim Harbaugh, Michigan Wolverines
Average Contract Value: $7.73 million
Career Win Percentage: .667 (College Football)
19. Ron Rivera, Carolina Panthers
Average Contract Value: $7.75 million (Fired on Dec. 3)
Career Win Percentage: .546 (NFL)
18. Andy Reid, Kansas City Chiefs
Average Contract Value: $8 million
Career Win Percentage: .613 (NFL)
T-15. Rick Carlisle, Dallas Mavericks
Average Contract Value: $8 million
Career Win Percentage: .547 (NBA)
T-15. Mike Tomlin, Pittsburgh Steelers
Average Contract Value: $8 million
Career Win Percentage: .650 (NFL)
T-15. Dan Quinn, Atlanta Falcons
Average Contract Value: $8 million
Career Win Percentage: .513 (NFL)
T-13. Erik Spoelstra, Miami Heat
Average Contract Value: $8.5 million
Career Win Percentage: .594 (NBA)
T-13. Sean McVay, Los Angeles Rams
Average Contract Value: $8.5 million
Career Win Percentage: .705 (NFL)
12. John Calipari, Kentucky Wildcats
Average Contract Value: $8.6 million
Career Win Percentage: .781 (College Basketball)
T-10. Mike Krzyzewski, Duke Blue Devils
Average Contract Value: $9 million
Career Win Percentage: .768 (College Basketball)
T-10. John Harbaugh, Baltimore Ravens
Average Contract Value: $9 million
Career Win Percentage: .606 (NFL)
9. Dabo Swinney, Clemson Tigers
Average Contract Value: $9.3 million
Career Win Percentage: .810 (College Football)
8. Nick Saban, Alabama Crimson Tide
Average Contract Value: $9.4 million
Career Win Percentage: .791 (College Football)
7. Steve Kerr, Golden State Warriors
Average Contract Value: $9.5 million
Career Win Percentage: .755 (NBA)
6. Sean Payton, New Orleans Saints
Average Contract Value: $9.75 million
Career Win Percentage: .627 (NFL)
T-4. Jon Gruden, Oakland Raiders
Average Contract Value: $10 million
Career Win Percentage: .515 (NFL)
T-4. Doc Rivers, Los Angeles Clippers
Average Contract Value: $10 million
Career Win Percentage: .578 (NBA)
T-2. Pete Carroll, Seattle Seahawks
Average Contract Value: $11 million
Career Win Percentage: .602 (NFL)
T-2. Gregg Popovich, San Antonio Spurs
Average Contract Value: $11 million
Career Win Percentage: .680 (NBA)
1. Bill Belichick, New England Patriots
Average Contract Value: $12 million
Career Win Percentage: .684 (NFL)