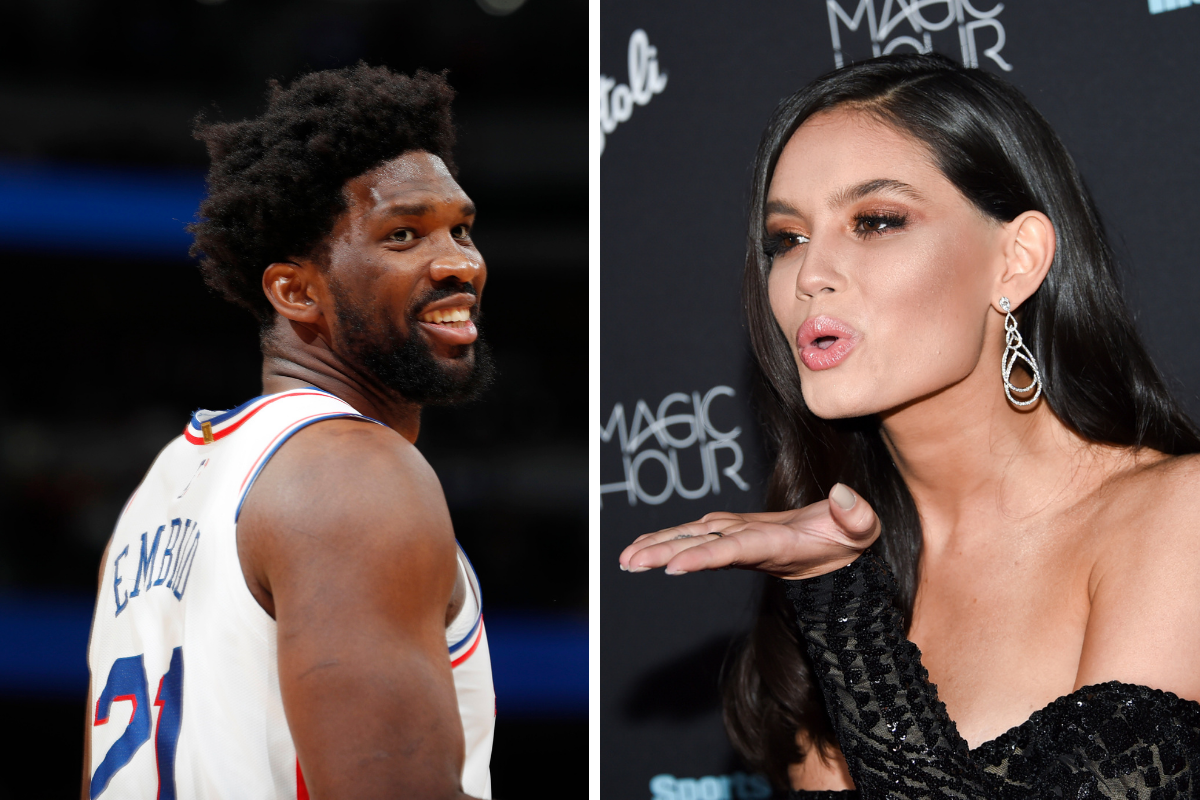 AP Photo/David Zalubowski (left), AP Photo/Evan Agostini (right)
Joel Embiid is one of the largest men in the NBA. It's part of what makes him so dominant on both ends of the floor.
The Cameroonian basketball player is also one of the biggest trolls on the social media. It's part of what makes him so dominant on the Internet.
The lovable Philadelphia 76ers center is as light-hearted and funny as they come. It's no surprise his sense of humor has worked magic in his personal life.
Joel Embiid's Girlfriend Anne de Paula
RELATED: Ben Simmons? Dating History is Filled With Models
According to NBC Sports Philadelphia, the four-time NBA All-Star appeared publicly with Brazilian Sports Illustrated Swimsuit model Anne de Paula for the first time in October 2018. She made the trip to China for the Sixers' preseason games and posted an Instagram story from the home opener. Previously, she dated Irish rocker Danny O'Donoghue for three years.
Any doubt concerning the status of their relationship was put to rest when Philly owner Michael Rubin posted a postgame Instagram photo of the couple kissing. He jokingly celebrated their engagement. It's reassuring to see an organization succeed at every facet of the game. This is what Sam Hinke envisioned when he implemented The Process.
The big man's relationship is the second most public in the Sixers' locker room when Ben Simmons is off the market.
After losing to the Toronto Raptors and Kawhi Leonard's buzzer-beater in 2019, Philly is on a redemption mission as the Eastern Conference's No. 1 seed in the NBA Playoffs.
The third pick in the 2014 NBA Draft is focused on winning a championship, as evidenced by his ESPN cover story, but his Brazilian model girlfriend and son are his top priorities.
Joel Embiid and Anne de Paula's Baby Boy Arthur

Superstar NBA player Joel Embiid welcomed his first child last fall.
Embiid and Rio de Janeiro native Anne de Paula are now parents, and introduced Arthur Elijah De Paula Embiid on social media.
"We are so blessed and fortunate to welcome our little boy in this family. First of 11 or more? Trying to convince her but I?m not winning so far. I?m just trying to build a soccer team but for real I?m so excited for the future and my life has a new meaning. Kudos to [Anne] for being so strong and giving me the Greatest Gift our life can offer #GodisGood"
The Process for Arthur to the NBA starts now.