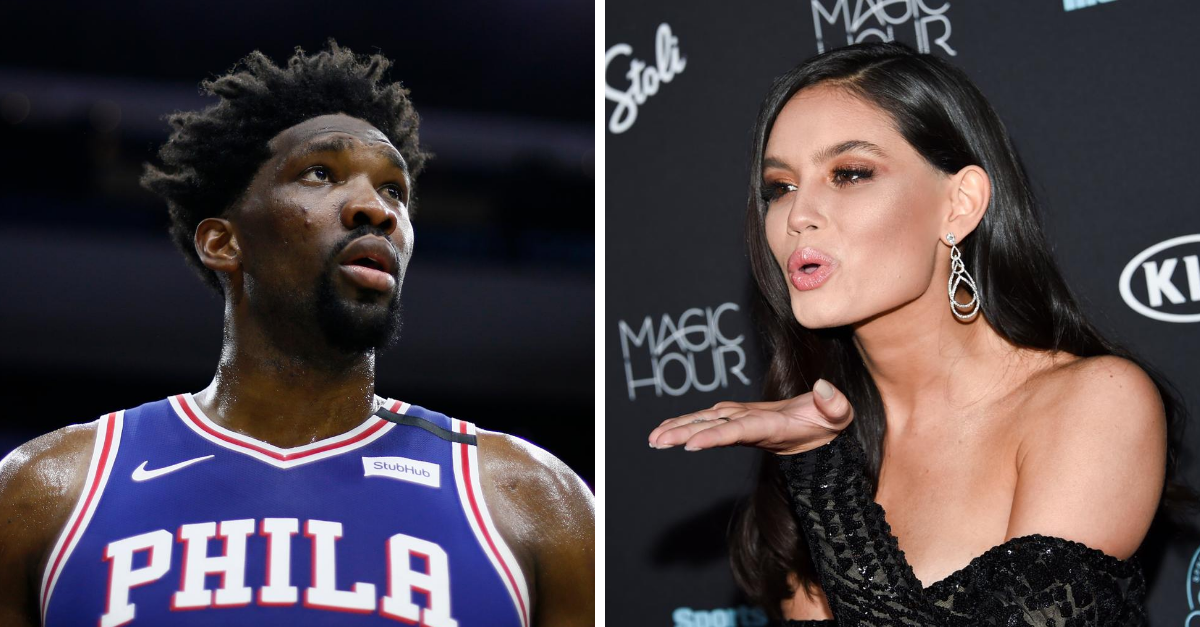 AP Photo/Matt Slocum (left), Evan Agostini/Invision/AP (right)
Joel Embiid is one of the largest men in the NBA. It's part of what makes him so dominant on both ends of the floor.
Joel Embiid is also one of the biggest trolls on the social media. It's part of what makes him so dominant on the Internet.
The lovable Philadelphia 76ers center is as light-hearted and funny as they come. It's no surprise his sense of humor has worked magic in the girlfriend department.
Joel Embiid's Girlfriend Anne de Paula
According to NBC Sports Philadelphia, the three-time All-Star appeared publicly with Brazilian Sports Illustrated Swimsuit model Anne de Paula for the first time in October 2018. She made the trip to China for the Sixers' preseason games and posted an Instagram story from the home opener. Previously, she dated Irish rocker Danny O'Donoghue for three years.
Any doubt concerning the status of their relationship was put to rest when Philly owner Michael Rubin posted a postgame Instagram photo of the couple kissing; He jokingly celebrated their engagement. It's reassuring to see an organization succeed at every facet of the game. This is what Sam Hinke envisioned when he implemented The Process.
RELATED: Who Is Anthony Davis' Mysterious Girlfriend?
The big man's relationship is the second most public in the Sixers' locker room when Ben Simmons is off the market. The duo enters the NBA bubble prepared for a deep run in the NBA playoffs. Thankfully, there's no more Kawhi Leonard in the East to crush their aspirations with a four-bounce buzzer beater.
Philly's top competition are the Milwaukee Bucks, Toronto Raptors and rival Boston Celtics. They have the talent to give any of them a run for their money. Before the shutdown of the NBA season due to COVID-19, the Sixers were 39-26 and sixth in the conference. LeBron James and the Los Angeles Lakers and the LA Clippers line up on top of the West bracket.
As for Embiid and de Paula, the two are happily enjoying each other's company. de Paula wished him luck over Instagram when the superstar showed up for the team flight to Orlando in a hazmat suit. Whenever in doubt, trust the process.