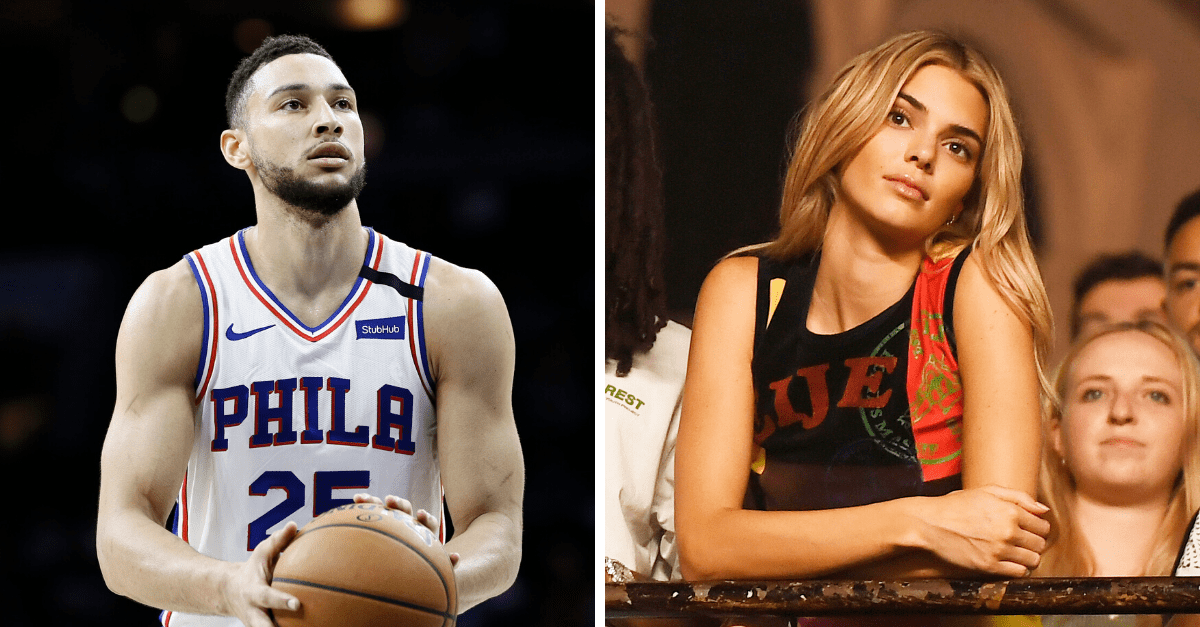 AP Photo/Matt Slocum (left), KGC-138/STAR MAX/IPx 2019, via AP (right)
He's not your average 6-foot-10 point guard who was the No. 1 overall pick and won NBA Rookie of the Year. He's Ben Simmons, and he comes from a land down under.
The Philadelphia 76ers All-Star has it going on. The Australian accent is enough to seal the deal. The subtle mystery behind it has ladies swooning and wondering if he can do more than live in the dunk spot in the fourth quarter of a playoff game.
Simmons is the total package and has the dating resume to back it up.
Ben Simmons' Dating History
Simmons dipped his toes in the high-profile dating game as soon as he entered the league. In 2016, he was rumored to be dating fitness model and social media influencer, Brittany Renner. She had previously been linked to Colin Kaepernick and singer Trey Songz. The couple was never officially confirmed, and the relationship dissipated.
The Philly guard moved on to Dylan Gonzalez, a model, rapper, social media influencer and former basketball player who had been involved with Anthony Davis in the past. The two kept it casual and gushed over social media. The puppy love eventually died down.
Not too long after Gonzalez, Simmons did something out of the ordinary: he shot his shot. Not on the court, but with R&B star Tinashe. They were introduced by a mutual friend and grabbed a bite to eat on their first date. The couple started casually hanging out for six months before making it official in March 2018. As quickly as love arose, it fell. They split in May 2018 because Simmons was having trouble adjusting to Tinashe's public lifestyle.
He was looking for someone lowkey and out of the spotlight. You know, someone like Kendall Jenner.
Ben Simmons' Ex-Girlfriend Kendall Jenner
RELATED: Who Is Kevin Love's Supermodel Girlfriend?
Jenner and Simmons allegedly started talking before Simmons cut ties with Tinashe. Jenner was fresh off a relationship with Detroit Pistons star Blake Griffin. Ironically, Griffin was spotted with Tinashe in Las Vegas shortly after the Simmons/Jenner dating rumors emerged.
Page Six reported the supermodel and Keeping Up With the Kardashians star was spotted on a lunch date with the basketball player in Los Angeles. They later met up again in New York City with a group of friends.
According to TMZ, things got dicey when Jenner was caught lip-locked with Anwar Hadid — the younger brother of her friends and fellow models Bella and Gigi Hadid — at the CFDA Awards after-party in NYC. Simmons and Jenner were casual at the time and the little smooch didn't seem to cause any rifts.
Simmons and Jenner officially split in May 2019, per E! Online. They appeared to be dating again after ringing in 2020 and attending Super Bowl LIV together. The quick reconciliation has taken a backseat to Jenner's recent outings with Phoenix Suns star Devin Booker. The two have been spotted together three times since April 2020, with the most recent coming over the Fourth of July weekend. Jenner caught flack for her history of dating NBA players via Twitter after their first rendezvous. She clapped back with an all-time tweet.
The Sixers-Suns matchup on August 11 in Orlando is a chance to take the coveted Kendall Jenner Memorial Trophy.
Simmons is allegedly single at the moment. His jump shot couldn't hit water if it fell out of a boat, but he doesn't need it to score.