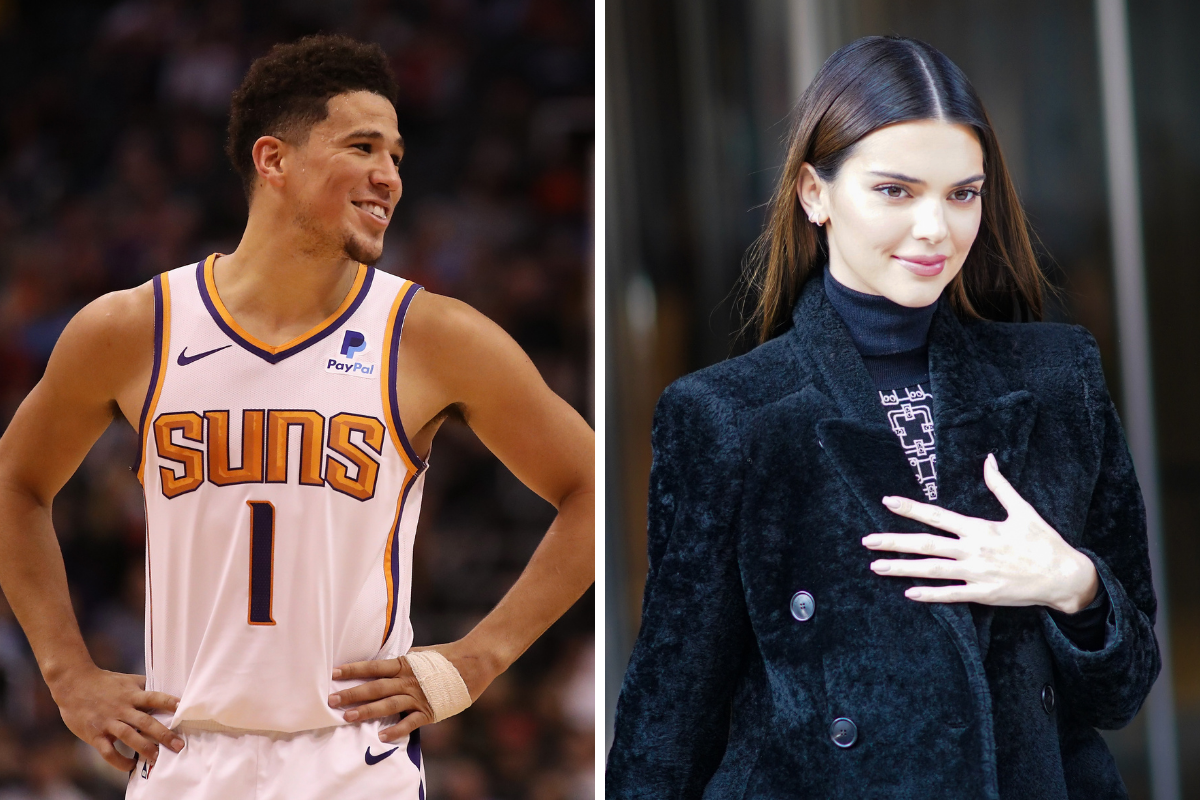 Christian Petersen via Getty Images (left), Edward Berthelot/Getty Images (right)
The Kardashian-Jenner clan's dating history could field a solid NBA lineup.
You've got Ben Simmons, Blake Griffin, James Harden, and Tristan Thompson. That team would certainly have a height advantage and share a strong bond having been connected to a low-key family from Los Angeles.
Devin Booker can fill the final spot.
The rising Phoenix Suns player's latest love-life connection is Kendall Jenner.
Devin Booker's Girlfriend Kendall Jenner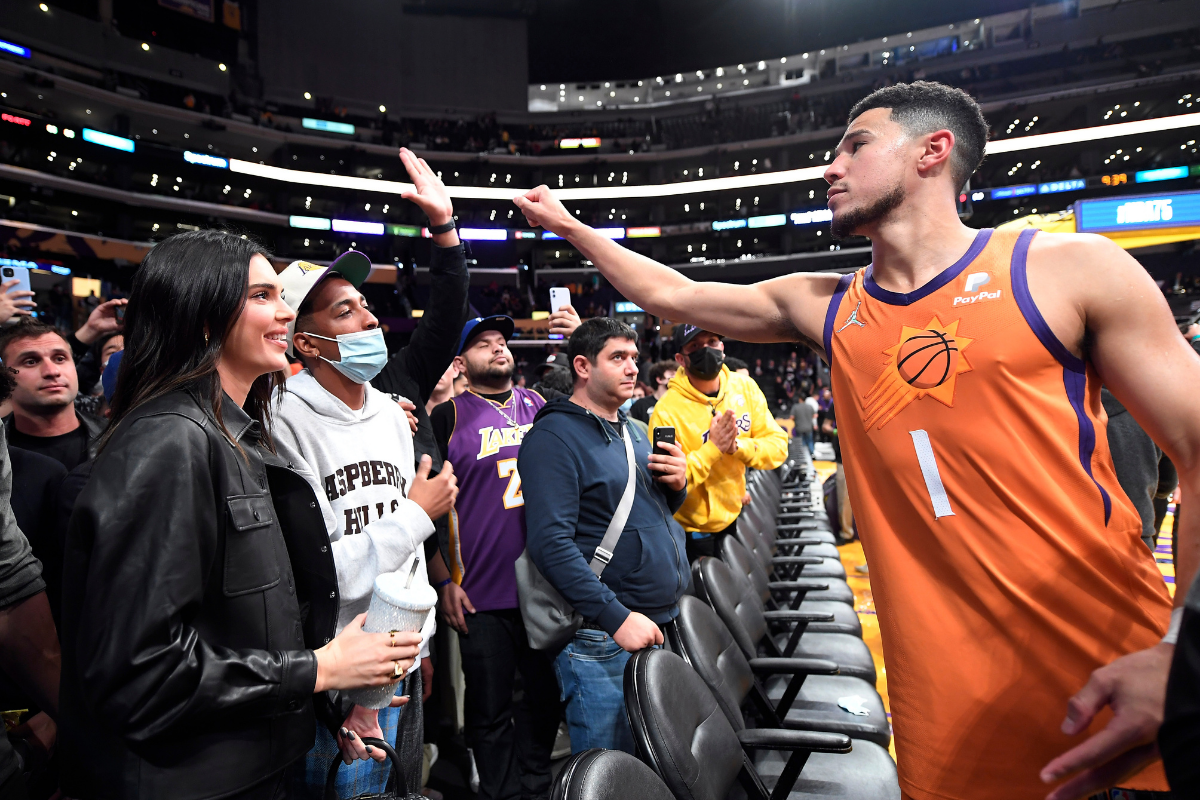 RELATED: Ben Simmons' Dating History is Filled With Models
Back in the early days of the coronavirus pandemic and COVID-19 outbreak in April 2020, the former Moss Point High School basketball player and Jenner took a road trip from LA to Sedona, Arizona that sparked rumors of a potential relationship.
A source close to the Keeping Up with the Kardashians star elaborated:
"She and Devin have a lot of mutual friends. They're just friends for now but you never know with Kendall," the source said [according to PEOPLE]."
Jenner clapped back to a TikTok regarding her past with NBA players when news of the trip reached the media.
The NBA star and Jenner have run in the same social circle for a minute. He previously dated Kylie Jenner's ex best friend Jordyn Woods. The former couple went on a double date with Jenner and Simmons in May 2018.
In June 2020, a source revealed the two have something more to their relationship:
"They're hooking up, but they're not serious," a source exclusively reveals in the new issue of Us Weekly. "She's talking to a couple different guys. She has so many men after her it's crazy."
After Book and the Suns went 8-0 in the 2020 NBA Bubble but fell short of making the playoffs, he had a lot of free time to spend in Los Angeles with Jenner. He's familiar rolling with high profile celebs. The two-time All-Star is friends with superstar rapper Drake.
The couple takes hikes in Idaho with Justin and Hailey Bieber, flirts with emojis on Instagram, and frequents Malibu restaurants such as Nobu. The Grand Rapids, Michigan, native even earned an invite to Kim Kardashian's private island where they could pretend things were normal just for a brief moment in time.
Booker, the 13th pick in the 2015 NBA Draft, appeared in an Instagram post at Jenner's 25th birthday celebration in November 2020.
The NBA superstar is the latest celebrity significant other to date a member of the Kardashian/Jenner crew. Others include Kylie's boyfriend Travis Scott, Khloe Kardashian's ex Tristan Thompson, Kourtney Kardashian's ex Scott Disick, and some other guy named Kanye West.
The couple went Instagram official this on Valentine's Day 2021 when they posted pictures of each other on their respective Instagram stories nearly one year after rumors started circulating.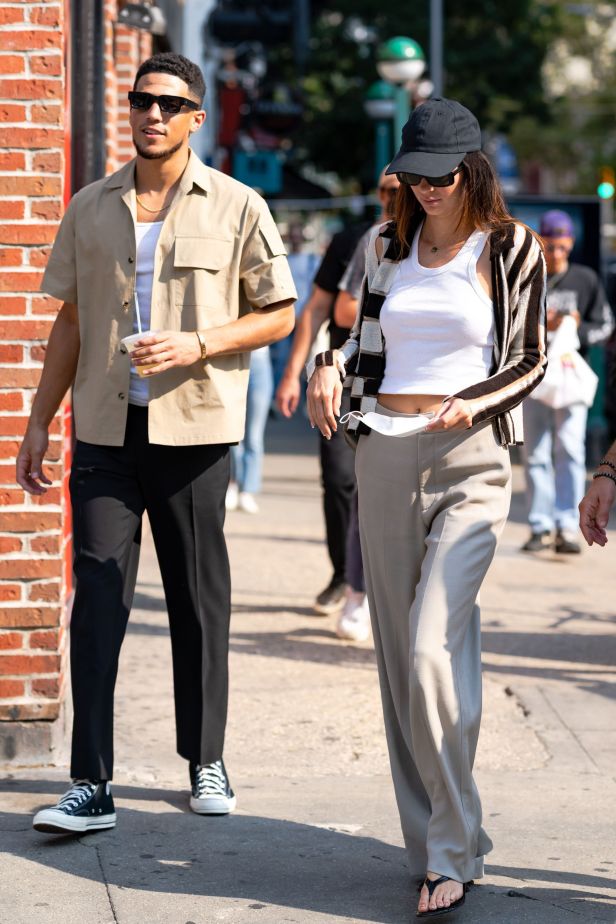 Kendall made sure to support her boyfriend Devin Booker at Suns games throughout last year's NBA Playoffs. She traveled to Arizona to watch Phoenix win Game 1 of the 2021 NBA Finals over the Milwaukee Bucks. The 26-year-old also attended the Suns matchup against the Los Angeles Lakers at Staples Center in October.
I'm sure ESPN will repeatedly cut to the reality TV star whenever she's attending an NBA game.
Devin Booker's Ex-Girlfriend Hannah Harrison
The former University of Kentucky guard used to date Treats Beauty co-owner Hannah Harrison. Booker and Harrison's relationship came to an end when he went on the initial road trip with Jenner. Harrison scraped pics of them off her social media profiles.
Harrison's twin sister and business partner Haylee is engaged to former Florida star and NBA player Chandler Parsons.
The basketball dating world can be as wild as the plays on the court. From Minnesota Timberwolves guard Malik Beasley dating Scottie Pippen's ex-wife Larsa Pippen to the Matt Barnes and Derek Fisher altercation, the drama rarely fails to be juicy.
Related Videos