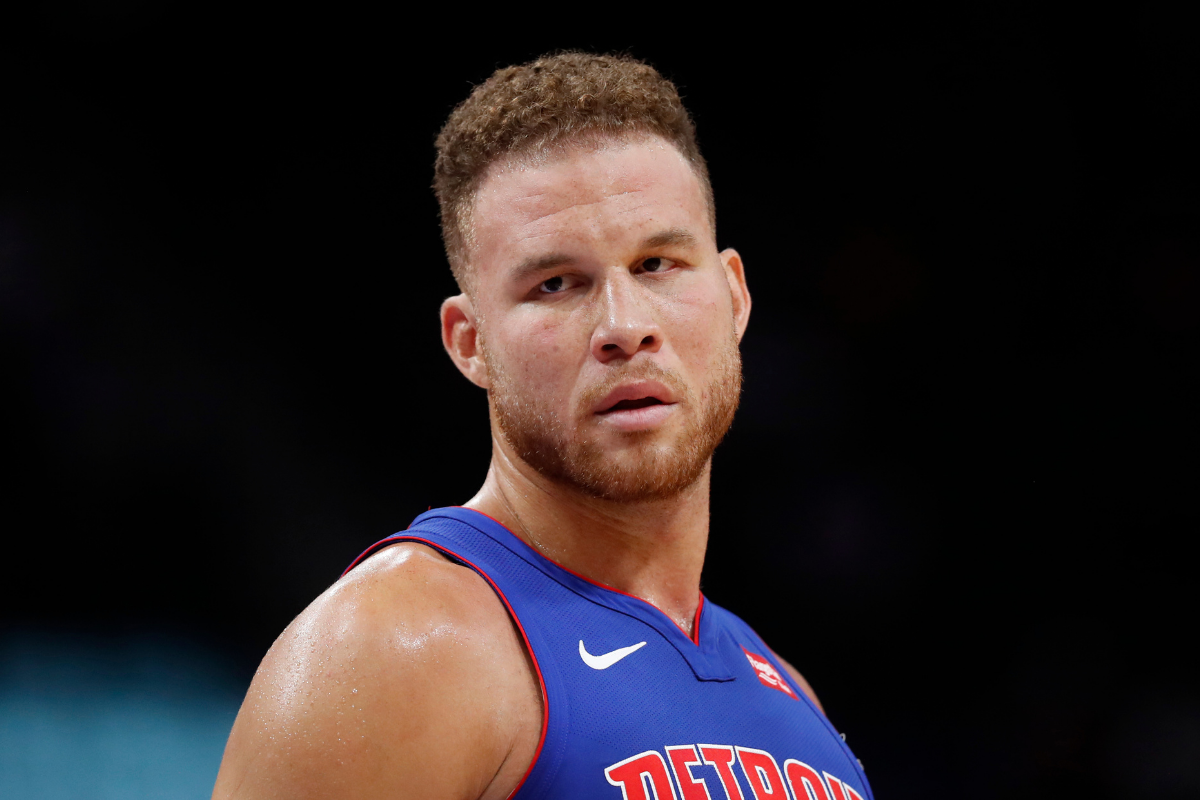 AP Photo/Carlos Osorio
Blake Griffin is one of the NBA's biggest personalities.
On top of throwing down dunks, cashing threes, and bullying opponents in the paint, Griffin has a knack for making people laugh.
He's done stand up, appeared in Broad City and the Whitney Cummings film The Female Brain, and his deadpan delivery makes him a master at athletespeak.
The Detroit Pistons power forward's shining persona has led to many high-profile relationships in the dating world.
His most serious and tumultuous partnership was with Brynn Cameron.
Blake Griffin's Ex-Fiancee Brynn Cameron
Brynn Cameron was a basketball player at the University of Southern California from 2004-09. In college, she was in a relationship with 2004 Heisman Trophy winner and former NFL QB Matt Leinart. The two have a son together but split before his birth.
Per the Daily Mail, Griffin and Cameron met for the first time in September 2009 ? shortly after he was the No. 1 overall pick by the Los Angeles Clippers in the NBA Draft. Cameron was fresh into a career as a sideline reporter for ABC Sports.
The couple have two children together: son Ford Wilson, born in 2013 and daughter Finley Elaine, born in 2016.
The former high school basketball standout and Cameron planned to be married on July 28, 2017. Things took a turn when Griffin asked for a prenuptial agreement a month before the wedding.
The question threw off Cameron. The pair had reportedly made an oral agreement to combine earnings and share any and all property. According to the Daily Mail, the former Oklahoma Sooners player asked Cameron to leave her career to support their son in 2013.
She stood her ground and the wedding was called off.
Meanwhile, The NBA star embarked on a new fling with Kendall Jenner.
Cameron proceeded to file a lawsuit for palimony against Griffin on Valentine's Day 2018, claiming he abandoned his family. The suit centers around Griffin ensuring financial support even after she left her career. The six-time NBA All-Star denied the allegations.
The court documents read:
"[Griffin] abandoned his family because he cared more about the glamour of being a Hollywood celebrity than being a father and family man."
The former couple amicably settled a custody agreement in confidential nature in August 2018. The exact figure of the settlement was undisclosed, but reports claimed Griffin agreed to hand over $258,000 per month in child support ? a figure Griffin and Cameron later disputed.
In January 2019, the NBA player and his former fiancee ended the ordeal for good and requested the court dismiss the "entire action of all parties and all cause of actions."
Kendall Jenner's Ex Blake Griffin

RELATED: Everyone Ben Simmons Has Dated, But Mainly Kendall Jenner
In the middle of the lawsuit, Griffin started dating Jenner. The two never officially confirmed their relationship, but they were spotted around Los Angeles and New York together with pics circulating social media.
The Keeping Up With The Kardashians star made a few appearances at Clippers games during this time.
Once Griffin was traded to the Detroit Pistons in January 2018 ? six months after agreeing to a five-year, $173 million contract with the Clippers ? the relationship fizzled out.
Since Jenner, the 2011 NBA Rookie of the Year has been linked to bikini designer Francesca Aiello and Fox Sports Detroit reporter Brooke Fletcher.
Blake Griffin COVID Relief
Amidst the coronavirus pandemic and COVID-19 outbreak, Griffin has done his best to help out. He donated $100,000 to Little Caesars Arena workers in March 2020.
In December 2020, he was selected to be a spokesperson as part of Michigan Governor Gretchen Whitmer's task force dedicated to raising awareness about the COVID vaccine's safety and efficacy.