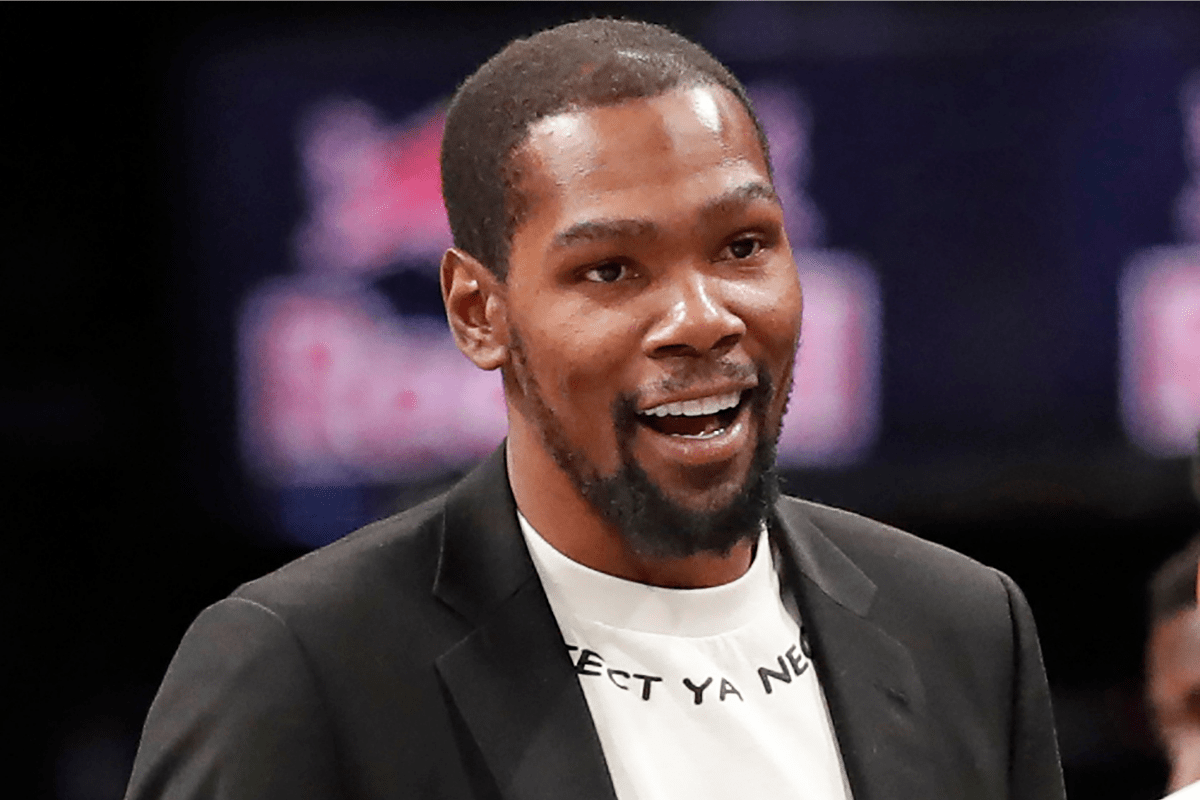 AP Photo/Kathy Willens, File
Text meme: Kevin Durant holding his girlfriend's (Oklahoma City Thunder) hand. Another girl (Golden State Warriors) walks by. Durant double-takes, mesmerized by a two-time MVP, a sharp shooter, and a nut cracker. OKC looks on in shock.
The main drive of the former Texas basketball player, the second-overall pick by the Seattle SuperSonics in the 2007 NBA Draft, is to win. As evidenced by his move to Golden State in 2016, KD is willing to face intense scrutiny to climb to the top.
His objectives have lived within the 94 x 50 ft. court since high school. From a McDonald's All-American to a two-time NBA All-Star game MVP; other than his mother Wanda, the real MVP, his top priority off the court is spent improving his time on it.
The two-time NBA champion keeps his personal life under wraps. When he's not making burner social media accounts, he'll hang out with girlfriends here and there.
In 2013, the Nike athlete was briefly engaged.
Kevin Durant's Ex-Fiancee Monica Wright
RELATED: Dwight Howard's Fiancee is a Basketball Star Herself
Rumors circulated about Durant's involvement with former WNBA player Monica Wright when he sat courtside for two separate Minnesota Lynx games in Minneapolis and Los Angeles.
The two dated for a short period, and in the spur of the moment, the young superstar popped the question. The spontaneous proposal didn't work out.
Durant expanded on the break up in a 2015 GQ article:
"I had a fiancée, but…I really didn't know how to, like, love her, you know what I'm saying? We just went our separate ways." Monica Wright, WNBA player, something like a high school sweetheart. One night Kevin got so full of feelings he just up and proposed to her. "We was just hanging out, chilling. And I felt the energy. I felt, I need to do this right now. And I just did it. I was like…We're engaged right now? We're about to get married? So I was just like, cool! I love this girl. But I didn't love her the right way."
Since, The NBA player has had short flings with former Florida volleyball player Cassandra Anderson and Instagram model Amy Shebab.
We know of KD's tense split from Russell Westbrook and the Thunder in favor of Steph Curry, Klay Thompson, Draymond Green, two NBA championships, and two NBA Finals MVPs. Russ moved on to greener pastures with the Houston Rockets.
He moved on from California to New York last year, joining the Brooklyn Nets and linking with new on-court partner Kyrie "Third-Eye" Irving. That's a pairing I don't foresee having any problems. Maybe Kyrie does.
The duo will chase 2020 NBA champions LeBron James, Anthony Davis, and the Los Angeles Lakers. The Los Angeles Clippers, Denver Nuggets, Dallas Mavericks, Utah Jazz, and Rockets will challenge the Lakers in the Western Conference playoffs. The Boston Celtics, Miami Heat, Milwaukee Bucks, and Nets will be top contenders in the East. Next season's start date is still up in the air in the wake of the coronavirus pandemic and COVID-19 outbreak.
KD is taking his time finding a significant other. He'll date a lot of people and learn from mistakes.
For now, it's all about basketball.