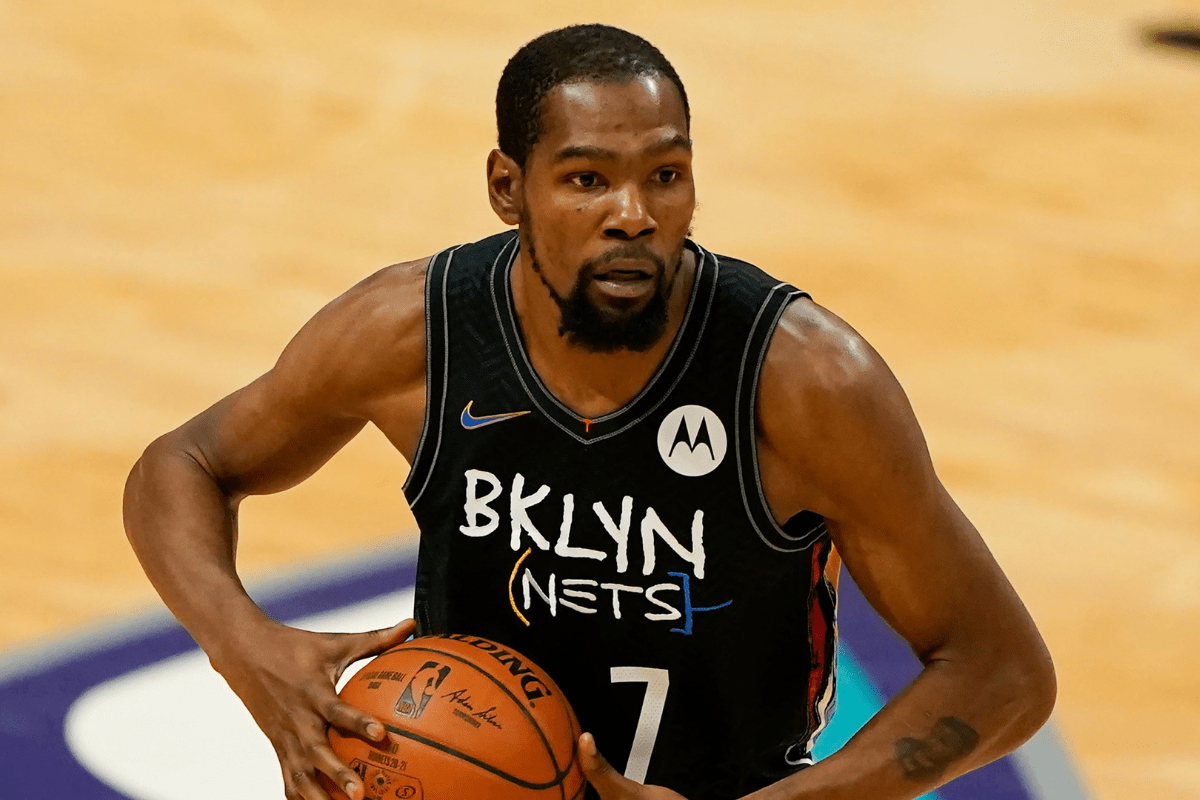 AP Photo/Chris Carlson
I was having a discussion with a friend the other day about which basketball player's physical tools are the most ideal. I said LeBron James — the sole reason being his ability to regenerate hair.
He said Kevin Durant.
If you could build a perfect player in a lab, Durant might be it. He's roughly 7-feet tall with a 7-foot-5 wingspan. There are few things the offensive juggernaut can't do on the court.
KD's skills are undeniable. His online skills are a different story. The small forward has caught flack for immersing himself in the middle of the noise and leaving the franchise that crafted him for a super team.
Durant is one of the best talents the league has ever seen. How much money has that talent earned?
Early Life & High School
Kevin Durant was born in Washington, D.C. on September 29, 1988 to Wanda Durant and Wayne Pratt. He grew up in Prince George's County, Maryland and attended National Christian Academy, Oak Hill Academy, and Montrose Christian School.
He played for several Amateur Athletic Union (AAU) teams in the area with fellow NBA players Michael Beasley, Grevis Vasquez, and Ty Lawson.
Durant committed to play college basketball at the University of Texas prior to his senior season.
At the conclusion of his prep career, he was named the Washington Post All-Met Basketball Player of the Year and earned an invite to the 2006 McDonald's All-American Game, where he won MVP. The phenom was heralded as the second-best recruit in the United States behind Greg Oden.
Basketball Career
RELATED: Kawhi Leonard's Net Worth: How "The Claw" Quietly Kept His Fortune
The Durantula is an all-time great player. He shined in Austin as the best player in college basketball and was selected No. 2 overall by the Seattle SuperSonics in the 2007 NBA Draft.
Having made marks on the Sonics, Oklahoma City Thunder, and Golden State Warriors, he's still building his legacy in a new chapter with the Brooklyn Nets.
Texas
— Consensus National College Player of the Year (2007)
— Consensus First-Team All-American (2007)
— Big 12 Player of the Year (2007)
— No. 35 Retired by Texas Longhorns
NBA
— 2x NBA Champion
— 2x NBA Finals MVP
— NBA Most Valuable Player (2014)
— 10x NBA All-Star
— 2x NBA All-Star Game MVP
— 6x All-NBA First Team
— 3x All-NBA Second Team
— NBA Rookie of the Year (2008)
— NBA All-Rookie First Team (2008)
— 4x NBA Scoring Champion
— 50-40-90 club (2013)
Durant has excelled on the international stage. He won the gold medal as a member of the USA Basketball team at the 2010 FIBA World Championship. He was named the tournament MVP.
The superstar forward won gold medals at the 2012 and 2016 Olympic Games, too.
Personal Life, Philanthropy & NBA Contracts

Durant was once engaged to WNBA player Monica Wright. He spontaneously proposed but it didn't work out.
The professional basketball player started the Kevin Durant Charity Foundation in 2013. The mission is to enrich the lives of at-risk youth from low-income backgrounds through educational, athletic, and social programs.
In his NBA career, Durant has earned $264,153,846, per Spotrac. He's currently in the second year of a four-year, $164 million deal with the Nets. He made the move to New York City as a free agent in 2019.
Endorsement Deals & Business Ventures
The 10x All-Star has endorsement deals with Nike, Gatorade, Panini, 2k Sports, General Electric, Alaska Airlines, and Sprint.
While winning in the playoffs in pursuit of an NBA championship is at the top of the priority list, Durant has developed a mind for business. He and his manager Rich Kleiman co-founded Thirty Five Ventures. It serves as an umbrella for their business interests across sports, tech, culture, and more. He's invested in Postmates, Acorns, Skydio, Lime, the Netflix film Q Ball, and Coinbase.
Durant is the executive producer of the upcoming Apple TV+ Series Swagger that's inspired by his come up on the AAU circuit. Thirty-Five Ventures and ESPN partnered to produce The Boardroom in 2018. The series revolves around the evolution of sports business through the minds of athletes, sports executives and tech moguls alike. It aired for two seasons on ESPN+ and was canceled in July 2020.
Durant also co-starred in the 2012 children's film Thunderstruck.
The NBA star's YouTube Channel has 780k subscribers.
In June 2020, Durant became a minority owner of Major League Soccer's Philadelphia Union. He bought in with a 5-percent stake.
Kevin Durant Net Worth
According to Celebrity Net Worth, Kevin Durant has a net worth of $170 million. A bulk of the wealth comes from his off-court dealings and endorsements.
Durant earned $63.9 million in 2020 according to Forbes, making him the seventh-highest paid athlete in the world.