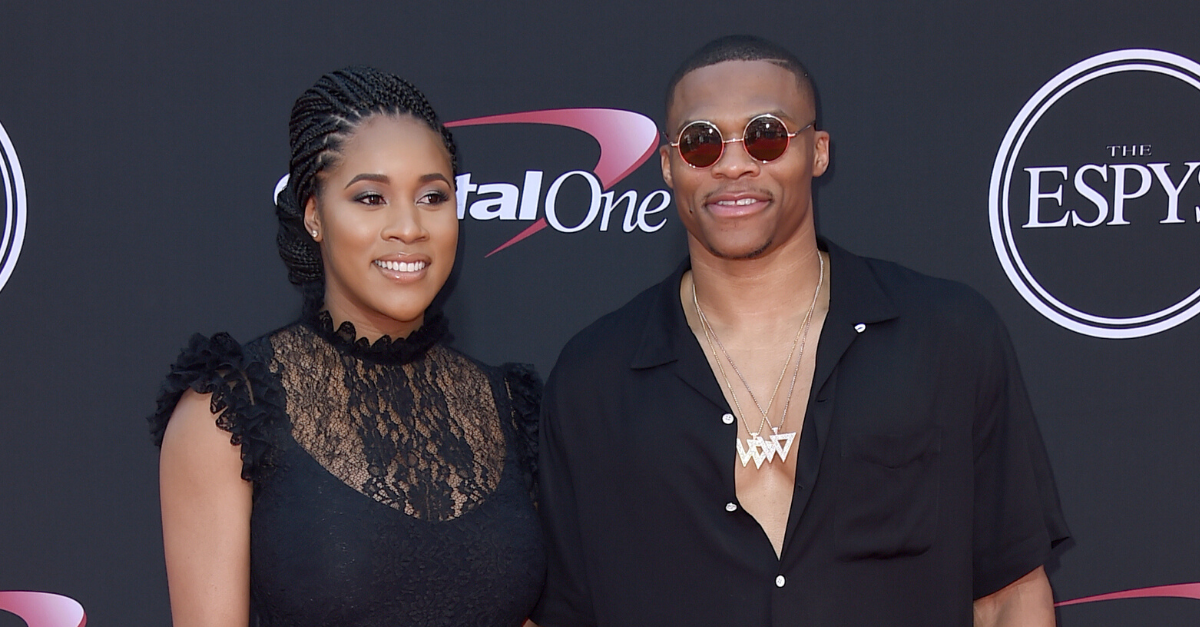 Photo by Jordan Strauss/Invision/AP
UCLA's Pauley Pavillion isn't just an iconic college basketball arena; it's the birthplace of true love. Russell Westbrook was a fiery young point guard with NBA aspirations. Nina Earl, a talented basketball player in her own right, played hard-nosed defense and was one of the fastest players on the women's team.
He was racing down the floor for the dunk. She was sitting in the stands. He flew and shot her a wink.
"You were pretty good out there tonight," she said after the game.
"It's easy to play like that when you have someone to play for," he replied.
She blushed. The rest is history.
Russell Westbrook's Wife Nina Westbrook
At Diamond Ranch High School, Nina Earl was a two-time CIF Player of the Year, three-time league MVP and 2,000-point scorer. She led her women's basketball team to a CIF Division III-AA championship her junior season, then scored 35 points in the CIF-Southern Section title game as a senior.
UCLA finished 29-5 and advanced to the second round of the NCAA Tournament in Earl's final collegiate season.
The couple dated throughout Westbrook's early NBA career with the Oklahoma City Thunder. They officially became engaged in 2014 and tied the knot in August 2015 at the Beverly Hills Hotel. Guests included Kevin Durant, Kevin Love, Serge Ibaka, Dorrell Wright, and James Harden.
The Westbrook Children
The college sweethearts welcomed their first child, a baby boy named Noah Russell Westbrook in May 2017. In November 2018, the family expanded with the addition of twin daughters, Skye and Jordyn. Their son Noah closely resembles his dad.
Nina operates a boutique dedicated to moms and babies in Oklahoma City called The Little Ark. She is also a marriage and family therapist.
Russell Westbrook's Why Not? Foundation
RELATED: James Harden's Net Worth Is Somehow Larger Than His Beard
Off the basketball court, the couple runs the Why Not? Foundation, an organization dedicated to supporting community-based education and family service programs while encouraging youth to believe in themselves.
In March 2020, the foundation partnered with Los Angeles Mayor Eric Carcetti's office on coronavirus relief. A month later, Why Not? teamed up with Comp-U-Dopt and Houston Mayor Sylvester Turner's office of education to provide computers to underprivileged children for remote learning during the pandemic.
Russell Westbrook Tests Positive For Coronavirus
The Houston Rockets guard tested positive for COVID-19 on July 13, 2020. He confirmed he was feeling well in a tweet that has since been removed.
Per ESPN's Tim McMahon, the nine-time All-Star joined the Rockets in Orlando on July 20, 2020 — He had to test negative twice to be permitted into the NBA bubble. The NBA star will have to quarantine in his hotel room for 48 hours before partaking in team activities.
The 2017 NBA MVP enjoyed quality time with his loving family. Now, it's back to business. Houston entered the NBA restart sixth in the Western Conference and has the highest fluctuation potential with their small-ball lineup. LeBron James and the Los Angeles Lakers are the top seed in the current playoff standings.