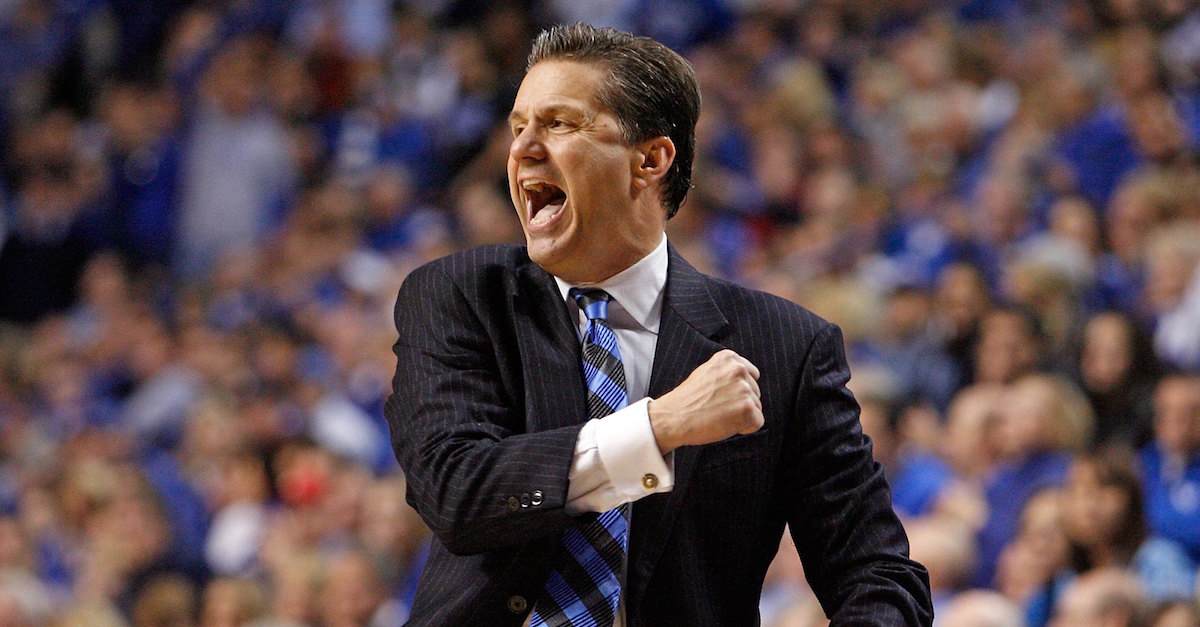 Andy Lyons/Getty Images
Coaching Division I basketball is a grind. Head coaches watch film, recruit around the clock, draw up game scripts, and develop players in pursuit of a national championship. College basketball coaches don't deal with nearly the scrutiny college football coaches face. Basketball teams can reload and turn around in a season. Football takes time on the other hand. Sometimes a lot of time. I personally can't relate as a Nebraska fan.
A deep run in the NCAA Tournament can elevate a coaching resume for consideration at a top program. That's where the big bucks are made. Blue bloods like the Duke Blue Devils, Kansas Jayhawks, Michigan State Spartans, and Kentucky Wildcats pay top dollar for some of the best minds in basketball. They also serve as the CEO of their school's brand.
USA Today publishes a database dedicated to salaries, bonuses, and buyouts. Here are the 25 highest-paid men's basketball coaches for the 2019-20 season, including their salary this year, and their record at their current school. Just missing the cut are Ohio State's Chris Holtmann, South Carolina's Frank Martin, Maryland's Mark Turgeon, Illinois' Brad Underwood, and Missouri's Cuonzo Martin.
Highest-Paid College Basketball Coaches 2019-20
25. Dana Altman, Oregon
Total Pay: $3.1 million
Record: 259-103
24. Mark Few, Gonzaga
Total Pay: $3.191 million
Record: 599-124
23. Tom Crean, Georgia
Total Pay: $3.2 million
Record: 27-37
22. Sean Miller, Arizona
Total Pay: $3.248 million
Record: 285-100
21. Lon Kruger, Oklahoma
Total Pay: $3.3 million
Record: 179-117
20. Archie Miller, Indiana
Total Pay: $3.3 million
Record: 55-43
19. Shaka Smart, Texas
Total Pay: $3.31 million
Record: 90-78
18. Tony Bennett, Virginia
Total Pay: $3.3075 million
Record: 277-96
17. Scott Drew, Baylor
Total Pay: $3.308 million
Record: 344-213
16. Jamie Dixon, TCU
Total Pay: $3.423 million
Record: 84-57
15. Gregg Marshall, Wichita State
Total Pay: $3.6 million
Record: 331-121
14. Larry Krystkowiak, Utah
Total Pay: $3.763million
Record: 171-126
13. Bruce Pearl, Auburn
Total Pay: $3.840 million
Record: 125-78
12. Buzz Williams, Texas A&M
Total Pay: $3.843 million
Record: 16-14
11. Bob Huggins, West Virginia
Total Pay: $3.965 million
Record: 291-161
10. Bill Self, Kansas
Total Pay: $3.986 million
Record: 501-109
9. Chris Mack, Louisville
Total Pay: $4.067 million
Record: 44-21
8. Roy Williams, North Carolina
Total Pay: $4.102 million
Record: 467-152
7. Tom Izzo, Michigan State
Total Pay: $4.191 million
Record: 628-241
6. Jay Wright, Villanova
Total Pay: $4.410 million
Record: 472-182
5. Chris Beard, Texas Tech
Total Pay: $4.443 million
Record: 94-44
4. Rick Barnes, Tennessee
Total Pay: $4.7 million
Record: 105-64
3. Mick Cronin, UCLA
Total Pay: $5.5 million
Record: 19-12
2. Mike Krzyzewski, Duke
Total Pay: $7.257 million
Record: 1,084-291
1. John Calipari, Kentucky
Total Pay: $8.158 million
Record: 330-77