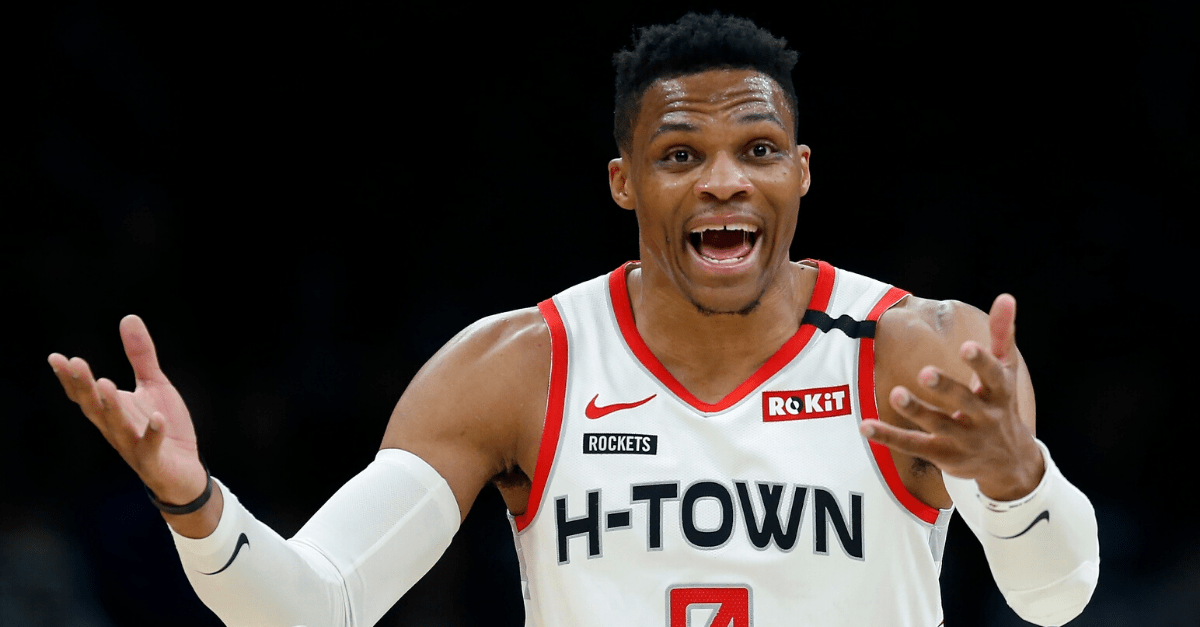 AP Photo/Michael Dwyer
I'm not sure what was less surprising about the 2020 NFL Draft. Roger Goodell (boooooo) mispronouncing names or John Gruden biting on the fastest guy in the class because nothing pairs better with Las Vegas than speed. Piled on to learning personal tragedies befit for a Disney movie, discovering the real leader behind the New England Patriots is a very good boy, and Jerry Jones drafting from a Bond-villain yacht, it was fresh entertainment fans needed as a reminder that things are still happening in the sports world.
I figure there's no better time to ready the war room and build a team of my own, compiled only by NBA players. I thought intensely about my strategy, and I think my team has the franchise quarterback and backbone to make a deep playoff run.
Here's how the roster shapes out:
Quarterback – Nikola Jokic, Denver Nuggets
That's right. The centerpiece of my team is the joker, baby. Jokic drops dimes like it's nobody's business. He puts the ball in the receiver's breadbasket with precise touch and sees passing lanes before they're open.
The lack of mobility is worth the risk. I want my QB1 to have pocket presence, not burn a hole in it.
Running Back – Russell Westbrook, Houston Rockets
Russ has the bulldog mentality needed to run between the tackles. Once he reaches the open field, it's goodnight. His triple-double output of carries, yards, and catches make him the bell cow of the backfield.
Wide Receiver – Giannis Antetokounmpo, Milwaukee Bucks
The reigning MVP has the catch radius of an aircraft carrier. He has the ability to create separation, and out jumping his defender would be a piece of cake. My analytics department informed me he can run the length of the field in 3.5 strides ? you just can't teach that speed.
Wide Receiver – Jimmy Butler, Miami Heat
Every team needs the guy who shit talks their matchup on the line of scrimmage. Randy Moss was that guy, and Jimmy is definitely that guy. He's the more physical receiver on the outside opposite Giannis.
Wide Receiver – De'Aaron Fox, Sacramento Kings
The NFL is a copycat league, and I'm not above the fact that a blazing slot receiver is the hot new trend. Fox is my Tyreek Hill. He would get bubble screens and sweep passes to set up the deep ball.
Tight End – LeBron James, Los Angeles Lakers
The Big Dog. LeBron is a huge target across the middle and top red-zone option. His versatility will be used all over the field. He can block, tackle, score the touchdown, snap the ball, and kick the extra point. Hell, LeBron will fill up the Gatorade cooler, walk the dog, and paint your back porch… and he can pass.
*Post-draft press conference*
"I'd like to congratulate my wonderful staff on another successful draft. We're very excited about our new crop of guys and have the utmost faith in our second-to-none player development program. I pride myself on building championship teams. Simple as that. My track record of 44 Super Bowl victories, 112 Pro-bowlers, and 25 MVPs in Madden Franchise mode speaks for itself. Let's get to work."