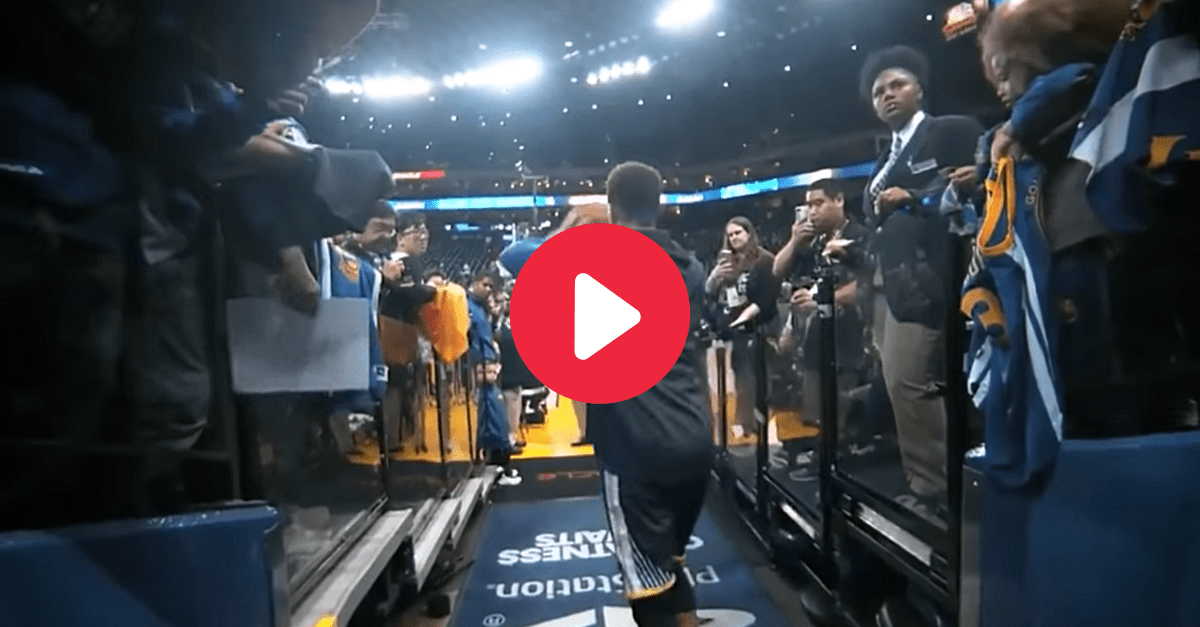 YouTube: PressCAPLOCK
Stephen Curry pioneered the NBA's three-point revolution. The Golden State Warriors guard rose from NCAA Tournament darling to NBA MVP by living beyond the arc sustained by a lightning-quick release. He became a defender's nightmare. Off the dribble, running feverishly around screens, Curry's mastered finding open, or not so open, (it doesn't seem to matter that much) looks.
His pregame ritual has become something of a legend. Pitter-patter dribbling drills, fountains of jump shots, free throws ? Before the game is as much a show as the game itself. Prior to home games formerly at Oracle Arena, Curry capped off pregame warmups with a shot from the parking lot?almost.
Curry camps in the tunnel leading to the Dubs locker room. He stands slightly behind the backboard. The rim hiding just over the self-created obstacle. An Oracle Arena security guard feeds Curry the ball. He launches.
It's one of those shots you try when you're throwing up prayers in HORSE and hope you get lucky. Curry's deciphered the angle and power he needs to make it. It may take a few tries, but he eventually makes it and celebrates with some shimmy or dance reserved only for the NBA's Golden Boy.
Steph Curry's Pregame Tunnel Shot
RELATED: Baron Davis' Thunderous Dunk Claimed Andrei Kirilenko's Soul
The entire NBA has witnessed the heave. From Western Conference rivals like the Los Angeles Lakers, Los Angeles Clippers, Memphis Grizzlies, San Antonio Spurs, Oklahoma City Thunder, Minnesota Timberwolves and Dallas Mavericks to Eastern Conference foes like the Milwaukee Bucks, Cleveland Cavaliers, and New York Knicks, the signature tunnel shot signals Curry's ready to go.
The shots days ended when the Warriors moved to the Chase Center in downtown San Francisco this past season. Curry tried to replicate the shot, but the new tunnel is almost entirely behind the basket. RIP.
The former MVP suffered a broken hand last October against the Phoenix Suns. In addition to the absence of Klay Thompson, the Warriors downturned to the bottom of the league. Curry returned for one game versus the Toronto Raptors on March 5 before the season was canceled due to the coronavirus. They will miss the playoffs for the first time since the 2011-12 season.