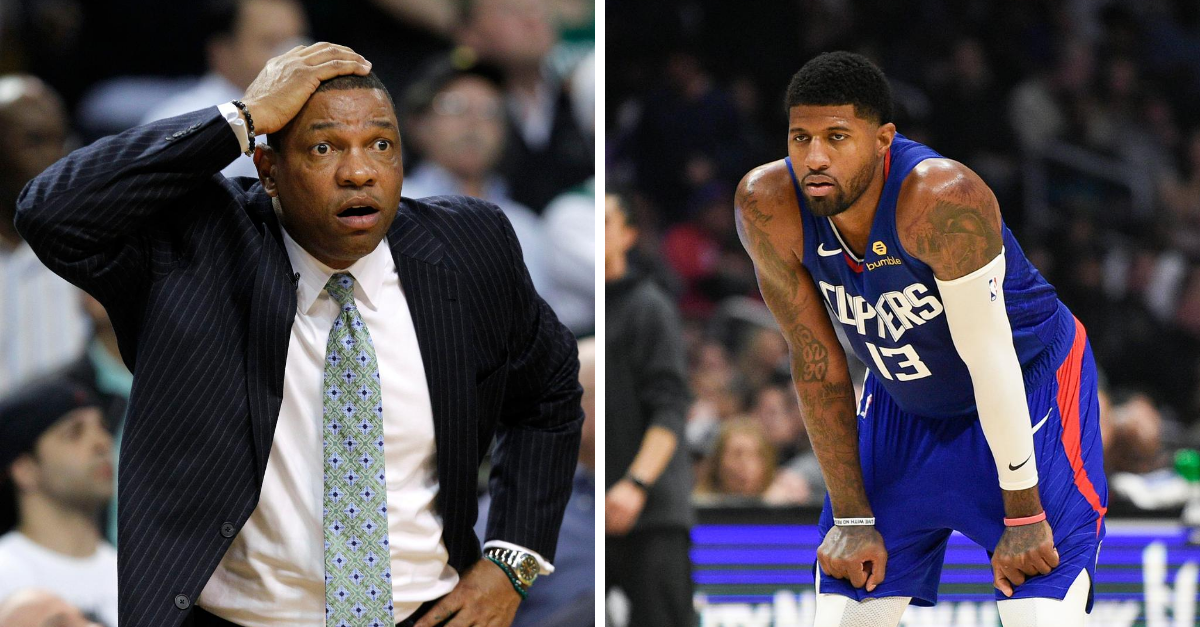 AP Photos/Elise Amendola (left), Kelvin Kuo (right)
The first meeting between Los Angeles Clippers head coach Doc Rivers and Paul George had to be awkward. Rivers and George are two pieces of a championship contender, in addition to Kawhi Leonard, but they know each other from a different avenue.
George previously dated his coach's daughter Callie Rivers. The split wasn't exactly private or amicable.
Did Paul George Date Doc Rivers' Daughter?
Rivers and George dated for a short period from 2013-14. The relationship hit its stopping point when news broke that George impregnated a Miami stripper named Daniela Rajic. It was rumored that George offered $1 million to pay for an abortion, though his spokesman told TMZ Sports that was untrue. She gave birth to their daughter, Olivia George, on May 1, 2014; A paternity test confirmed George was the father. The six-time NBA All-Star and Rajic welcomed a second daughter, Natasha George, on November 1, 2017. They remain a couple to this day.
For Callie, the Paul George saga was a stop sign on the way to greener pastures. First, let's get to know her.
Doc Rivers' Daughter Callie Rivers
Callie is the second of Doc and Kristen Rivers' four children. Her older brother Jeremiah played college basketball at Georgetown and Indiana. He played for the Maine Red Claws, the Boston Celtics' G-League affiliate, for the 2012-13 season. Austin Rivers, her second youngest brother, has played for the New Orleans Pelicans, Los Angeles Clippers, Washington Wizards, and is currently with the Houston Rockets. The youngest Rivers child, Spencer, played college hoops at UC Irvine. All attended Winter Park High School in Orlando, Florida.
Standing 5-foot-11, Callie excelled at volleyball. She led Winter Park to state titles in her last three seasons and played four years at the University of Florida. She had a solid career in Gainesville, earning a spot on the 2007 SEC-All-Freshman team and 2010 First Team All-SEC honors. Success in college took her to the semi-professional level in Puerto Rico with the Leonas de Ponce of the Liga de Voleibol Superior Femenino. She has since retired.
Callie and Seth Curry
Rivers and NBA player Seth Curry got engaged on Valentine's Day 2019. Seth popped the question in his hometown of Charlotte, North Carolina surrounded by friends and family. Callie celebrated on social media.
RELATED: Chris Paul's Wife Matches His Competitive Drive Off the Court
Rivers was present during as Seth, point guard Damian Lillard, and the Portland Trail Blazers' playoff run to last year's Western Conference Finals against Stephen Curry's Golden State Warriors; Seth's older brother led the way in a sweep.
Seth returned to the Dallas Mavericks on a four-year, $32 million deal in July 2019.
Callie and Seth were married in Malibu, California on September 14, 2019. In a New York Post piece, Doc Rivers joked about paying for the wedding of a professional athlete.
"It was very expensive," the Clippers coach said. "I have to be the first coach to ever throw a wedding for an NBA player. Like, I don't get that. I don't think I should have paid. I really don't. But it was fantastic."
Seth and Callie's daughter, Carter, was born in May 2018.
The couple joined two of basketball's most prominent families. We're familiar with two-time MVP Steph Curry and the leaders of Curry family, former NBA and Charlotte Hornets player Dell Curry and former Virginia Tech volleyball player Sonya. Sydel Curry, Seth and Steph's younger sister, is married to Warriors' guard Damion Lee.
The kids that emerge from this combined family should be added to draft boards as soon as possible.