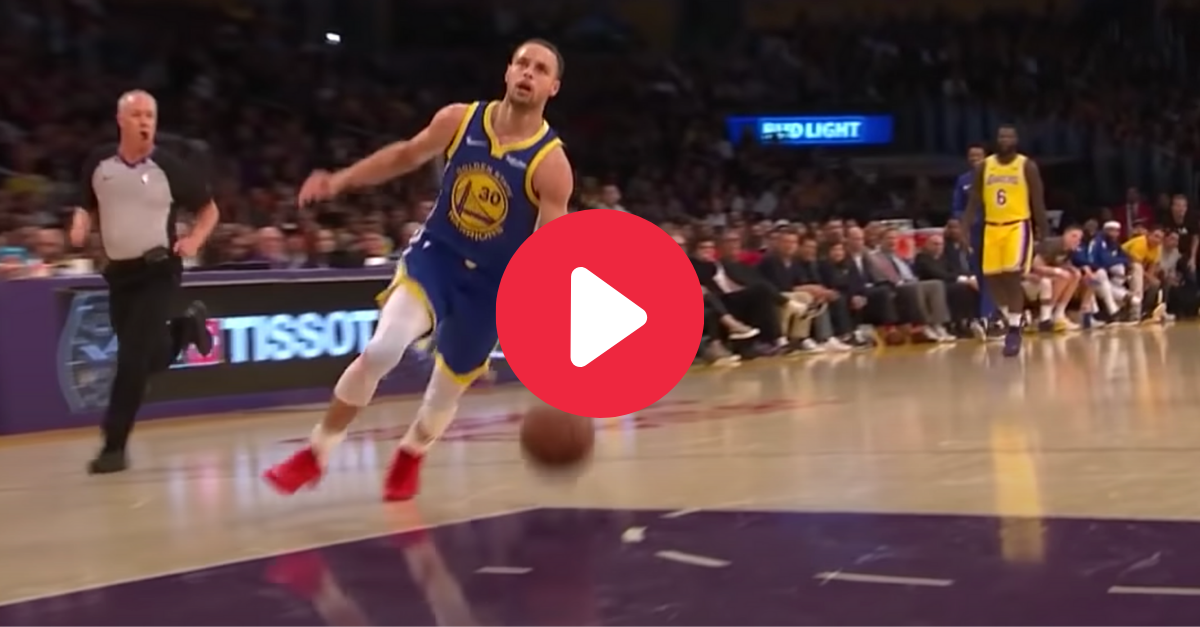 Twitter: @shaqtin
Screenshot from YouTube
Every single time Golden State Warriors guard Steph Curry steps onto a basketball court, it feels like magic is about to happen. That?s why he is a perennial NBA All-Star and makes enough money in one game to feed a few families if he wanted to. However, something went terribly wrong that Monday night inside the Staples Center that will never be forgotten.
With 2 minutes, 17 seconds remaining in the third quarter against the LeBron James-less Los Angeles Lakers, Curry picked off a pass thrown by Kyle Kuzma, and absolutely no one was going to challenge him on the other end. Not in a 36-point game on TNT, anyway.
So, the 6-foot-3 point guard took one dribble before looking over his right shoulder and then another before looking over his left. The path was clear for the 3-point specialist to actually throw down a rare dunk, except it never happened.
Steph Curry Slip & Airball 3-Pointer
RELATED: Steph Curry Draining Tunnel Shots Doesn?t Seem Real
As the Warriors star was getting ready to do something potentially crazy on the fast break, his feet slipped out from under him and he crashed to the hardwood. So much for the dunk.
Then, after getting up immediately, he chased down the ball next to Warriors teammate Andre Iguodala, got it back, and heaved a corner 3-point attempt, something the marksman nails at a high clip.
But he missed everything.
So in a matter of 10 seconds, Stephen Curry, the two-time NBA MVP and three-time NBA champion, stole the ball with plenty of time and enough space to do whatever he wanted, slipped on a dunk attempt, and then air-balled a three-pointer.
For all of the miraculous things he does with a basketball, it?s safe to call this the worst 10 seconds of his basketball career. Or, at the very least, it?s the funniest blooper because he thankfully did not get hurt when he fell.
?Back-to-back hilarious plays. It happens to the best of us? You see like a kid walk into a candy store with the whole half court empty. I was going to try something real nice that I haven?t tried before. The Lord wouldn?t let me do it.?
Curry, who scored 11 points and dished out 12 assists in the 130-111 win against the Western Conference foe, will get another chance to show the world his dunking skills on a fast break. It just wasn?t in the cards on this night.
You better believe teammates Kevin Durant, Klay Thompson, and Draymond Green all gave him a hard time on the team's trip back to the Bay Area, too, because social media had a field day.
This post was originally published on January 22, 2019 and republished during the coronavirus pandemic and COVID-19 outbreak.