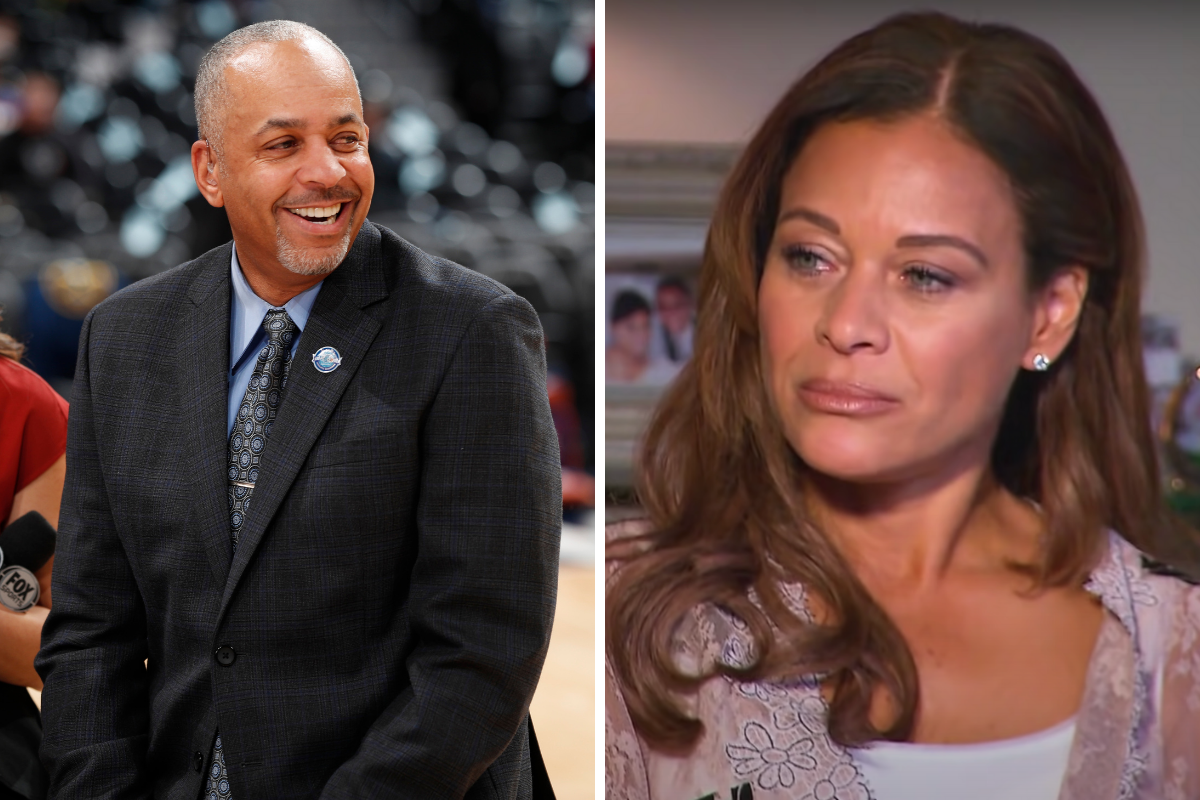 AP Photo/David Zalubowski (left), Screenshot from YouTube (right)
The Currys became basketball's first family when Stephen Curry ascended to one of the best players in the NBA, capturing three NBA titles and winning two consecutive NBA MVPs. Meanwhile, Seth Curry played college basketball at Duke and has made a nice professional career for himself as a knock-down shooter.
The Curry brothers' shooting prowess undoubtedly comes from their father Dell Curry, who played at Virginia Tech and went on to have a 15-year career with the Utah Jazz, Cleveland Cavaliers, Charlotte Hornets, Milwaukee Bucks and Toronto Raptors.
Dell and his wife Sonya Curry were always there to support their sons, even wearing attire with dual logos when Steph's Golden State Warriors faced off against Seth's Portland Trail Blazers in the 2019 NBA Western Conference Finals.
The Curry parents were the rock of the family. However, after 33 years of marriage, the couple has decided to call it quits.
Who is Steph Curry's Mom Sonya Curry?
Dell and Sonya met when they were both student-athletes at Virginia Tech. Dell was a basketball player and Sonya excelled on the volleyball team. The two were married in 1988.
She's no stranger to internet fame.
When Seth played at Duke, she went viral for a celebration after he hit a three-pointer against UNC. She's become a viral sensation for her dance moves at any of her son's games.
She also became a trending topic again when news broke of her and Dell's impending divorce. Many social media users, well, "shot their shot."
In addition to Steph and Seth, the couple's daughter Sydel Curry was born in 1994. Like her mother, Sydel played college volleyball and is married to NBA player Damion Lee.
Stephen Curry's Parents Sonya Curry & Dell Curry File for Divorce
RELATED: Steph Curry's Wife Built a Culinary Empire on Her Own
TMZ reported Sonya submitted the legal paperwork in North Carolina on June 14, and the divorce proceedings are still ongoing. The reason for the split is unclear.
Steph Curry's parents, Sonya and Dell, released a joint statement to PEOPLE:
"After exploring a trial separation over the past year and much thoughtful consideration, we have decided to end our marriage. As this comes with a great deal of sadness, our focus and desire is for our family's continued happiness," Sonya and Dell, 58, told People. "We are so thankful for all the many blessings and successes! We stay committed to and supportive of our children and grandchildren and will remain on connected paths. We ask that our privacy be respected and prayer for our family as we move forward."
Sonya and Dell have been present for their kids games from high school to college to games against the Los Angeles Lakers, New York Knicks, Boston Celtics and Atlanta Hawks to the NBA playoffs. Although the matriarch and patriarch of the Curry family are divorcing, they will undoubtedly still attend their sons' games.
Not to mention they'll be still be involved in lives of Steph Curry and his wife Ayesha Curry as well as the lives of Seth and his wife Callie Rivers and Sydel and Damion's lives.
Seth, who plays for his father-in-law Doc Rivers on the Philadelphia 76ers, can still expect to see his parents at his games. The same goes for Steph's home games in the Oakland area. Although, they may not wear coordinating outfits when the two square off in the future.
The trending news hit all the sports media outlets and podcasts on Apple and Spotify. The break-up was a surprise, but the two seem to be happy with their decision.
Related Videos