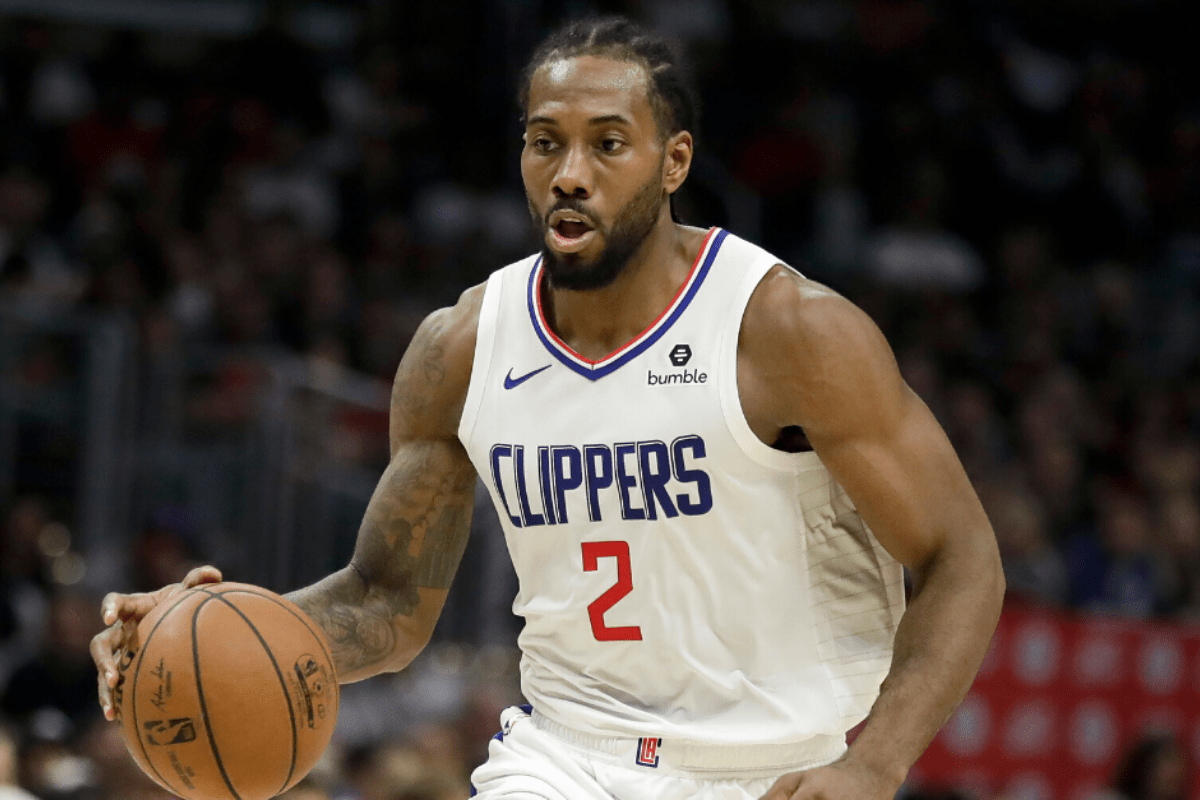 AP Photo/Chris Carlson
All professional athletes make a lot of money these days, but none more than in the NBA. And of that elite group of American professional basketball players, few make more and are smarter with their money than Los Angeles Clippers forward Kawhi Leonard.
Not only has the star player made millions during his career as a two-time NBA champion, the man known as "The Claw" has managed his finances well and continues to stay out of the spotlight. All of that has led to a massive net worth.
Early Life & College Career
Born in Los Angeles, Kawhi Anthony Leonard was top 50 recruit in America while playing for Canyon Springs High School and Martin Luther King High School before taking his talents to San Diego State University.
In two seasons with the Aztecs, Leonard averaged 14.1 points and 10.2 rebounds, led his team to two Mountain West Conference Championships and a Sweet Sixteen appearance in their two trips to the NCAA Tournament. He was also named a Second-Team All-American during the 2010-11 season.
Leonard skipped his junior and senior years and declared for the 2011 NBA Draft. He was originally selected by the Indiana Pacers with the 15th overall pick before he was traded to the San Antonio Spurs, where he earned NBA All-Rookie First Team honors.
NBA Career
RELATED: Who Is Kawhi Leonard?s Mysterious Girlfriend Kishele Shipley?
The superstar small forward played for the Spurs for seven seasons, averaging 16.3 points and 6.2 rebounds, earning two NBA All-Star selections and making six appearances in the NBA Playoffs. During the 2014 NBA Finals against LeBron James and the Miami Heat, Leonard averaged 17.8 points and 6.4 rebounds to win the NBA Finals MVP and his first NBA championship.
Leonard followed up his great NBA Finals performance with back-to-back NBA Defensive Player of the Year awards and All-NBA First Team selections.
However, after an injury and disagreement with the Spurs, Leonard was eventually traded, along with teammate Danny Green, to the Toronto Raptors. He played in Canada for one season, leading the franchise to their first NBA title with a win over the Golden State Warriors.
Leonard signed a three-year, $103 million contract, including a player option, as a free agent in the offseason to return home and play for the L.A. Clippers, where he joined forces with Paul George.
Kawhi Leonard Net Worth
After his rookie contract ended, Kawhi Leonard signed a five-year, $90 million contract before the 2015-16 season. That contract ended after his only season with Toronto. Throughout his career, he has earned $149 million so far, according to Spotrac.
Leonard's endorsement deals have included, Nike, Wingstop and New Balance.
A big reason Leonard has been able to build a huge net worth is due to his fiscal responsibility. Even after signing a huge deal with the Spurs, the NBA star was still driving the same Chevy Tahoe he had in high school.
When he had signed an endorsement deal with Wingstop, he had received coupons from the chain and reportedly was extremely upset when he lost them.
Due to the money he's made (and saved) on and off the court, it should come as no surprise Kawhi Leonard's net worth is estimated around $30.5 million, per Forbes, in 2020.
Celebrity Net Worth estimates that number a bit higher at $35 million for the NBA player.
That may not put him in the same company as Western Conference stars like Lakers' LeBron James, Warriors' Steph Curry or even Giannis Antetokounmpo or retired players like the Air Jordan Brand king himself Michael Jordan.
Expect The Klaw's net worth to skyrocket while he's playing in LA. Free agency treated him well.

This post was originally published on December 6, 2019.