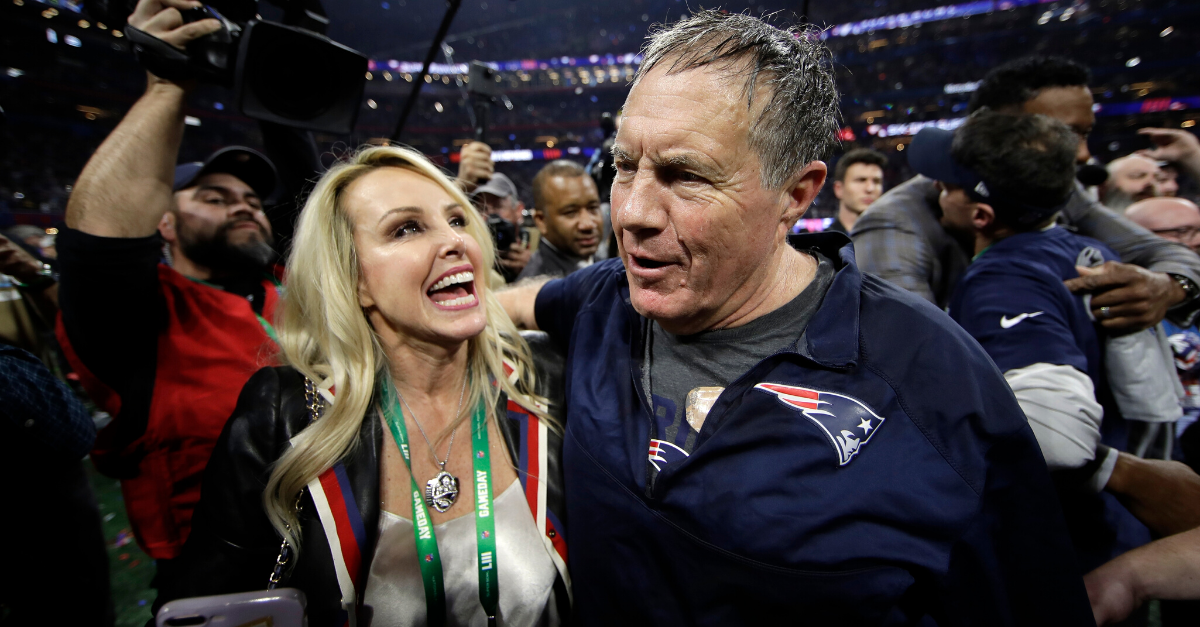 AP Photo/Matt Rourke
As the clock hits zero, and the Super Bowl confetti drops, families rush onto the field to be with their new champions. It's been happening for years and it never gets old to watch. Over the last decade, nobody has experienced that adrenaline rush more than Linda Holliday.
Holliday, the longtime girlfriend of New England Patriots head coach Bill Belichick, has been by his side for the last three Lombardi Trophy presentations, watching NFL history unfold every step of the way. Both of them had a life before they met, but they are as happy as ever.
Many identify Belichick as the hard-headed Patriots coach who wears a hoodie and led quarterback Tom Brady to six championships over the last 20 years, yet there's so much more to the story. Holliday knows that more than anyone, too.
Bill Belichick's Girlfriend Linda Holliday
RELATED: Who Is Peyton Manning's Mysterious Wife?
It's hard to accurately pinpoint what Bill Belichick is like on a day-to-day basis, especially what his hobbies are outside of dominating the National Football League for two decades, from afar. He never truly dives much into his personal life. Yet, the one thing most people would suspect the 68-year-old stays away from is actually where he met Linda Holliday.
Back in 2007, a couple of years removed from a divorce with his ex-wife, Belichick and Holliday were at the same Florida night club one night. He was there just having a good time, and she was enjoying a girls night out.
As the story goes, the two talked, and Belichick, being the sly guy he is, actually sent flowers to her the following day.
"Thanks for the wonderful evening," the card supposedly read.
The rest is history.
Holliday, a former beautify pageant contest, was reportedly dating someone else at the time, but broke it up to be with Belichick, and the two have been together ever since. They take vacations in the offseason together.
She is currently the Executive Director of the Bill Belichick Foundation.
Linda Holliday's Twin Daughters
Linda Holiday has twin daughters from a previous relationship. Ashley and Kat Hess run a fashion blog in the United States called "The Hess Twins" and are active on social media with nearly 25,000 followers on their Instagram account.
Bill Belichick's Kids
Bill Belichick has three children with ex-wife Debby Clarke Belichick. The American football coach was also linked to a relationship with former New York Giants secretary Sharon Shenocca before meeting Linda Holliday.
Amanda Belichick, the oldest sibling, played lacrosse at Wesleyan University. After years as an assistant coach, she is now the head women's lacrosse coach for Holy Cross College in Massachusetts.
Steve Belichick, the middle child, played lacrosse and football at Rutgers. He is currently the Patriots' secondary and safeties coach.
Brian Belichick, the youngest, also played lacrosse at Trinity College and is a scouting assistant for the Patriots' front office.
Before winning AFC East titles and Super Bowls, Bill Belichick grew up in Nashville, Tennessee and attended Annapolis High School. He's worked with the Baltimore Colts, Detroit Lions, Denver Broncos, New York Giants, Cleveland Browns, and New York Jets during his Hall-of-Fame career.
Belichick has served as New England's head coach since 2000 and built a net worth around $35 million.
These days, all of Belichick's family is close and girlfriend Linda Holliday remains happily at his side.
This post was originally published on April 17, 2020.