Former NFL quarterback Peyton Manning's life has been under a microscope nearly his entire life. We know the Super Bowl champion and five-time MVP is Hall of Fame-bound after his terrific NFL career with the Indianapolis Colts and Denver Broncos. We know that Peyton has quite the comedic side judging from the hilarious commercials and classic Saturday Night Live skits.
Of course, he comes from the National Football League's first family. Olivia and Archie Manning produced quite the trio of football talent in Peyton, longtime New York Giants' Eli Manning and Cooper Manning, whose son Arch Manning is throwing touchdowns in high school. We even know Peyton's net worth, which shows he won't be hurting for money any time soon.
How about Peyton Manning's wife, though? Peyton and Ashley Manning have two children together, but how did they meet, what does she do and just exactly who is she?
Who is Peyton Manning's Wife Ashley Manning?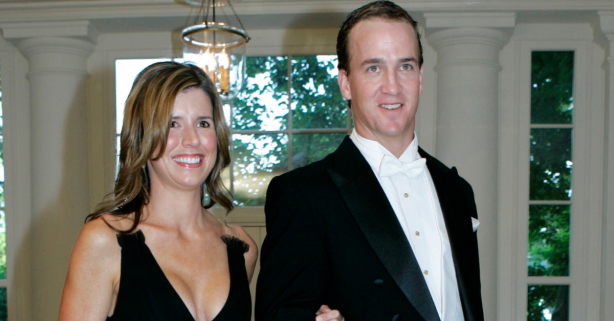 Born Ashley Thompson in Memphis, Tennessee, Ashley Manning actually first met her future husband in Tennessee.
According to Bleacher Report, the two met when her next-door neighbor introduced them the summer before he enrolled at the University of Tennessee in 1994. Ashley headed east to attend the University of Virginia, but the pair stayed together and got married in 2001.
Despite receiving a ring from the greatest quarterback in NFL history, Ashley has kept a relatively low profile and stayed out of the spotlight unlike the wives of other great NFL quarterbacks like former New England Patriots quarterback Tom Brady and Gisele Bundchen.
She has, however, made exceptions. In 2007, she and the NFL player attended a dinner at the White House that honored Queen Elizabeth II and Prince Philip. When Peyton hosted the 2017 ESPYs, she accompanied him on the red carpet. She also was wrapped up in headlines in 2015 when she reportedly had HGH shipped to her.
How Many Children Do They Have?
RELATED: Remember Peyton and Eli Manning's Rap Video?
Peyton and Ashley Manning have two children together and live in Denver. She gave birth to twins, son Marshall Williams and daughter Mosley Thompson, in March 2011.
The twins apparently take up a great deal of the couple's time. Peyton reportedly had an offer to come out of retirement and play for the Miami Dolphins in 2017 but didn't take it because he would miss his carpool duties.
He's also received offers to become an NFL broadcaster but seems intent on being a father. In 2018, he and his son were spotted at a Denver Nuggets basketball game. Now, Peyton has said he's traded in his helmet for a life on the sidelines as his kids' flag football coach.
She Talked Him Out of Retiring Too Early
Peyton Manning thought he had little left in the tank after a neck injury and surgery sidelined him for the entire 2011 season. When he considered retiring after just 13 seasons with the Colts, Ashley talked him out of it. The Denver Broncos signed him in 2012.
"Yeah, Ashley and I actually had those conversations," Peyton told Sports Illustrated's Peter King, via Bleacher Report. "More than one. Because, you know, you don't want to embarrass yourself. Because, they're signing you and people are thinking they're getting the player they had always seen before. And so, Ashley was the one that was saying, 'Peyton, you've got to try. You've got to try.'"
He tried all right.
Peyton won the NFL Comeback Player of the Year that season in Colorado and was second in MVP voting. Three years later, he finished his career on the highest of notes. The Broncos defeated the New England Patriots in the AFC Championship Game and the Carolina Panthers in Super Bowl 50. The Broncos quarterback then held a retirement press conference that his family joined him at, wrapping a stellar college football and professional football career.
Whether Peyton will join a broadcast booth (ESPN, anyone?) in his post-playing days remains to be seen.
She's a Businesswoman and Minority NBA Owner
Back in 2010, Bleacher Report reported Ashley was a successful real estate developer and owned her own company. Though it's unknown if she's still working in the field, she has spent numerous hours doing charity work.
Ashley and Peyton established the PeyBack Foundation, which she's spend much of her time making successful. The foundation's goal is to help disadvantaged and at-risk youth in Tennessee, Louisiana and Indiana. The St. Vincent Hospital in 2007 renamed its children's hospital to honor Peyton.
She has also done charity work and raised money for breast cancer. Per the Indy Star, her mother had breast cancer and underwent a double mastectomy.
During the coronavirus pandemic, she and Peyton provided 600 meals to frontline and healthcare workers fighting COVID-19 at a hospital in Hermitage, Tenn.
"As healthcare workers on the front lines, you are all demonstrating great courage and commitment and making great personal sacrifices to care for the sick during this national crisis," she told Knox News.
In 2012, Ashley even joined a group to become a minority owner of the NBA's Memphis Grizzlies.
"I am very excited to make the commitment to join the potential new ownership group of the Memphis Grizzlies," she told the Denver Post. "As a native of Memphis, it was important to me that the Grizzlies remain in Tennessee and continue to have a positive impact on the community."
Ashley Manning is not only a businesswoman but a busy mom. You won't find her on Instagram or social media, but that's probably how she wants it.