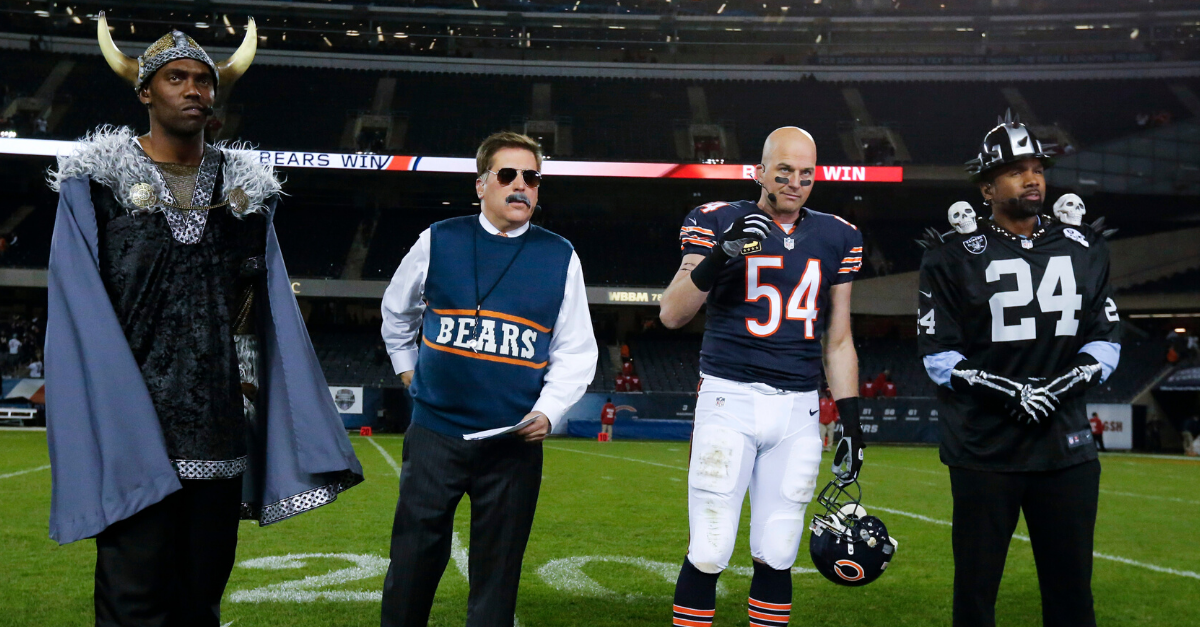 AP Photo/Charles Rex Arbogast
Monday Night Football on ESPN is making a significant change once again, and it could be seen from a mile away. Play-by-play announcer Joe Tessitore and color commentator Booger McFarland are out after just two seasons on the call, according to multiple reports, and the network is looking to add more excitement to the broadcast booth next season and beyond.
Whether it was the BoogerMobile on the sideline, NSFW pictures drawn on replays, or countless other blunders, the experiment of Tessitore, McFarland and even Jason Witten for primetime NFL games simply didn't resonate with fans as ESPN hoped. In some ways, it was even worse than the Sean McDonough and Jon Gruden phase after Mike Tirico left. What will come next is uncertain, but having a better MNF crew is definitely the goal.
ESPN has certainly tried to add bigger names to the Monday Night Football booth. They went after Tony Romo before he signed a record deal with CBS. They tried to get Peyton Manning. They even tried to orchestrate a trade with NBC to land Sunday Night Football's Al Michaels and offer Drew Brees a spot once he decides to retire.
None of it worked, and it's back to the drawing board. But who are the best options?
Monday Night Football's Best Choice
RELATED: Monday Night Football's 2020 Schedule Looks Like a Snoozefest
According to The Athletic's Richard Deitsch, ESPN will hire a crew internally while Joe Tessitore and Booger McFarland will both remain with the network. The last part means Tessitore could return to college football games and bring someone up through the ranks.
The obvious choice here is longtime ESPN employee Steve Levy. It's likely the best fit, too. Levy is charismatic on the call and can bring a new flare to the MNF broadcasts. He's also the favorite to replace Tessitore, according to the New York Post's Andrew Marchand.
Who would join Levy for the trending job was the biggest question mark.
In 2019, Levy was joined by Brian Griese during college games on ABC, ESPN, and ESPN2; The chemistry is certainly there. Other names tossed around were Dan Orlovsky and Louis Riddick. All three of those men are former NFL players and could bring a wealth of knowledge to the booth.
One name that will be left out of the running, according to him, is former Indianapolis Colts punter Pat McAfee.
In a perfect world, MNF's new announcers would be Steve Levy and Louis Riddick. Both earned their shot to be part of the MNF broadcast team with sideline reporter Lisa Salters. It's the ideal combination to bring the knowledge and edge ESPN wants moving forward. Griese may not bring quite the excitement needed and Orlovsky might bring too much excitement.
No matter which combination ESPN picks, whether it's before or after the coronavirus pandemic, it will be better than last season.
This article was originally published May 11, 2020.
---
UPDATE (July 31, 2020): First reported by journalist Jim Miller and again by The Athletic's Richard Deitsch, ESPN is finalizing a deal to make Steve Levy, Brian Griese and Louis Riddick the three-man booth for its upcoming Monday Night Football broadcasts.
In addition, the network's top college football team of Chris Fowler and Kirk Herbstreit are expected to call the first game of MNF's double-header to open the 2020 season between the New York Giants and Pittsburgh Steelers, unless the coronavirus pandemic affects scheduling.