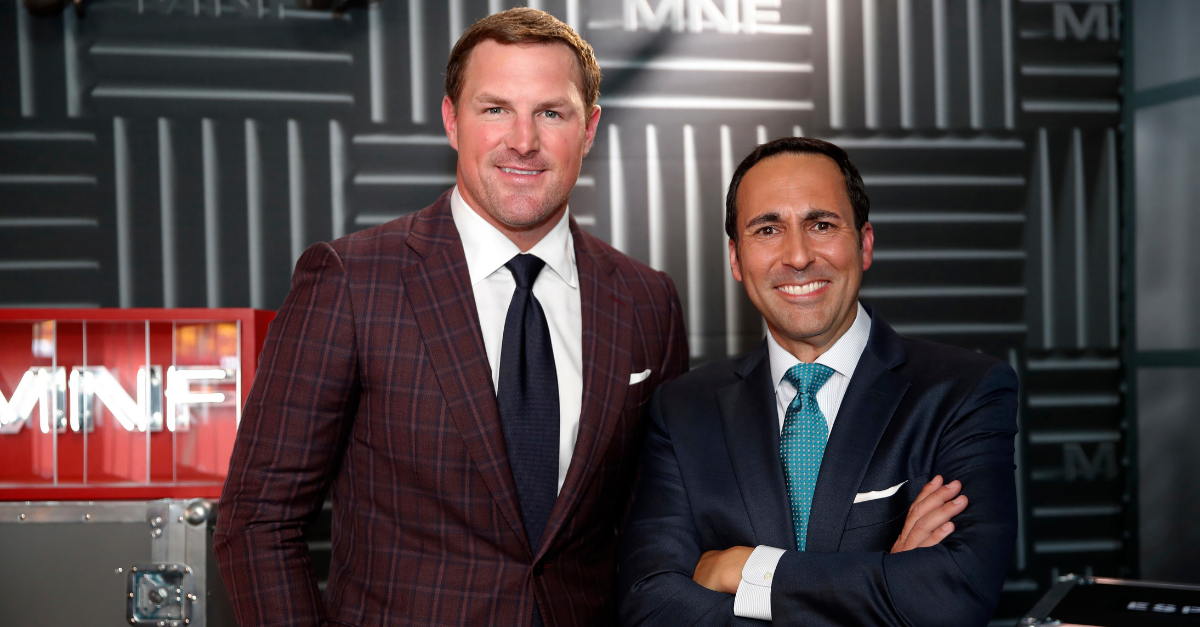 AP Photo/Alex Brandon, File
AP Photo/Alex Brandon, File
For the past two years, ESPN has simulcast the College Football Playoff semifinals and national championship games with the super popular Coaches Film Room. Elite coaches from across the country would commentate, discuss coaching strategies, player techniques, and the game itself in an engaging and creative style separate from the normal in-game broadcast.
Well, leave it to the "Worldwide Leader in Sports" to promote their own brand because this year's national title game between the Alabama Crimson Tide and Clemson Tigers is getting a huge makeover. Rather than a bunch of quality football minds getting together, we'll be subjected to the Monday Night Football crew, who aren't even popular as an NFL broadcast team, for the simulcast.
ESPN brought the popular broadcast style to the CFP Semifinals on December 29, with head football coaches Mack Brown (North Carolina), Dave Clawson (Wake Forest), Paul Johnson (Georgia Tech) and Mike Norvell (Memphis) breaking down the Goodyear Cotton Bowl Classic between Clemson and Notre Dame.
For the Capital One Orange Bowl pitting Alabama against Oklahoma, head coaches Steve Addazio (Boston College), Herm Edwards (Arizona State), Bryan Harsin (Boise State) and Gary Patterson (TCU) were on the call in real time.
Well, that wasn't enough to keep ESPN from calling an audible for the title game's Megacast, as the unpopular MNF crew of Joe Tessitore, Jason Witten, and Booger McFarland will be joined by Todd McShay to conduct the broadcast that will be available on networks like ESPN 2, ESPN 3, ESPNNews, and the ESPN App.
RELATED: Why Are National Championship Ticket Prices Dropping So Fast?
The Coaches Film Room was widely popular for the semifinal games, but this new iteration of the "MNF Film Room" is just self-promotion, and it takes away the change of pace and creativity offered by football minds who were waist-deep in college football the entire year.
Needless to say, people are not excited to hear this new team assemble.
Well ESPN, thanks for ruining the coolest part of this broadcast for more Witten and Booger. It would be a shock if this MNF crew calls another NFL game together next year, so why bring them out to close out the college football season after not calling a game all year?
We'll still get the awesome in-game call from Chris Fowler, Kirk Herbstreit, Maria Taylor and Tom Rinaldi, but the once popular simulcast is going to get a huge bump down when the game kicks off at 8 p.m. ET on Monday night in Santa Clara.