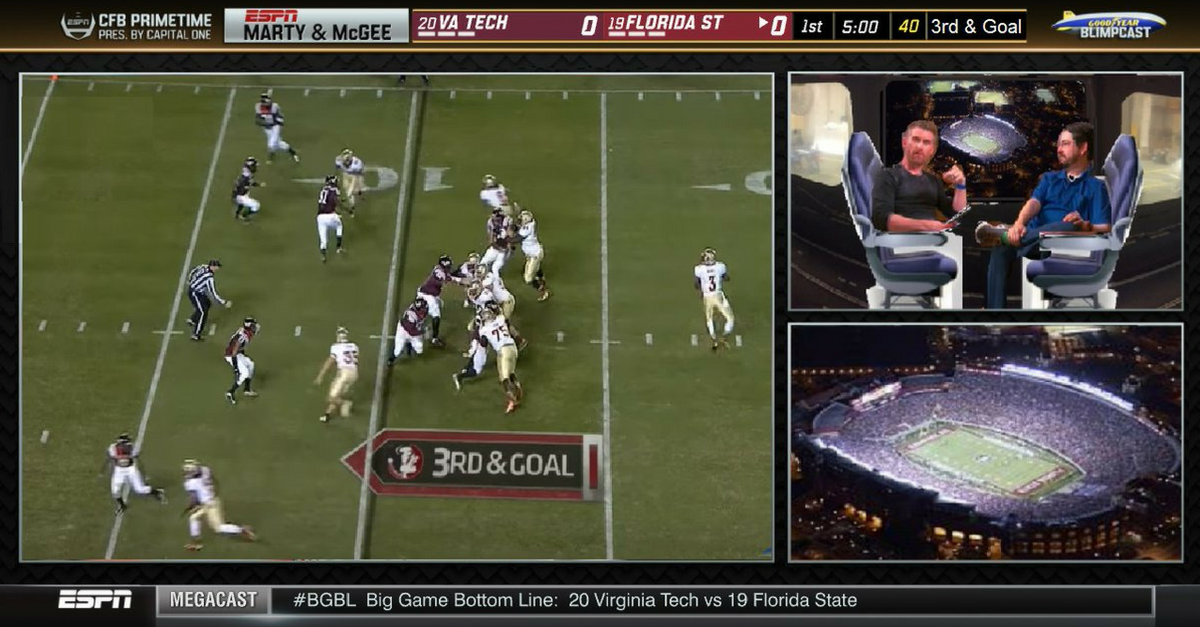 Twitter: @ESPNPR
ESPN might have a rather annoying new college football anthem, but the network doesn?t mess around when it comes to broadcasting games. What the Worldwide Leader in Sports is about to do with its Labor Day MegaCast is crazy and awesome and creative and any other adjective you would like to throw out there.
When No. 20 Virginia Tech plays No. 19 Florida State at Doak Campbell Stadium in Tallahassee, Florida for an ACC showdown next Monday, ESPN is taking its broadcast to a completely different level.
No, really, the network is premiering the Goodyear BlimpCast, which will have Marty Smith and Ryan McGee providing commentary for the entire game from more than 1,000 feet above the stadium.
It?s not exactly the greatest vantage point, but hey, it?s different and worth checking out. Not to mention, the regular broadcast will take up most of the screen anyway.
Having a broadcast from the Goodyear Blimp is far from the only option, though.
In addition to having the ESPN A-team of Chris Fowler, Kirk Herbstreit and Maria Taylor on the call on the main network, there will be a Coaches Film Room option featuring Mack Brown, Gene Chizik, Hugh Freeze, Todd Graham and Jim Mora as they break down each play.
Here are even more options, according to the press release:
? Command Center (ESPNU): A split-screen with simultaneous multiple camera views, which could include the main ESPN camera angle, the SkyCam view and isolated camera feeds of both head coaches. Enhanced statistics and real time drive charts supplement the game action.

? DataCenter (ESPN3 via ESPN App): On-screen graphic content ranging from analytics, real time drive charts, win probability updates, curated social media reaction and more.

? SkyCam (ESPN3 via ESPN App): A continuous feed of the camera that maneuvers above the field of play and often provides a behind-the-offense look at game action.

? All-22 (ESPN3 via ESPN App): Watch the game the same way players and coaches study the game. This vantage point comes from high atop the stadium, providing a consistent view of all 22 players on the field at the same time.
There?s a good chance most will start and finish the game on the normal broadcast, but there definitely some unique ways to catch one of the top games to kickoff the 2018 season.