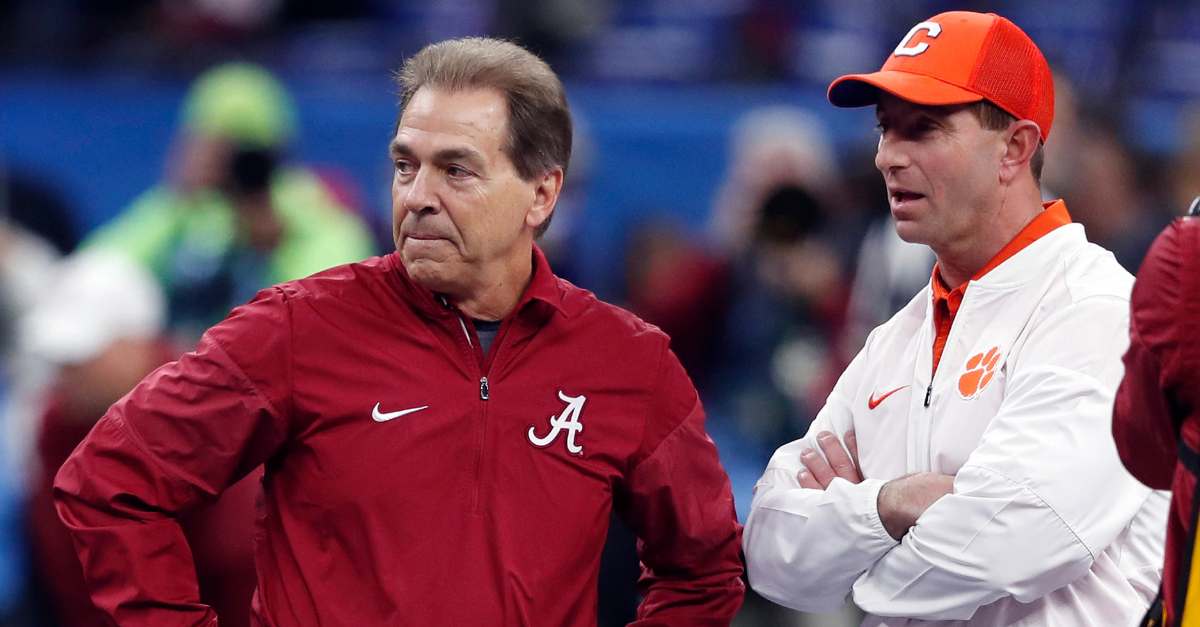 AP Photo/Gerald Herbert, File
AP Photo/Gerald Herbert, File
When the Alabama Crimson Tide meet the Clemson Tigers for the fourth year in a row, the first 15-0 national champion in college football history will be crowned. These two programs have dominated in the College Football Playoff era, but this year's title game is going to feel a little different.
On Monday, January 7 at Levi's Stadium in Santa Clara, California, college football's best teams will square off with after dominating their respective semifinal games. However, a number of factors, including the long distance from their campuses to the game itself, have College Football Playoff ticket prices as the second-cheapest they've been since 2011.
For last year's College Football Playoff national championship game between Alabama and Georgia, the average ticket prices were the most expensive in the last decade. At this time last year, nosebleed seats on StubHub were about $2,000 for the game in Atlanta.
This year is a little different, however. As TicketIQ found, this year's ticket prices have dropped over 50 percent since the playoff semifinal games on December 29 through New Year's Day, and you can now find face-value tickets starting at $196.
Then again, playoff premium game tickets complete with a Gold Level VIP package sold by the College Football Playoff that include a post-game on-field experience, hotel accommodations and exclusive extras are still available for a measly $4,699.
RELATED: 3 Clemson Players Face NCAA Ban for Failed PED Test
So, why are ticket prices dropping so quickly? For starters, if you're standing on Clemson University's campus, you have to travel 2,569 miles to get to Levi's Stadium. From the University of Alabama, you'll be going 2,282 miles for a four-hour football game. Location is king when it comes to traveling fan bases, and even the most die-hard football fans are going to have a hard time traveling coast-to-coast, especially with the game played on a Monday night.
For another, maybe fans are tired of Alabama versus Clemson? After the No. 5 Georgia Bulldogs, No. 7 Michigan Wolverines, and No. 8 UCF Knights all lost their bowl games, the argument for expanding the College Football Playoff to eight teams is dead. It's clear that college football is dominated by two programs that are so far above the competition in today's game, but fans clearly aren't as interested in this year's game.
With the wide range of prices, many fear that Levi's Stadium may not even sell out for the title game.
The CFP selection committee absolutely got their playoff matchups right with the teams they chose, even if Notre Dame's Cotton Bowl flop and Oklahoma's Orange Bowl mess looked terrible. Alabama and Clemson are the cream of the crop, and this college football national championship game is exactly what they deserved.
Still, if plummeting ticket prices are any indication, this year's NCAA football final might leave a little something to be desired when it's all said and done.