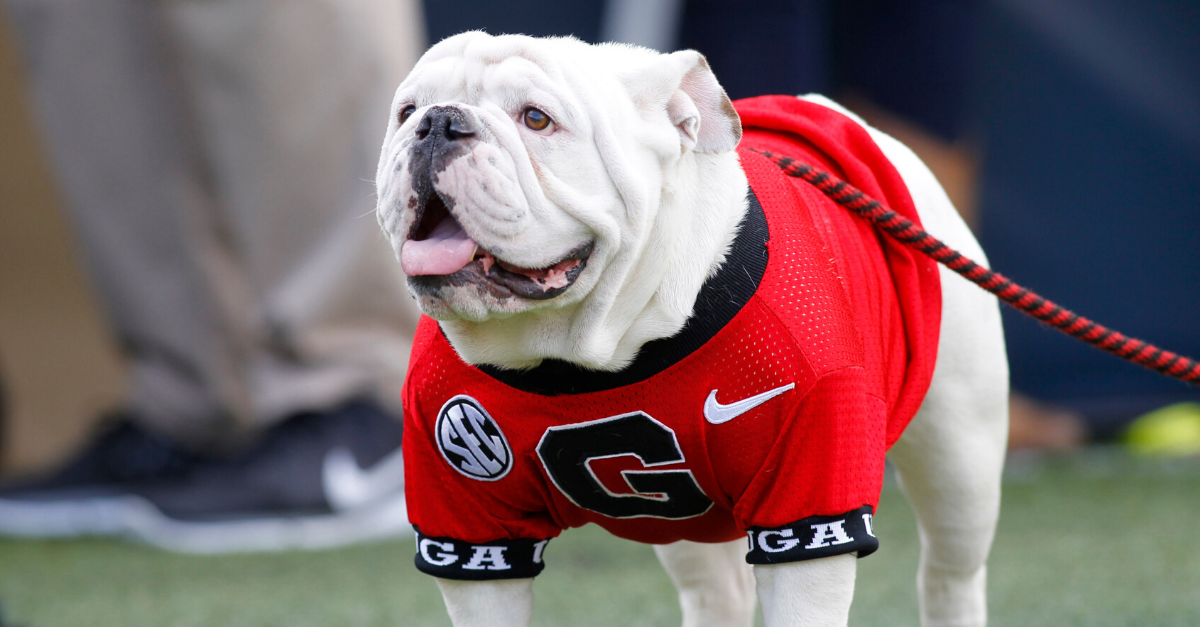 AP Photo/Brett Davis
The People for the Ethical Treatment of Animals do a lot of great things to expose animal cruelty around the world, while simultaneously educating the public on the preservation of species everywhere. Good for them and that mission. Now, I don't personally know anyone who works for PETA, but if you do, could you let them know that trashing live mascots in the sports world is getting really, really, really, really old?
It was pouring rain in Athens when CBS Sports captured Uga X, the Georgia Bulldogs' iconic mascot, hanging out in his air-conditioned dog house on the sidelines of Sanford Stadium during Georgia's win over Texas A&M in 2019. Everyone was trying to stay dry, including that white English bulldog named Que. And in that moment, PETA felt the need to strike, once again condemning a live mascot tradition that first began in 1956.
In a tweet, the animal rights organization attacked the University of Georgia's use of a live mascot and included video of Uga X staying dry in his dog house.
PETA Demands Georgia's Uga Retire
"HE LOOKS MISERABLE!

"No dog deserves to be packed up, carted from state to state, and paraded in front of a stadium full of screaming fans.

"Animals are NOT mascots @UGAAthletics must retire Uga immediately! He should be at home with a loving family."

? PETA, via Twitter
This isn't the first time, and surely won't be the last, that PETA comes after Georgia's beloved bulldog. After Texas mascot Bevo XV lost his cool, broke through his barricade, and startled Uga X during the 2019 Allstate Sugar Bowl between Georgia and the University of Texas Longhorns, PETA demanded both the longhorn steer and bulldog retire. Neither mascot was reportedly injured in the scary incident.
Time and again, PETA calls out live mascots any chance they get. They condemned Mississippi State's Jax. They condemned Oklahoma's horse-drawn Sooner Schooner. They condemned Colorado's Ralphie program. That was just over a span of two months.
What PETA didn't point out, however, is that Uga X and Reveille IX ? the long-time mascot of the Texas A&M Aggies ? met just hours before and had an awesome, little doggy date prior to that college football kickoff.
Uga and Reveille Meet
RELATED: Ranking Georgia's 10 Greatest 'Uga' Mascots of All Time
Live mascots are treated like royalty and receive an incredible life during and after game day. It's a shame these incredible traditions and pillars of college athletics are condemned over and over, but no matter how hard PETA tries, it seems impossible that live animal mascots will ever not make public appearances and be an integral part of sports traditions everywhere.

Every dog I see on the street, my heart races with the chance to bend down and dish out a belly rub. Millions of sports fans treat animals with that kind of respect, especially college mascots. I doubt a weird human mascot would ever bring that kind of joy to a fanbase.
This post was originally published on November 26, 2019, but now is a good time to remind Georgia fans Uga isn't going anywhere.