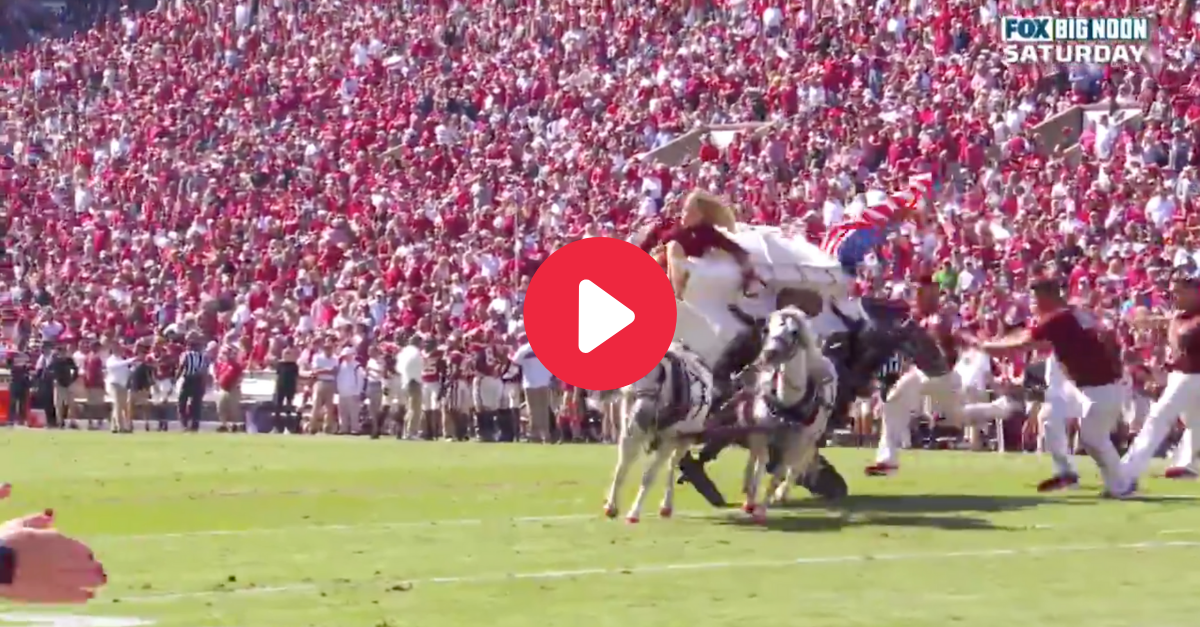 Screenshot from Twitter
When talking about one of the most iconic traditions in college football, the ?Sooner Schooner? at the University of Oklahoma is up there as one of the best. It?s been around for over 55 years for crying out loud, but fans won?t be seeing the horses and wagon on the football field for the rest of the season.
In the second quarter, with the Oklahoma Sooners dominating the West Virginia Mountaineers in Norman, the Sooner Schooner left the tunnel and took a little stroll onto the Oklahoma Memorial Stadium field. This was done thousands upon thousands of times over the years, but the driver took a sharp turn and the wagon went flying.
The crash threw two passengers to the ground and damaged the wagon. Luckily, nobody was seriously injured during the touchdown celebration in the first half. The ponies were reported fine, too.
Oklahoma's Sooner Schooner Tips Over
This isn?t the first time a crashed has occurred, either. Oklahoma?s Sooner Schooner ? the official mascot of the university ? also tipped over in a 1993 NCAA football game against Colorado.
However, with two home games remaining against Iowa State and TCU, school officials are shelving the schooner for the rest of the regular season, according to the OU Daily.
"We will repair the damaged Schooner and its future use will be for static display. It is possible that it will be back at a game this season, but it will not run. We also are in the process of having a new Schooner constructed. There is no timetable yet for when it will be ready. I would anticipate having it in time for the spring game.?

? OU Senior Associate Athletic Director Kenny Mossman
Naturally, when an incident like this happens, PETA likes to chime in, and that?s exactly what took place when they told OU Athletics to ?KEEP HORSES OFF THE FIELD.?
?Oklahoma?s horse-drawn #SoonerSchooner wagon tipped over, launching spirit squad members onto the field,? the organization posted in a tweet. ?Exploiting animals for sports is unnecessary & incredibly dangerous for animals AND humans.?
Look, accidents happen. OU likely has a lot of expert horse handlers. It?s unfortunate the Sooner Schooner crashed, but no one was hurt and we can all look forward to its return this spring.
At least Christmas is around the corner.

This article was originally published October 23, 2019.