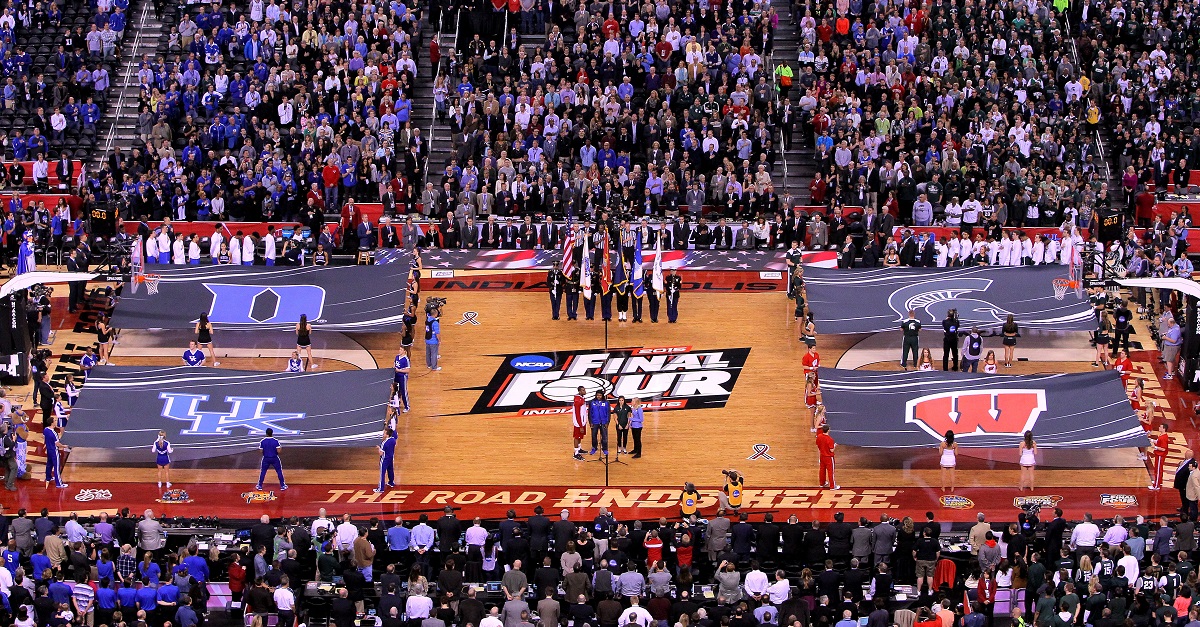 Mike Lawrie/Getty Images
INDIANAPOLIS, IN - APRIL 04: A general view as (L-R) Vitto Brown of the Wisconsin Badgers basketball team, Deion Williams of the Duke Blue Devils football team, Michelle Dear of the Michigan State Spartans soccer team and Kennedy Collier of the Kentucky Wildcats soccer team sing the national anthem before the game between the Michigan State Spartans and the Duke Blue Devils during the NCAA Men's Final Four Semifinal at Lucas Oil Stadium on April 4, 2015 in Indianapolis, Indiana. (Photo by Mike Lawrie/Getty Images)
The NCAA affords teams extra practices and games before basketball season if they are taking overseas trips. It makes sense considering they will be representing the country when they play against either national teams or foreign colleges and should look as good as they can. They can't exactly do that with new freshmen joining the team and not getting any practice time in. Two powerhouses are expected to take advantage of that rule this summer:
RELATED: After scare with 2017 class, Duke making one player and position a priority in 2018
Duke will have six new players on its roster in addition to the most notable returners in Grayson Allen, Javin DeLaurier, Marques Bolden, Antonio Vrankovic and Jack White. Kansas is bringing in forward Billy Preston and point guard Marcus Garrett while also getting Malik Newman eligible (transfer) this season. The Jayhawks will also be returning Svi Mykhailiuk as well as Devonte' Graham, but will also add graduate transfer Jack Whitman from Williams & Mary. These practices and games should give the coaches and their staffs an idea of what they'll be working with this season.