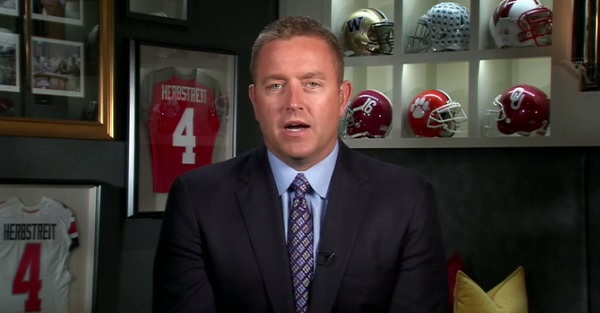 ESPN/Screenshot
ESPN/Screenshot
The college football season doesn't begin for a few months but that won't stop the appetite for discussion concerning what will transpire in 2018. To that end, ESPN recently released updated "way-too-early" rankings for next season and they, on cue, provided quite a bit of reaction.
One such response came from ESPN's own Kirk Herbstreit, who weighed in on Twitter concerning the mere existence of the list and one particular conference of note.
The Big Ten is featured heavily in the top ten, as Herbstreit notes, and the quartet of teams (Ohio State, Wisconsin, Michigan State and Penn State) aren't alone in facing sizable expectations. Jim Harbaugh and Michigan, provided Shea Patterson is able to get eligible, would also be seen as a top-flight squad by many people and, even with the conference's 7-1 bowl record aside, there is every reason to believe that the Big Ten will have quite a bit of success next season.
Herbstreit likely speaks for many with his touch of surprise that rankings even exist right now and, frankly, they can be silly at times. Still, his overarching point about the Big Ten and its potential prowess is a good one and there will be at least 180 days to decipher what the rest of the college football landscape will bring to the table.