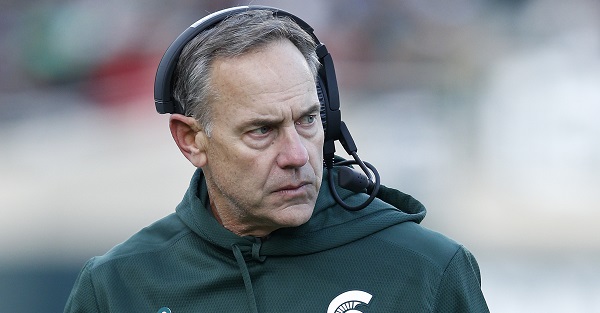 Joe Robbins/Getty Images
EAST LANSING, MI - NOVEMBER 28: Head coach Mark Dantonio of the Michigan State Spartans looks on against the Penn State Nittany Lions in the first half of the game at Spartan Stadium on November 28, 2015 in East Lansing, Michigan. (Photo by Joe Robbins/Getty Images)
The effects of the Larry Nassar sexual assault scandal have reached the football program at Michigan State, as a hit piece by ESPN claims that Michigan State athletics failed to act on assault claims across several of their sports programs.
In response to the piece, several rumors started to grow on the Internet that football coach Mark Dantonio and basketball coach Tom Izzo could both resign from their position. At least for now, Dantonio has spoken on those rumors, saying that he has no plans to step down from the head coach position.
Dantonio has been the head coach at Michigan State for the past 11 seasons. He has a 100-45 record during his tenure as head coach at the school.
ESPN's report on the sexual assault scandal at Michigan State claims that officials within the school may have helped cover up allegation of assault over the past several years. On top of the assaults that gymnastics trainer Larry Nassar has now been convicted and sentenced for, this included incidents from members of the football and basketball teams that have been accused of assaulting female students at the school.
Michigan State athletic director Mark Hollis has resigned his position amid the allegations. Currently, no actions have been taken with either the football or basketball programs.