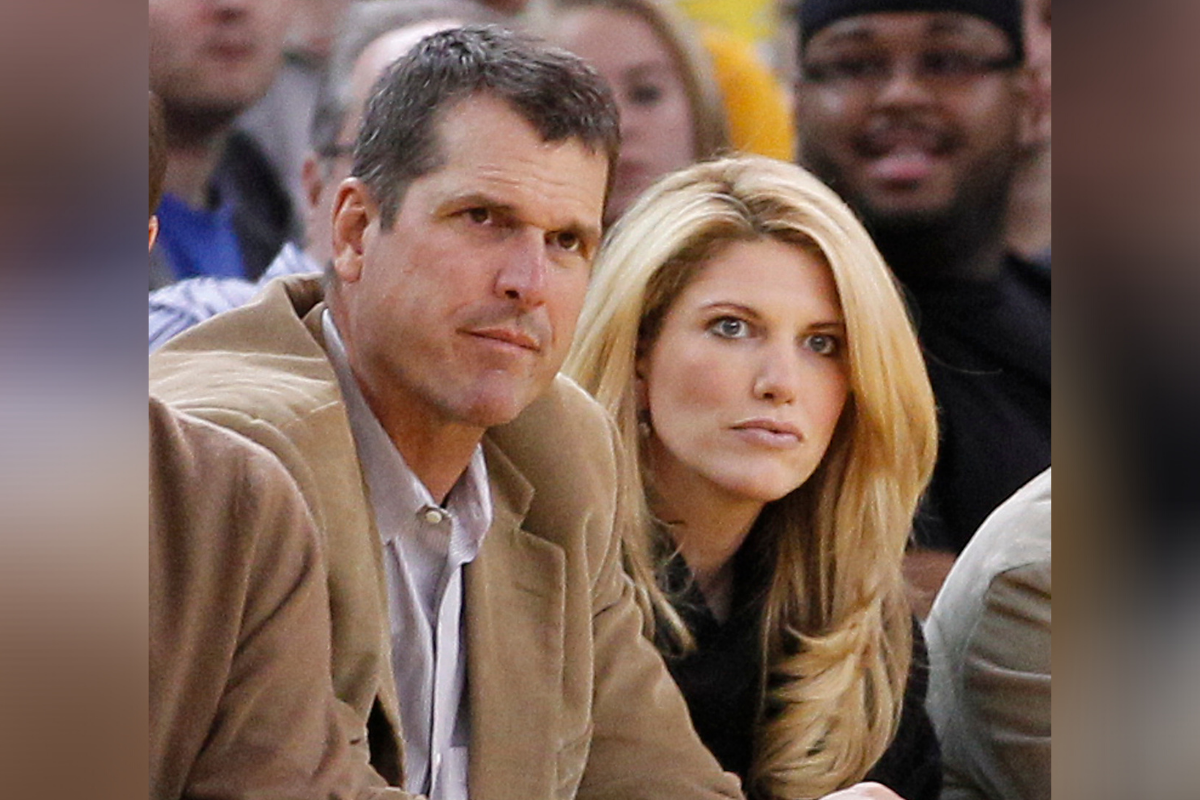 AP Photo/Tony Avelar
Jim Harbaugh is one of the most recognizable college football coaches in the game. When he's not eating his boogers or getting drilled by errant passes, the University of Michigan Wolverines head coach is parading khaki pants on the sideline and coaching UM to lackluster seasons and butt-whoopings to Ohio State.
The man who once slept over at a recruit's home (it worked) and broke out a cartwheel in a recruit's video is certainly the man for the job in Ann Arbor. Harbaugh played at Michigan in the 1980s, when he won the 1986 Big Ten Most Valuable Player Award, famously guaranteed a win over the Buckeyes, and left as Michigan football's all-time passing yards leader.
After playing in the NFL for more than a decade, he turned to coaching. Harbaugh, the son of Jack Harbaugh, began as an assistant with the Oakland Raiders and went on to coach the Colin Kaepernick-led San Francisco 49ers to a Super Bowl matchup against brother John Harbaugh's Baltimore Ravens in the infamous "blackout game."
Since taking over as head football coach in Ann Arbor in 2015, Harbaugh's Wolverines haven't exactly lived up to the sky-high playoff expectations that accompanied his arrival. But there's no doubt the man with an estimated net worth of $25 million has been the head of the school's first family since stepping foot inside The Big House AKA Michigan Stadium.
So, who's his first lady?
Who Is Jim Harbaugh's Wife Sarah Harbaugh?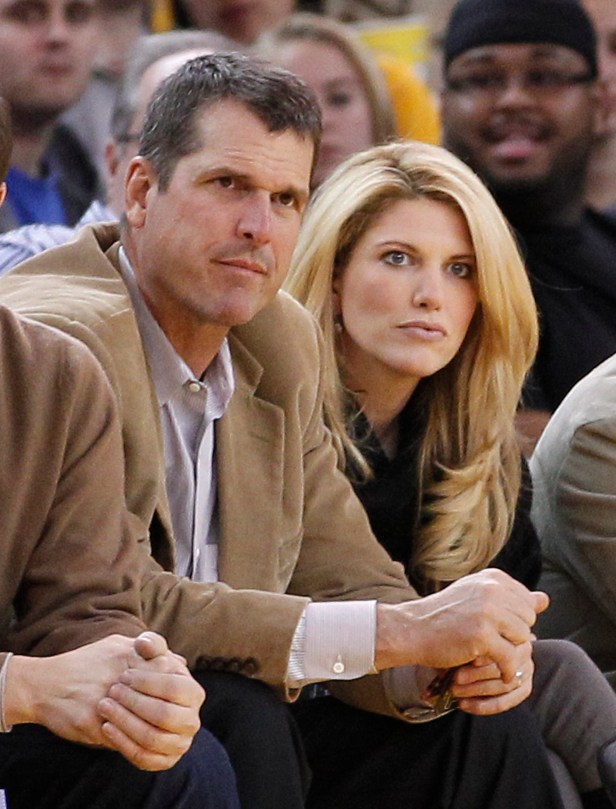 RELATED: Kelly & Ed Orgeron Divorcing After 23 Years of Marriage
Harbaugh is currently married to Sarah Feuerborn Harbaugh. She's from Kansas City, Missouri, and is currently 41 years old. That's 15 years younger than her spouse, who is 56.
Sarah comes from a massive family and is the last of 11 children. She was forced to deal with death throughout her younger years. When she was 10, her "adopted" father Darryl died in a plane crash. Twelve years later, her brother died of cancer.
"This was devastating for me. We were always together; everyone thought we were twins because we were the same size and so close in age. We had big plans for our future, he and I," she told The Brick Magazine.
When she's not looking after their children, she's part of their charitable outreach. In May 2020, the Harbaughs donated $100,000 to United Way for Southeastern Michigan to support its coronavirus pandemic and COVID-19 Community Response Fund. They've also done plenty of good for the Jim Harbaugh Foundation, which has helped sick children throughout Southeastern Michigan. The two of them serve as co-chairs of the Victors for Michigan National Campaign Leadership Council for Mott and Von Voigtlander Hospital.
They Met at a Chinese Food Restaurant
Wouldn't have guessed that, would you?
Jim met Sarah for the first time in the strangest take-out experience ever. He reportedly came across his blonde-haired future wife at a P.F Chang's in Las Vegas in 2006 when he was head coach at the University of San Diego. He then proceeded to call her too many times.
"Sarah was there getting take-out … I went up to her and asked if I could meet her. So, she said, 'Sure you can meet me.' I didn't believe her, at first. I thought it was one of those fake numbers she was giving me. But I called her. Multiple times. Like, nine times before she returned my call."

"I could tell she was a winner," he told HBO. "All the way."
For whatever reason, she finally gave in to the khaki-loving, former NCAA quarterback. The two got married in 2008 and have been together since.
How Many Children Do They Have?
Jim and Sarah Harbaugh have four children together, and he has three more from a previous marriage. They have two girls, Addison and Katherine, and two boys, Jack and John.
In 2017, Jack went viral after cameras caught him crying in the stands following Wisconsin's early touchdown against Michigan. His father's team went on to lose the game, 24-10, and he became a viral sensation.
Sarah then jumped on Twitter to defend her son against jokes and harassment, and she said she was booted off the social media app because of it.
"That day, a part of me came out that I hadn't seen before. It's one thing to say things about Jim, the team or the players. They're adults. But I wasn't willing to just sit by and let people say something about our kid. I didn't use profanity or anything like that, but I gave back everything they dished out," she told The Brick Magazine.

"Well, when you use a non-verified account with no history and then suddenly post multiple negative comments, they boot you out. You can re-sign in, but your identity will be out there given the way Twitter works, and that's where I had to draw the line. I didn't want this to come back on my family. I gave some pretty vicious comebacks that day, and I've never been on Twitter since."
Jim's Ex-Wife Miah Harbaugh
Jim met his ex-wife, Miah Harbaugh, while he played quarterback in the NFL in the 1990s.
The pair were married from 1996 until 2006, when the American football coach and she decided to part ways. Harbaugh obviously moved on pretty quickly, as he met Sarah that same year.
Jim and Miah had three children together: Jay, James and Grace. Jay followed in his father's footsteps as an assistant coach at Michigan. James attended Michigan like his father and publicly came out as gay, telling the "Two Outs" Podcast (via The Detroit News) that Jim Harbaugh has been supportive of him.
Jim Harbaugh is clearly a family man, so it's not surprising that he has a big family. And the Michigan football coach has said he wants more children despite coaching every Saturday night. Hopefully Sarah does too!
This post was originally published on July 27, 2020.