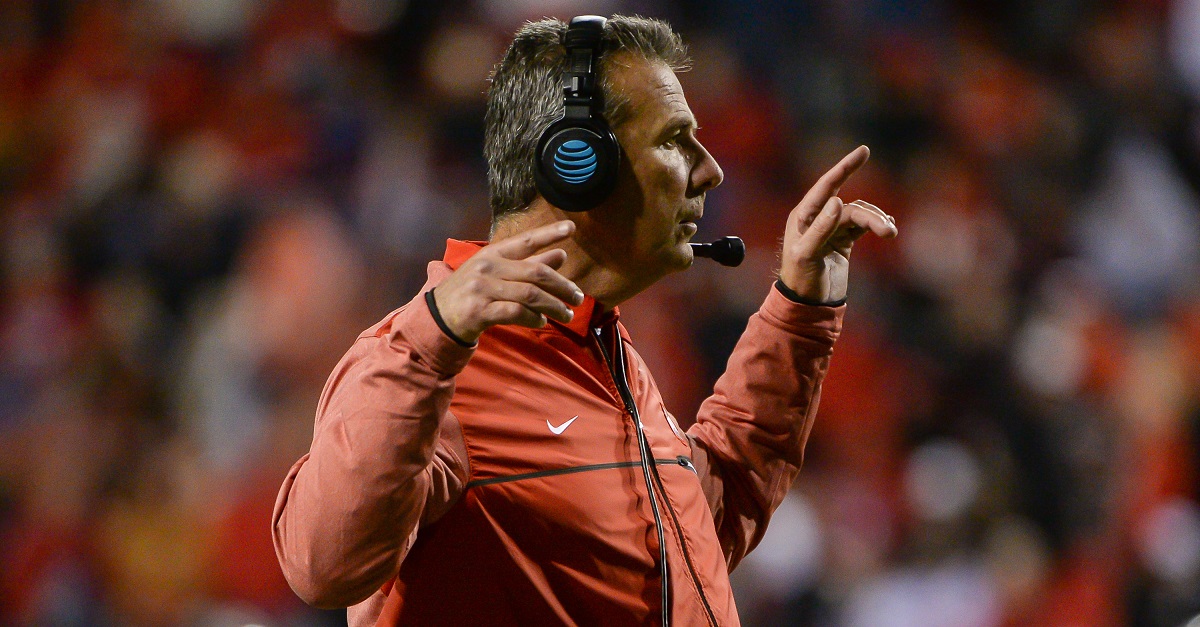 Steven Branscombe/Getty Images
LINCOLN, NE - OCTOBER 14: Head coach Urban Meyer of the Ohio State Buckeyes signals against the Nebraska Cornhuskers at Memorial Stadium on October 14, 2017 in Lincoln, Nebraska. (Photo by Steven Branscombe/Getty Images)
Ohio State defensive coordinator Greg Schiano is reportedly getting interest from NFL teams, according to Sports Illustrated's Bruce Feldman.
Feldman reports that Schiano is "very well-regarded by a lot of folks" within the league and his name is getting "a lot of interest" for defensive coordinator jobs.
Schiano spent the past two seasons with the Buckeyes and had previously coached at Rutgers from 2001-11, which included six bowl game appearances during his final seven seasons, as well as a a 68-67 (28-48) overall record.
After being linked to several notable college coaching positions, Schiano took over as the Tampa Bay Buccaneers? head coach in 2012 and went 11-21 before being fired after his second season.
In November, the coordinator reached a memorandum of understanding with Tennessee and former athletic director John Currie, but the agreement was protested by Vol fans both on social media and on UT?s campus and was eventually breached.
Schiano had previously worked as a defensive assistant at Penn State under former defensive coordinator Jerry Sandusky, who was convicted of child molestation stemming from his tenure with the Nittany Lions in 2012.
According to a report, the coach allegedly knew of Sandusky?s sexual abuse and turned a blind eye, according to testimony from former Penn State assistant Mike McQueary that was unsealed in 2016 by a Philadelphia court.
Schiano has denied the allegations in the past, having told ESPN?s Adam Schefter: ?I never saw any abuse nor had reason to suspect any abuse during my time at Penn State.?