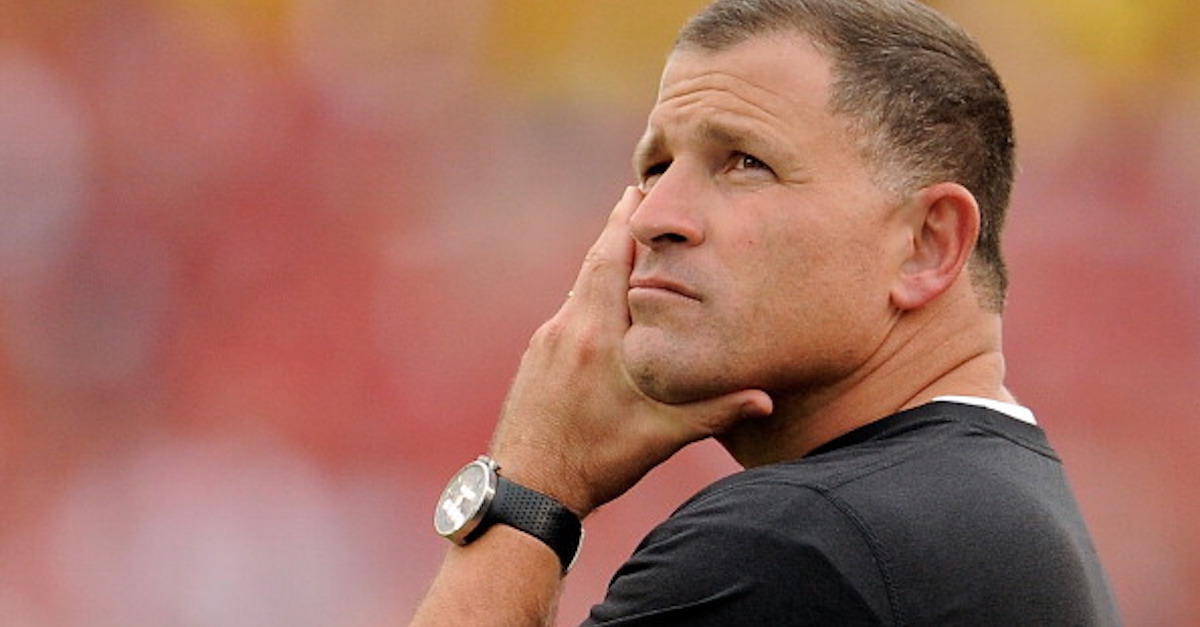 Stacy Revere/Getty Images
TAMPA, FL - DECEMBER 15: Greg Schiano, head coach of the Tampa Bay Buccaneers, watches the action during a game against the San Francisco 49ers at Raymond James Stadium on December 15, 2013 in Tampa, Florida. San Francisco won the game 33-14. (Photo by Stacy Revere/Getty Images)
The Tennessee Volunteers were slated to name Greg Schiano their head coach on Sunday afternoon. Until they weren't, according to at least one report:
A separate report noted the scheduled press conference won't go down tonight, and may not at all:
Politicians came out in full force to push back against the decision to hire Schiano and NFL analyst Mike Freeman called it one of the worst coaching moves in the past 10 years.
It also resulted in the decommitment of a 4-star cornerback prospect Jaycee Horn.
Tennessee fired head coach Butch Jones a couple of weeks ago, and there had been rumors that the Vols were interested in Jon Gruden, Dan Mullen, and even Iowa State?s Matt Campbell. However, Mullen appears to be finalizing a deal with Florida, and it looks like Gruden and Campbell declined Tennessee?s overtures.
Schiano spent the past two seasons with the Buckeyes and had previously coached at Rutgers from 2001-11, which included six bowl game appearances during his final seven seasons, as well as a a 68-67 (28-48) overall record.
After being linked to several notable college coaching positions, Schiano took over as the Tampa Bay Buccaneers? head coach in 2012 and went 11-21 before being fired after his second season.